6:12 pm: Sportsnet's Eric Francis contested the reported list of teams that Tkachuk will sign a long-term extension with, saying the trade list of St. Louis, Vegas, Florida, Nashville, and Dallas is "not accurate".
1:16 pm: What has been apparent for a while is now official, as Matthew Tkachuk has told the Calgary Flames that he will not sign a long-term contract, according to Jeremy Rutherford and Hailey Salvian of The Athletic. The report indicates that a trade is "likely to happen soon" and that Tkachuk has provided the team with a list of where he would agree to a long-term extension.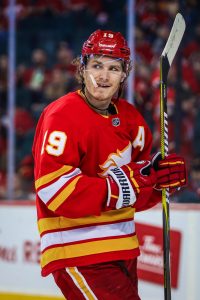 According to The Athletic, that list includes the St. Louis Blues, Vegas Golden Knights, Florida Panthers, Nashville Predators, and Dallas Stars, with the New Jersey Devils and New York Rangers also expressing interest in the past.
The Flames filed for salary arbitration earlier this week, taking the threat of an offer sheet off the table and giving them some time to potentially work out an extension, or trade the restricted free agent before he accepted his $9.0MM qualifying offer. It appears to be the latter, as an arbitration award would only take Tkachuk directly to unrestricted free agency a year from now, allowing him to take his services wherever he wanted without the Flames receiving anything in return.
After losing Johnny Gaudreau last week, Calgary must cash in the Tkachuk chip before they run out of time. While that doesn't necessarily need to be right now, allowing Tkachuk to work out a long-term deal with an acquiring club would likely maximize the return for the Flames.
Like Gaudreau, Tkachuk is coming off a massive career-best season, where he notched 42 goals and 104 points while playing in all 82 games. He received Hart and Selke trophy votes, was named a second-team All-Star, and finished eighth in league scoring. With Tkachuk part of arguably the best line in the NHL alongside Gaudreau and Elias Lindholm, the Flames outscored teams 108-49 with him on the ice at even-strength.
Still just 24, he is a year away from unrestricted free agency due to how quickly he entered the NHL. After being the sixth-overall pick in 2016, he jumped right into the league and scored 48 points as a rookie. Now through six seasons, he has 152 goals and 382 points in 431 games, with nearly 600 hits.
This is the kind of franchise-altering talent that almost never gets to the open market and one that is worth mortgaging some of your future for in a trade package. Tkachuk's overall impact on the game can be felt in several ways, and he could help a contender looking for the edge, or a younger squad hoping to add some rocket fuel to their rebuild.
Where this leaves the Flames on that spectrum isn't exactly clear. If they do part ways with Gaudreau and Tkachuk in the span of a few weeks, the entire core of their offensive attack has essentially disappeared. While Lindholm is an excellent player on an outstanding contract, Blake Coleman adds versatility and experience to the middle-six, and Andrew Mangiapane has expressed a desire to be part of the long-term solution, it's hard to know if that is really enough to stay competitive.
A decision that front should inform any potential return, and whether the Flames would then dive into what's left in free agency to try and give themselves a boost for next season. With only Coleman, Rasmus Andersson, and Jacob Markstrom signed for more than two years, there would at least be an opportunity for a rebuild, if the team wanted. But with so many complementary pieces in place on reasonable deals, it's hard to see general manager Brad Treliving tearing it down at this point.
Either way, while Flames fans will be frustrated with Tkachuk's unwillingness to stay, they can at least be happy that he told them early enough to still land a substantial trade package in return.
Photo courtesy of USA Today Sports Images