Free agency is now less than a month away and many teams are already looking ahead to when it opens up.  There will be several prominent players set to hit the open market in mid-July while many teams have key restricted free agents to re-sign as well.  Next up is a look at the Predators
Key Restricted Free Agents:
F Yakov Trenin – Don't let his point total fool you, Trenin was a breakout player this past season for the Predators and one of the better stories of their year. The 25-year-old Russian winger entered this campaign without much expectation, his eleven points in 45 games in 2020-21 not exactly setting the stage for him to become an important member of the team. But that's exactly what Trenin did, as he established himself as a full-time NHL-er and an embodiment of the team identity coach John Hynes wants to see out of his Predators. You would be hard-pressed to find an NHL-er that plays with more passion than Trenin, and his fit on a crash-and-bang line with Tanner Jeannot and Colton Sissons entertained fans in Nashville all year. Trenin scored 17 goals this year and added three playoff goals in the team's brief four-game postseason run. While he had only seven assists all year, Trenin's goal-scoring, energy, and penalty killing (he averaged 1:40 shorthanded ice time per game, which ranked fourth among Predators forwards) proved valuable for Nashville, and those are the qualities that will help him in negotiations this summer.
Trenin is an arbitration-eligible free agent, meaning he does have some leverage, although his negotiations with Nashville probably won't get to the point where arbitration is needed. It's tough to find a perfect contract comparable for Trenin because what he brings to the table is so unique, especially within the context of the Predators and the team identity they want to have. A short or medium-term deal at around a $2MM-3MM AAV would make sense, as Trenin may not want to lock himself into a deal that takes him into his thirties while he has under 150 games of NHL experience.
F Luke Kunin – Kunin ranked eighth amongst Predators forwards in time-on-ice per game, and was fifth when excluding the aforementioned Trenin-Sissons-Jeannot line, a line that stuck together and played a very specific role for most of the season. So Kunin, a 2016 first-round pick, did not spend 2021-22 lacking the opportunity to be a difference-maker and put together a productive campaign. What he lacked was the ability to take advantage of that opportunity and fulfill the promise that saw him get drafted between Charlie McAvoy and Jakob Chychrun. Kunin had only 22 points in his full 82-game season this year, and that's despite offensive resurgences from forwards across the Predators' top-six, players like Matt Duchene, Ryan Johansen, and Mikael Granlund, the guys Kunin frequently shared the ice with. So that leaves him in a curious position entering the offseason, where he is an arbitration-eligible restricted free agent. This was a crucially important season for Kunin, who will turn 25 next year. His inability to seize the opportunities he's been given has raised questions over whether his future is in Nashville long-term. Kunin comes with a $2.3MM qualifying offer, which isn't a huge amount but also not an insignificant number. While it's possible that the Predators and Kunin enter next season together, it would not be a surprise if he was headed elsewhere this summer.
F Cody Glass – While Kunin represents a first-round reclamation project of sorts that hasn't gone well for the Predators, Glass is an example of a first-round reclamation project that has shown promise. Glass was acquired from the Vegas Golden Knights last summer in exchange for Nolan Patrick, who Nashville was able to send to Vegas thanks to the Ryan Ellis deal with the Philadelphia Flyers. Glass, 23, was the sixth-overall pick in 2017 and had been a lethal junior scorer, but his professional career had been derailed by injuries and inconsistency. The Predators likely believed that a change of scenery was what Glass needed, and they may have been right. Glass has thrived since the trade. He led the AHL Milwaukee Admirals in scoring with 62 points in 66 games and even earned a brief NHL call-up. A short, cheap extension for Glass makes the most sense for this season, as the Predators will definitely want to see if he can finally stick in the NHL full-time before beginning to think about any possibility of a long-term deal.
Other RFA's: F Matt Luff, F Jimmy Huntington, F Thomas Novak, F Cole Smith, D David Farrance, G Devin Cooley
Key Unrestricted Free Agents
F Filip Forsberg – Right now, it seems as though the Predators' offseason is entirely centered around what happens with Forsberg and his next contract, and GM David Poile seemed to acknowledge as much in his comments today. Forsberg is among the Predators' most important players. A highly-skilled offensive dynamo, Forsberg had a career year this past season, scoring 84 points in 69 games. He's the Predators' all-time leading goal-scorer and means so much to the organization both on and off the ice. But a deal has yet to be completed, and the team and player are reportedly far apart in their negotiations, paving the way for a departure. The Predators pay their captain, Roman Josi, just over $9MM AAV on his long-term deal. It's definitely possible that the Predators simply do not want anyone on their books with a higher cap hit than Josi, and it's also definitely possible that Forsberg believes he can earn a bigger contract than that on the open market. Fellow play-driving left winger Artemi Panarin got over $11MM AAV to sign with the New York Rangers, so perhaps Forsberg is eyeing a similar mega-deal. From the Predators' perspective, it will be extremely hard to find a player who can replace Forsberg at a cost that won't be significant in either dollars or assets, so in order to keep their core intact, they might need to pay more for Forsberg than they'd like to. This is a high-stakes, high-pressure situation, and one that will have a major ripple effect on the entire Predators franchise, regardless of the outcome.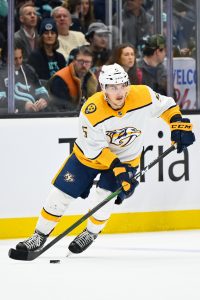 D Matt Benning – Benning, the nephew of former Vancouver Canucks GM Jim Benning, quietly had a decent season in 2021-22. His offense isn't why he's in the NHL, and he had only 11 points in 65 games, but when he got into the lineup he provided steady, responsible play at a reasonable price. Benning ranked third among Predators defensemen in shorthanded ice time per game and showed versatility in where he could be played within the lineup. With Mattias Ekholm and Josi's pairings set in stone for most of the year, Benning managed a rotating cast of partners on the team's bottom pairing and the Predators acquired Jeremy Lauzon from the Kraken in part to ease his defensive burden. Benning cost $1MM against the cap last year and could likely be had on a similar deal for next season.
Other UFA's: F Nick Cousins, D Ben Harpur, G David Rittich, F Brayden Burke, F Rocco Grimaldi, F Kole Sherwood, D Alex Biega, D Jeremy Davies
Projected Cap Space:
The Predators are projected to have just above $21MM in open cap space this summer, a healthy amount for a playoff team with as many veterans as the Predators have. A new extension for Forsberg will take a chunk of that cap space, and a possible extension for Trenin is of note as well. But with players such as Josi and Juuse Saros, two players who are among the best in the NHL at their position, locked into contracts and other veteran difference-makers such as Duchene, Johansen, and Granlund also under contract for the foreseeable future, the Predators to have room to maneuver in this offseason's market.
Obviously, any plan they have will start with Forsberg, but if he does end up walking, the Predators will have a stockpile of cap space in a flat-cap league where having space is at its most important. They still have extensions for Jeannot and Phillip Tomasino on the horizon, so they can't be reckless. But even with those future negotiations in mind, Predators have a world of possibilities open to them this summer. So while the fate of the Predators' most skilled forward is uncertain, the ability of Poile and the Predators to be a major player this offseason is not.
Photos courtesy of USA Today Sports Images.  Contract information courtesy of CapFriendly.