With the offseason in full swing aside from the two teams in the Stanley Cup Final, it's time to examine what each squad will need to accomplish over the coming months. Next up is a look at the Los Angeles Kings.
Before the season began, not many people were picking the Kings to make the playoffs, let alone push Connor McDavid and the Edmonton Oilers to a deciding game seven. The club had brought in valuable veteran players like Viktor Arvidsson and Phillip Danault but was still considered to be in the early stages of a rebuild, focusing on Quinton Byfield and the rest of the young talent in a deep prospect pool. Not only did the team as a whole exceed expectations but mid-twenties players like Trevor Moore, Adrian Kempe, and Sean Durzi emerged as legitimate difference-makers that could quickly give the Kings depth that will make them a real contender in the Pacific Division.
With that in mind, this offseason could be time for general manager Rob Blake to push some of the chips to the middle and accelerate the plan.
Lock Up The RFAs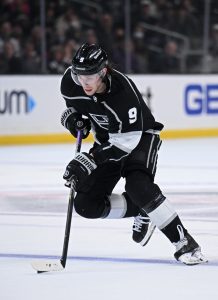 Before anything huge can happen, there is a lot of work to be done on the restricted free agent front. Kempe, Durzi, Lias Andersson, Carl Grundstrom, Brendan Lemieux, Gabriel Vilardi, and Mikey Anderson are all without contracts for next season, with at least some of those names deserving of long-term extensions. How much cap space Blake and company have to work with will be directly tied to how many years they include on these RFA contracts, buying out UFA years wherever possible.
Kempe, for instance, is coming off a breakout 35-goal campaign and would qualify for unrestricted free agency in the summer of 2024. Any long-term extension will be expensive, and drastically affect the spending limits in free agency. Durzi and Anderson are two other key negotiations after having outstanding runs this year, but are ineligible for arbitration at this point and could be extended on short-term deals that keep costs low.
Decide If The Defense Needs A Big Addition
From the moment his name hit the hot stove, Jakob Chychrun has been speculatively linked to the Kings as a "perfect fit." The question now though is whether Los Angeles even needs to go out and get that kind of impact name, or just allow their young players to develop and grow into bigger roles. Anderson and Durzi have proven they can play at a high level, while Tobias Bjornfot and Jordan Spence still appear to have legitimate upside. Names like Brandt Clarke and Helge Grans are on their way in a couple of years, meaning if they wait, the Kings could have a stable of capable options without making any moves at all.
Still, the temptation will be there to cash in one or two of those prospects to improve the club for the start of next season and add another experienced, effective option to the top four. There will be names outside of Chychrun that appear on the block this summer, ones that can provide improvement now and still be good enough to contribute for years to come.
Sign Moore To An Extension
Unless you think it was a mirage, Moore is going to be an important player in the NHL for a long time, with his enviable brand of speed, energy, and tenacity. He showed exactly what kind of player he can be in the playoffs, adding five points in seven games while being given brutal defensive deployment against some of the best players in the world.
He'll also be an unrestricted free agent at the end of the season, meaning an extension could be in line before he even gets close to the open market. The Kings have plenty of young players coming but it's difficult to replace a heart-and-soul player like Moore at the best of times, and his exit would likely be felt even more dramatically now that Dustin Brown is out of the picture.
Fix Cal Petersen
The saying "goalies are voodoo" was felt nowhere more than Los Angeles this season, when their two netminders both experienced the complete opposite of what was expected of them. While Jonathan Quick had a rebound year that saw him post his best save percentage since 2018, Cal Petersen crumbled and made his three-year, $15MM extension that kicks in next season look extremely worrying. An .895 save percentage and nearly -12 goals saved above average was a huge dip for a goaltender who was expected to take over the lion's share of the work, and now it's unclear what the Kings will have in net once the 36-year-old Quick is out of the picture.
If he has another down season it will be almost impossible to get rid of his $5MM cap hit, making this an interesting summer for the Kings in regards to goaltending. Do they move one or the other and get another netminder capable of stepping into the starter role on a long-term basis? Do they put faith in Petersen to bounce back, and hope Quick can stave off father time a little longer?
It's a tricky situation and one that could drag down a potential Stanley Cup contender over the next few years. They only have to look at the team that beat them for an example of young talent being held back by inconsistent goaltending. It's not an experiment they will want to test.
Photo courtesy of USA Today Sports Images