If you were to list all of the pending free agents in terms of earning potential, Filip Forsberg would be right near the top. The 27-year-old winger is coming off an incredible season in which he scored 42 goals and 84 points in just 69 games, setting career-highs in both categories at the perfect time. Thirty-two of those goals came at even-strength, putting him ninth in the entire league, and setting him up for a massive payday this summer.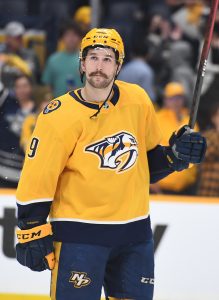 For the next few weeks, the Nashville Predators are the only team that can offer him an eight-year deal, meaning they likely have the ability to offer the most total money on a new contract. General manager David Poile even confirmed this morning when speaking to reporters including John Glennon of NHL.com that they have offered Forsberg a deal of that length, though wouldn't clarify the proposed salary.
Despite that, the two sides remain far apart, according to Frank Seravalli of Daily Faceoff, who notably reports that both the dollar amount and type of contract structure are in dispute. Poile is notorious for having very hard lines on contract structure, including things like no-trade clauses. Currently, captain Roman Josi is the only Predator who holds any trade protection (though Pekka Rinne did also negotiate some in the past).
While expecting 40-goal seasons moving forward might be a stretch, Forsberg has been one of the most consistent offensive players in the league for basically his entire time in the NHL. As a rookie in 2014-15, he had 26 goals and 63 points, numbers that he's hovered around up until this year's outlying performance. Even taking out this season his career averages are 29 goals and 64 points per 82 games, someone who would fit into basically every top-six in the entire league.
There's no way of knowing how many teams would be seriously interested in signing him but little doubt that he would be able to secure a seven-year contract on the open market.
Photo courtesy of USA Today Sports Images