Navigating the salary cap is one of the more important tasks for any GM. Teams that can avert total cap chaos by walking the tightrope of inking players to deals that match their value (or compensate for future value without breaking the bank) remain successful. Those that don't see struggles and front office changes.
PHR will look at every NHL team and give a thorough look at their cap situation heading into the 2019-20 season. This will focus more on those players who are integral parts of the roster versus those who may find themselves shuttling between the AHL and NHL. All cap figures are courtesy of CapFriendly.
Chicago Blackhawks
Current Cap Hit: $78,163,461 (under the $81.5MM Upper Limit)
Entry-Level Contracts
F Kirby Dach (three years, $925K)
F Dominik Kubalik (one year, $925K)
F Anton Wedin (one year, $925K)
D Adam Boqvist (three years, $894K)
F Dylan Strome (one year, $863K)
F Alexander Nylander (two years, $863K)
F Alex DeBrincat (one year, $778K)
Potential Bonuses
Dach: $2.5MM
Strome: $2.48MM
Nylander: $850K
Kubalik: $850K
Boqvist: $850K
DeBrincat: $33K
The Blackhawks have done quite a bit of work to bring in a number of top players on entry-level contracts over the past few years in hopes of taking a team that was loaded with high-priced, aging talent and getting them back into playoff contention. They have hit the jackpot with DeBrincat, who immediately stepped onto the ice and has been a phenomenal top-six player for the past two years, scoring 69 goals so far, including a key 41-goal season last year. The diminutive winger was passed up by many teams in the 2016 draft and has proven that his size isn't an issue on the team. The only problem is that his entry-level deal will be up at the end of the season, meaning the Blackhawks will likely have to pay a high price to lock him up. Strome, in the meantime, has been a solid trade acquisition. The top prospect, who couldn't seem be able to turn the corner in the pros, broke out once arriving in Chicago, putting up 17 goals and 51 points in 58 games. If he can produce at a similar level, the Blackhawks will have to offer pay up again, giving them two potential significant contracts the team will have to pay out one year from now.
Chicago also is banking on a number of their draft picks to make an impact. Dach, the third-overall pick in this year's draft, could be an option for the team if he can prove he's ready for NHL action now, but with a number of young forwards pushing for playing time on their roster, he'd have to dominate and prove he might be ready to assume a third-line center position. Boqvist, the team's eighth-overall pick in 2018, will challenge for playing time as well, but could just as easily spend time in the AHL to get used to playing against adults for part of the season first. Regardless, the team has two core pieces that are close to joining the organization.
General manager Stan Bowman has also made an effort in bringing in talent from outside the organization as the team has brought in a pair of prospects over from Europe in Wedin and Kubalik. The 26-year-old Wedin broke out in his rookie season in the SHL with 14 goals, while Kubalik scored 25 goals and 57 points in 50 games in the NLA. The team also surprised a few people earlier this summer when it traded top defensive prospect Henri Jokiharju to Buffalo for Alexander Nylander. The team hopes to get Nylander going as the eighth-overall pick in 2016 has so far struggled with consistency in three AHL seasons.
One Year Remaining, Non-Entry-Level
G Corey Crawford ($6MM, UFA)
G Robin Lehner ($5MM, UFA)
F Drake Caggiula ($1.5MM, RFA)
D Erik Gustafsson ($1.2MM, UFA)
D Slater Koekkoek ($925K, RFA)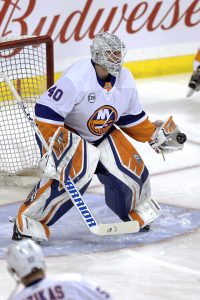 The team did a phenomenal job of bringing in some goaltending help by stealing away UFA goaltender Lehner with a one-year, $5MM deal. That's a steal if Lehner can produce anything close to last year's numbers of a 2.13 GAA and .930 save percentage in 46 games. The 2018-19 Jennings and Masterton Trophy winner last year, Lehner can stabilize the Blackhawks goaltending situation, which has struggled due to concussion issues that Crawford has sustained over the past two years. Without Crawford, the team has struggled in goal. The hope is that both will be healthy this year and can share the workload, but if Crawford has trouble getting on the ice again, Chicago can now turn to Lehner. With both players down to one year remaining before unrestricted free agency, the Blackhawks can look at how both players fare this year and offer a long-term deal to the player they feel can best help them in the future.
The team may have their most challenging decision to make about Gustafsson next season. The rising defenseman put up impressive numbers in a full season last year after looking sharp in the second-half of 2017-18. The 27-year-old scored 17 goals and 60 points and if he can duplicate a season like that could find himself to be one of the most marketable UFA blueliners next year. With the Blackhawks having to hand out big contracts to DeBrincat and Strome, the team may have to move Gustafsson at the trade deadline or let him go at the end of the season for nothing.
Two Years Remaining
F Brandon Saad ($6MM, UFA)
F Zack Smith ($3.25MM, UFA)
F David Kampf ($1MM, RFA)
D Carl Dahlstrom ($850K, RFA)
F Dylan Sikura ($750K, RFA)
F John Quenneville ($750K, RFA)
The team has two contracts that they might want to see gone soon. The team re-acquired Saad back in 2017 in hopes of bringing back a big-time goal scorer. However, Saad hasn't been nearly as dominant since returning, although he did rebound with a 23-goal campain last season. However at $6MM AAV, Saad could easily be a candidate to move on from when they need to free up some extra cash next offseason. Smith is in a similar situation. The team acquired Smith this summer in a swap of bad contracts as the team managed to unload Artem Anisimov. Smith, however, scored just nine goals last season in Ottawa and could have a hard time locking down a spot in the bottom-six with so many younger players pushing for playing time.
The team can only hope that some of their younger players like Sikura and the newly acquired Quenneville can contribute immediately, but both would have to take their game up a notch to prove themselves at the NHL level. Sikura, signed out of Northeastern University after the 2018 season, fared well in the AHL, but failed to register a goal in 33 games with the Blackhawks. The team also hopes that Kampf and Dahlstrom can prove themselves in their lineup.
Three Years Remaining
D Calvin de Haan ($4.55MM, UFA)
D Olli Maatta ($4.08MM, UFA)
D Connor Murphy ($3.85MM, UFA)
F Andrew Shaw ($3.9MM, UFA)
F Ryan Carpenter ($1MM, UFA)
G Collin Delia ($1MM, UFA)
In hopes of improving its defense, the team went out and acquired a pair of defenders in de Haan and Maatta over the summers. The Blackhawks picked up de Haan from Carolina  and while he's currently dealing with a shoulder injury and isn't expected to start the season, he has proven to be a solid defender for years and should upgrade the team's top-four. The team also moved some of its young forward depth by sending Dominik Kahun to Pittsburgh to get the defensive-minded Maatta. The two veteran blueliners should bolster a defense that had plenty of issues over the past few years. However, both come with significant contracts, especially if either defenseman struggles to succeed in Chicago. The team also has Murphy, who the team acquired two years ago from Arizona, who has three years remaining and has found himself a solid contributor on the team's blueline.
The team also has acquired Shaw this summer to improve their depth in hopes of getting Chicago back in the playoffs. The former Blackhawk should add a significant presence on their bottom-six and add an element of physicality to the team. Carpenter, signed away from Vegas, should also improve the team's bottom-six.
Four Or More Years Remaining
F Patrick Kane ($10.5MM through 2022-23)
F Jonathan Toews ($10.5MM through 2022-23)
D Brent Seabrook ($6.88MM through 2023-24)
D Duncan Keith ($5.54MM through 2022-23)
Things will likely change next season, but Chicago's four biggest contracts haven't changed with all of them, minus Seabrook's, down to four more years and starting to look more and more manageable. Kane continues to amaze at age 30 as he posted 44 goals and a career-high in points with 110. His contract doesn't even look like it's a questionable one. The 31-year-old Toews also had a resurgent season as he tallied a career-high 35 goals and 81 points, showing that as long as he has talented players around him, he is more than capable of justifying his $10.5MM AAV.
Keith is somewhat of a different story. He's 36 now and will be 40 when his contract ends and while there has been an evident decline, the veteran has still shown that he's a solid defender, scoring six goals and 40 points last year and is averaging more than 23 minutes of ice time a game still. The question will be how long can Keith keep up those numbers and will his game decline even more over the next couple of years. Seabrook, however, has that extra season on his deal as he is locked up for five more years. At 34-year-old, Seabrook has seen an obvious decline that even saw his minutes drop under 20 minutes a game for the first time in his career, not a good sign when the team has him under contract until 2024. The team can only hope that he can come back and prove that he still has the skills to be a top-four defenseman.
Buyouts
None
Retained Salary Transactions
None
Still To Sign
Chicago still has one restricted free agent and must find a number that will make the youngster happy, but considering his inconsistent season, the team may have some trouble figuring out how much to pay him. Perlini, also acquired with Strome in the Nick Schmaltz trade during the season last year, struggled at first in Chicago, but finally broke out in March with eight goals and 10 points in 13 games. A one-year or bridge deal would be the most likely course of action to see whether Perlini's late success can be duplicated. The former first-round pick from 2014 could be a major asset if Chicago can get the most out of the team.
Best Value: Lehner
Worst Value: Seabrook
Looking Ahead
The Blackhawks have done quite a bit in the last year to improve their team with the hopes of getting their veteran core back in the playoffs once again after a two-year absence. Chicago has added a bunch of veteran players and young and cheap roster additions that should be able to turn their team around. The key, of course, is the team needs their veterans to continue to thrive, while their younger players must continue to improve. On top of that, the Blackhawks must hope that a number of their roster additions can take that next step in their development and prove to be valuable to the team's overall depth.
Photo courtesy of USA Today Sports Images.