Although the summer crawl is in full effect, there were still some notable headlines around the league over the past seven days.  Those are highlighted here in our top stories of the week.
Colorado Signings: The Avalanche locked up a pair of their restricted free agents.  Center J.T. Compher was rewarded for the best season of his young career as he signed a four-year, $14MM contract, effectively bypassing a bridge deal.  However, in doing so, he's setting himself up to hit the open market four years from now at the age of 28.  Meanwhile, offseason acquisition Andre Burakovsky signed a one-year, $3.25MM deal, the amount of his qualifying offer.  Colorado certainly believes he has potential considering they dealt a pair of draft picks for him but they clearly want to see how he fits in with them before committing on a longer-term pact.  The winger will be a restricted free agent with arbitration rights again next summer.
Francis To Seattle: While Seattle won't be entering their inaugural season for two more years, they have found the person that will lead them into the NHL as they have hired former Carolina GM Ron Francis as their first general manager in franchise history.  While expectations will certainly be high considering how Vegas fared in their first year, this decision suggests that the yet-to-be-named franchise will be taking a different approach.  Francis was known for his patience during his tenure with the Hurricanes and tried to build things up slowly.  It seems reasonable to believe that he'll take a similar approach this time around.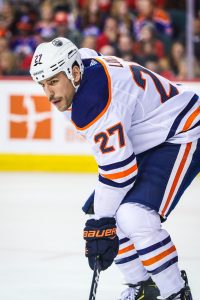 Neal-Lucic Trade: Milan Lucic had been part of trade speculation for two years.  James Neal didn't even get through his first year in Calgary before being suggested as trade fodder.  However, with both players having four years left on overpriced contracts, there wasn't much of a viable trade market for them.  Accordingly, the Oilers and Flames decided to swap those bad deals with Edmonton retaining $750K per season of Lucic's salary plus potentially giving up a conditional 2020 third-round pick if Neal scores at least 21 goals next season and scores at least ten more goals than Lucic.  By making the trade, the Flames add some grit up front with Lucic though it remains to be seen if he'll be able to play a bigger role than he had with the Oilers.  Meanwhile, Neal figures to get a look in a more prominent spot than he had with Calgary.  Edmonton's depth on the wing is somewhat shallow so it wouldn't be surprising to see him deployed in a top-six role when the puck drops on the regular season in October.
Seven Years For Trouba: After being traded to the Rangers, the expectation was that defenseman Jacob Trouba would quickly sign a long-term deal, something he wasn't willing to do with Winnipeg.  While it took a little longer than expected, a deal was eventually reached as he inked a seven-year, $56MM deal.  The contract contains a no-move clause in years two through five (he's not eligible in the first season) and a partial no-trade clause in the final two seasons.  While Trouba didn't spend much time on the top pairing with the Jets, he'll get the opportunity to serve as New York's top defender which should give him the chance to build on his career-best 50 points last season.
Senators-Blackhawks Swap: Artem Anisimov had been in trade speculation for the last couple of seasons and once his $2MM signing bonus was paid at the midway point of July, his value was expected to go up.  Not surprisingly, a trade was agreed on shortly after the bonus was paid as the Senators acquired the center in exchange for forward Zack Smith.  Ottawa adds an offensive upgrade for a relatively low cost on two fronts.  Smith cleared waivers earlier in the season and Anisimov is only owed $5MM in total money over the final two years of his deal despite a $4.55MM AAV.  Meanwhile, Smith adds some grit to Chicago's bottom six, something GM Stan Bowman has clearly identified as a need this summer.  The move also frees up $1.3MM in cap space in each of the next two seasons.
Photo courtesy of USA Today Sports Images.