The New York Rangers are going to avoid arbitration with new defenseman Jacob Trouba, instead agreeing to terms on a new contract. The deal is for seven years and carries an average annual value of $8MM. Trouba was scheduled for an arbitration hearing on July 25, but will no longer require it. CapFriendly provides the full breakdown:
2019-20: $4.0MM salary + $8.0MM signing bonus
2020-21: $2.0MM salary + $8.0MM signing bonus + NMC
2021-22: $2.0MM salary + $6.0MM signing bonus + NMC
2022-23: $6.0MM salary + NMC
2023-24: $8.0MM salary + NMC
2024-25: $6.0MM salary + 15-team NTC
2025-26: $6.0MM salary + 12-team NTC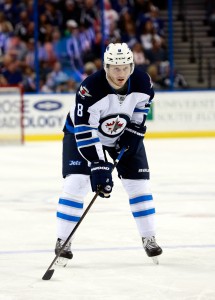 This contract is exactly the reason why the Winnipeg Jets decided to move on and trade the 25-year old Trouba this summer, as they wouldn't have been able to afford a deal of this magnitude even if he had wanted to sign long-term there. The Jets have Kyle Connor and Patrik Laine to sign this offseason and already have huge commitments laid out for several others. The Rangers meanwhile had nearly zero long-term commitments when they acquired Trouba for Neal Pionk and a first-round pick, though they subsequently gave Artemi Panarin $81.5MM in free agency.
Signing Trouba is another signal that the Rangers are finished their tear down and are starting to turn the corner towards a competitive team once again. After spending a little over a year selling every asset they could to acquire draft picks and prospects, the Rangers have now added a top-pairing defenseman, superstar winger and second-overall pick in one offseason, not to mention nabbing top college prospect Adam Fox from the Carolina Hurricanes. Though the team is still projected to be very young this year with names like Filip Chytil, Kaapo Kakko, Lias Andersson and Brett Howden fighting for playing time, the additions of Trouba and Panarin are not ones made by a rebuilding club.
The new contract for Trouba will buy out six years of unrestricted free agency, as an arbitration decision of one year would have taken him to the open market. Despite being only 25 he has already played six full seasons in the NHL, totaling 408 regular season games. After taking on a bigger powerplay role last season with the Jets, Trouba set a career-high in points with 50 while still averaging nearly 23 minutes a night. He will immediately become their top right-handed option, forming quite the formidable pairing with Brady Skjei if the team decides to go that route.
At $8MM however, a huge responsibility will be placed on Trouba's shoulders. The deal makes him the fifth-highest paid defenseman (in terms of cap hit) in the league, tied with John Carlson and Brent Burns. Both of those players have reached the 70-point mark, with Burns being a previous Norris Trophy winner as the league's best defenseman (three-time finalist). He'll have more than enough opportunity to get to that level in New York, but it's still a gamble for the Rangers to make at this point.
In fact, this deal (when combined with Panarin's) puts the Rangers into a tight salary situation of their own. The team still has Brendan Lemieux and Anthony DeAngelo to sign and an arbitration hearing scheduled for later this month with Pavel Buchnevich. In order to afford new contracts for all three the Rangers will have to make an additional roster move, whether that is trading a player like Vladislav Namestnikov or buying out someone like Kevin Shattenkirk. The team will get another buyout window a few days after the Buchnevich arbitration is settled, which will give them some more flexibility. There is also the possibility of trading veteran forward Chris Kreider who sits as the third-highest paid forward on the team and is scheduled to be an unrestricted free agent next summer.
Either way, this contract for Trouba comes with real consequences for the Rangers. The 25-year old defenseman is an excellent player, but he now has even more pressure to perform than ever.
Photo courtesy of USA Today Sports Images