7:45pm: Sportsnet's Mark Spector reports that there are two conditions on the third-round draft pick sent to Calgary and, in a move not before seen in the NHL, one has to do with the traded players' production relative to one another. The first condition is that Neal must score 21 goals in 2019-20. The second condition is that those 21+ goals must also be 10 goal or more above Lucic's goal total on the year. According to Spector, the conditions do not cause a shift in the round of the pick; instead, if those conditions are not met, the Oilers do not owe the Flames any pick at all.
7:00pm: The deal is now official, including the additional pieces and salary retention on Edmonton's side. In addition to Lucic, the Flames announced that they have also acquired a conditional 2020 third-round pick as well, though terms of the condition were not disclosed. Additionally, the Oilers will retain 12.5%, or $750K, of Lucic's $6MM cap hit. In other words, Calgary will pay Lucic $5.25MM against the cap for the next four years, while Edmonton will pay a total of $6.5MM against the cap for Neal and Lucic's retained salary, also for four more years.
2:30pm: The Edmonton Oilers and Calgary Flames have decided to swap a pair of underperforming forwards. According to Nick Kypreos of Sportsnet the Oilers will send Milan Lucic to their provincial rivals in exchange for James Neal after Lucic decided to waive his no-movement clause. Bob Stauffer of 630 CHED and Gene Principe of Sportsnet have heard the same, though neither team has confirmed it at this point. Jason Gregor of TSN reported earlier that Lucic would be willing to waive the clause to go to Calgary. Eric Francis of Sportsnet expects the Oilers to include a conditional draft pick and retain part of Lucic's salary.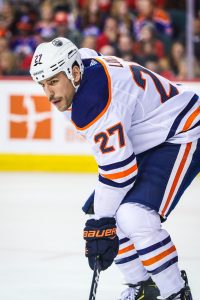 Lucic, 31, has been considered one of the worst contracts in the league since the day he signed it on July 1, 2016. Agreeing to a seven-year, $42MM deal in unrestricted free agency, he was supposed to add some physicality, experience and scoring prowess to an up-and-coming Oilers team led by two young superstars. In the first year of the deal Lucic disappointed but still scored 23 goals and 50 points, helping the Oilers to the playoffs for the first time in a decade. There were red flags even then however, as Lucic was noticeably slowing down and scored more than half his goals on the powerplay. His even-strength production of 25 points was underwhelming and only a signal of things to come.
In 2017-18, things completely fell apart. Lucic recorded just seven even-strength tallies and scored just a single goal in his final 46 games. Last season was even worse, and at this point the former Boston Bruins star is a fourth-liner with a $6MM cap hit. That wasn't going to cut it in Edmonton where new GM Ken Holland and the Oilers are trying desperately to reshape their roster even without much cap flexibility.
Neal meanwhile hasn't been much better since signing his own lucrative free agent contract. Signing a five-year, $28.75MM deal on July 2, 2018, Neal was supposed to be the consistent goal scoring threat to line up alongside young forwards like Johnny Gaudreau and Sean Monahan. He had just completed his tenth consecutive 20+ goal season and been to consecutive Stanley Cup Finals with the Nashville Predators and Vegas Golden Knights. His offense was rarely contingent on powerplay time and the 30-year old had played with some of the best players in the world during a long career. Unfortunately, that Neal never arrived in Calgary.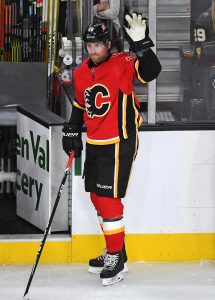 Instead, the veteran ended up posting just seven goals and 19 points in 63 games for the Flames. A healthy scratch at times, his role on the team was immediately limited as he never seemed to find a real comfortable fit in the forward group. Basically every metric fell off a cliff for Neal, and Calgary regretted his contract tremendously. Luckily it did not include any trade protection—a notable difference from Lucic, who will require protection in the expansion draft thanks to his no-movement clause.
The question will be whether either player can recover some of their past glory in their new homes. Lucic has been a shell of his former self offensively for more than two years now, but at least still does provide that physical presence that the Flames have been looking for. The 6'3″ winger has recorded at least 200 hits in each of the last six seasons including 259 in 2018-19. If that's the role Calgary is expecting of him, he should fulfill those expectations just fine.
Neal however probably has bigger shoes to fill. The Oilers have been desperate for any sort of goal production from the wing—partly due to Lucic's decline—and may still have big expectations for Neal, especially if they are retaining salary and giving up an additional asset. He's only a year away from a 25-goal campaign with Vegas, but he'll have to prove his worth to head coach Dave Tippett before he is strapped to McDavid's wing.
In all, this is a crap shoot for both teams hoping to find some production in their misspent money. If Lucic can give the Flames some bite and contribute a bit on the fourth line he'll be more useful to them than Neal was. If Neal can play the powerplay and log some time beside their best forwards he'll have more value to Edmonton. Neither scenario is guaranteed.
Photo courtesy of USA Today Sports Images