The Colorado Avalanche have inked one of their restricted free agents, signing Andre Burakovsky to a one-year contract. Burakovsky decided not to file for arbitration earlier this month after being issued a $3.25MM qualifying offer, for which the deadline to accept was today. The young forward will still be a restricted free agent at the end of the contract in 2020.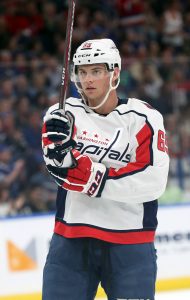 Burakovsky, 24, was acquired by the Avalanche earlier this offseason after playing the last five years with the Washington Capitals. The 23rd-overall pick from 2013 has already amassed 328 regular season games with the Capitals, recording 145 points. Those total include consecutive seasons of 25 points, a disappointing drop that made the talented Austrian available. The Capitals couldn't afford to keep Burakovsky around for that $3.25MM price tag, but the Avalanche are happy to take a shot on a player that had previously looked like a top-six winger in the making.
It's difficult to find players with Burakovsky's skill and size combination, but unfortunately that mix still hasn't been able to produce a huge offensive season to this point. With a career-high of 38 points now several years behind him, Burakovsky will have to find a different level of success in order to deserve this contract and avoid going non-qualified next summer. Even the Avalanche, who have plenty of cap space at the moment, won't be able to pay $3.25MM for a 12-goal winger, the total he has reached in each of the past three seasons.
It certainly appears as though he'll the the opportunity to show he is better than that. The Avalanche have been reliant on their top line for a huge amount of their offense the past few years, but worked hard this summer to expand their attack and bring in some more secondary scoring options. Burakovsky joins Nazem Kadri and Joonas Donskoi as potential options for the second line, though each of them will have to prove their worth in new surroundings.
At the very worst, Burakovsky is a lottery ticket that doesn't pay out and only cost the Avalanche a pair of draft picks. At best, he finally breaks out and becomes the dominant offensive piece he was in junior. Not a bad gamble for a team looking to make a splash in the Western Conference playoffs this season.
Photo courtesy of USA Today Sports Images