The Colorado Avalanche have signed J.T. Compher to a four-year deal. The contract will carry a $3.5MM average annual value. Compher was scheduled to have an arbitration hearing at the end of the month.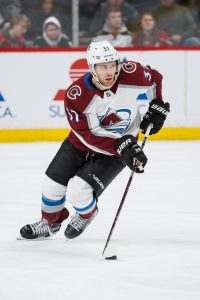 Compher, 24, is coming off his third season in the Colorado organization and his best offensive one to date. Scoring 16 goals and 32 points in 66 games, he was one of the most versatile forwards the Avalanche had, lining up on both the wing and at center (though the former much more often). Compher was also used extensively on both the powerplay and penalty kill, and averaged the most ice time of any forward outside of the top line—Nathan MacKinnon, Mikko Rantanen and Gabriel Landeskog.
It was that versatility that made Compher such an attractive piece when the Avalanche acquired him as part of the Ryan O'Reilly trade in 2015, even before he had exploded offensively at the University of Michigan. The season following the trade Compher had 63 points in 38 games for the Wolverines, but happened to lose the Hobey Baker award as the nation's top collegiate player to Jimmy Vesey.
Still, it took some time for the young forward to really find his groove at the NHL level. Compher tallied just 28 points in his first 90 games for the Avalanche but as his role has increased so has his production. With this contract, the Avalanche are betting that he can at least maintain the lever he showed last season and continue to be an all-situation player for the team.
A four-year deal will buy out one unrestricted free agent season for the Avalanche, leaving Compher a UFA when the deal expires in 2023. In that sense it could be quite the bargain if he ends up improving his offense even further (and staying healthy through an entire season) and is able to continue contributing in all situations. It will be interesting to see exactly where he ends up in the new lineup, as the team brought in Nazem Kadri, Joonas Donskoi, Pierre-Edouard Bellemare and Andre Burakovsky this offseason to strengthen the Colorado forward group.
The deal is the same one that former teammate Alexander Kerfoot signed with the Toronto Maple Leafs after the trade that brought Kadri to Colorado, an interesting comparison given Kerfoot's higher point production through nearly the same amount of NHL games. The total is also the same as what Micheal Ferland signed as an unrestricted free agent with the Vancouver Canucks, though he plays a much different role than Compher with his physicality. In all, this certainly doesn't make Compher an albatross contract for the Avalanche but it does put some pressure on the young forward to continue his development and take another step forward.
Elliotte Friedman of Sportsnet broke news of the signing on Twitter.
Photo courtesy of USA Today Sports Images