The Ottawa Senators and Chicago Blackhawks have made a trade, flipping Zack Smith for Artem Anisimov. Though Anisimov comes with a higher cap hit of $4.55MM for the next two seasons, the Blackhawks paid out a $2MM signing bonus yesterday leaving just $5MM left on the contract for the Senators to actually pay. Smith meanwhile carries just a $3.25MM cap hit through 2020-21, but is actually still owed $6.5MM in salary over that period.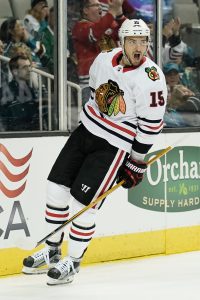 Anisimov, 31, also saw his trade protection expire at the start of the month, meaning he could be sent anywhere in the league and led to plenty of speculation over his future in Chicago. Though he has been an excellent player in the past for them, his role has diminished in recent seasons as he moved away from Patrick Kane (and Artemi Panarin previously). With that role reduction also came one in regards to production, as Anisimov recorded just 68 points over the past two seasons combined. With the Blackhawks needing cap space and having new blood coming in the form of top prospect Kirby Dach, Anisimov was an easy choice to move out of town.
For the Senators though, Anisimov's production will actually be quite welcome. The team is saving actual dollars—something that is much more important to them than cap space—and getting a player who will likely step right into a top-six role and be a key part of their offense. After losing names like Matt Duchene, Ryan Dzingel and Mark Stone last year, the team had just a single forward carrying a cap hit over $4MM—Bobby Ryan. Anisimov is actually now the third-highest active cap hit on the team, behind only Ryan and goaltender Craig Anderson (Marian Gaborik and Clarke MacArthur actually both have higher numbers, but are not expected to play this season).
Smith isn't nearly the offensive player that Anisimov is, and has actually been limited to just 14 goals over the last two seasons combined. The 30-year old center will give the Blackhawks another depth option to kill penalties and play a solid two-way game, but likely isn't worth his contract at this point. The Blackhawks could potentially flip him at some point given they already have Ryan Carpenter and David Kampf that can play down the middle behind Jonathan Toews and Dylan Strome, but perhaps they value his versatility and physical play.
The $1.3MM in cap savings is the important part for the Blackhawks, who were up quite tight against the ceiling with just a 20-player roster and Brendan Perlini still to sign. Part of that cap crunch is due to the $11MM they're paying to have Corey Crawford and Robin Lehner in goal, but both are scheduled for unrestricted free agency next year, giving the team some flexibility moving forward. If they felt like Anisimov was no longer going to fit in their long-term plans, freeing up some playing time and cap space was a success, even if the move to Smith is a downgrade on paper.
Photo courtesy of USA Today Sports Images