Saturday: It looks like the Dallas Stars have become the leading candidates to be Pavelski's new home as Sportsnet's Elliotte Friedman reports that Stars have been in negotiations with Pavelski. With the team's buyout of Valeri Nichushkin, the team should now have more than $10MM to spend on free agents and Pavelski would be the perfect complement on the team's second line. With negotiations with Mats Zuccarello having fell apart, the team has made it clear they want a veteran scorer to join the team.
Friday: Two years ago the San Jose Sharks watched a franchise icon walk out the door. Patrick Marleau, a former captain who had suited up 1,670 times for the Sharks, was left unsigned on July 1, 2017 and the next day signed a three-year deal with the Toronto Maple Leafs. The Sharks, it has been reported, were not willing to give Marleau that third year, which now looks prescient given his recent buyout. Now Sharks GM Doug Wilson may be preparing for the same thing to happen again. Kevin Kurz of The Athletic reports that after a conversation with the agent of Sharks captain Joe Pavelski, the "overwhelming sense" is that the pending free agent forward will be moving on to another team. Kurz calls it "the end of an era" and it is, even if Pavelski doesn't have quite the tenure Marleau did two summers ago.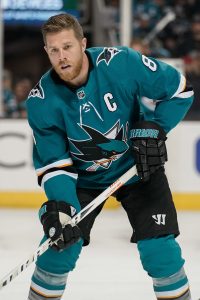 Set to turn 35 in two weeks, Pavelski has played his entire career with the San Jose organization. Debuting in November of 2006, Pavelski would score in his very first game—coincidentally on a goal assisted by Marleau—and basically never look back. The seventh-round pick from the 2003 draft would light the lamp 13 more times that season in just 46 games, and show that he would be beating goaltenders for a long time. In fact he has scored 355 goals in his Sharks career, more than anyone other than Marleau. His 406 assists trail just Marleau and long-time teammate Joe Thornton, as do his 761 points. He has served as captain for the last four seasons, including 2018-19 when he recorded 38 goals and 64 points.
So why are the Sharks letting him go? Perhaps because of the same reasoning that sent Marleau to Toronto. San Jose is facing a cap crunch after signing Erik Karlsson to an eight-year, $92MM deal that made him the highest-paid defenseman in the league. They have breakout power forward Timo Meier and powerplay dynamo Kevin Labanc to sign, as well as other unrestricted free agents potentially including Thornton and trade deadline acquisition Gustav Nyquist. The team has close to $15MM in cap space to play with, but has only seven forwards signed to one-way contracts at the moment and work to do to build their team back up to a contender. Pavelski simply might be pricing himself out of their market, given Craig Custance of The Athletic's report (subscription required) that the number of teams making contact with him this week is "well into the double-digits."
Pavelski has definitely visited with the Dallas Stars and Tampa Bay Lightning, but that doesn't mean his market ends there. He could have the choice of many teams around the league, though it will be interesting to see how long he eventually signs for. Thanks to his birthday falling in July, he won't be constrained to the 35+ contract restrictions which may allow teams to be a little more frivolous with the term of the deal. For now, it sounds like that won't be the Sharks—the end of an era indeed.
Photo courtesy of USA Today Sports Images