Navigating the Salary Cap is probably one of the more important tasks for any general manager to have. Teams that can avert total cap chaos by walking the tightrope of inking players to deals that match their value (or compensate for future value without breaking the bank) remain successful. Those that don't see struggles and front office changes.
PHR will look at every NHL team and give a thorough look at their cap situation heading into the 2018-19 season. This will focus more on those players who are integral parts of the roster versus those who may find themselves shuttling between the AHL and NHL. All cap figures are courtesy of CapFriendly.
Current Cap Hit: $74,274,122 (under the $79.5MM Upper Limit)
Entry-Level Contracts
F Patrik Laine (one year, $925K)
F Kyle Connor (one year, $925K)
F Kristian Vesalainen (three years, $925K)
F Jack Roslovic (two years, $894K)
F Brendan Lemieux (one year, $839K)
D Sami Niku (two years, $775K)
Potential Bonuses:
Laine: $2.65MM
Connor: $850K
Roslovic: $213K
Lemieux: $200K
Niku: $183K
Total: $4.1MM
The Jets were hit hard when many of their entry-level deals expired a year ago and next year won't be too much different as the team, which is now starting to feel the strain of the salary cap, will have to find a way to hand over a lot of money to Laine, who could receive a long-term deal at an extremely high price. Of course, the 20-year-old is worth that money. The winger scored 36 goals in his rookie campaign and topped that with a 44-goal season last year. If he can reach numbers even close to that, he could be one of the highest players in the league in a year.
Connor should also cost the team a good deal of money as the 21-year-old winger posted 31 goals in his first full NHL season last year and looks to be heading in a similar direction and could also get himself a contract in the $5MM+ range in one season. The team gets another year for Roslovic, who is currently playing in the bottom-six, but don't be surprised if the 21-year-old center might eventually move into the top-six at some point in the season.
It's still too early to know where Vesalainen stands, but the highly-touted prospect will get time immediately in a bottom-six role and develop his skills. With three years on his entry-level deal, the team hopes it can get some cheap scoring options from him for a few years.
One Year Remaining, Non-Entry-Level
D Jacob Trouba ($5.5MM, RFA)
D Tyler Myers ($5.5MM, UFA)
D Ben Chiarot ($1.4MM, UFA)
F Brandon Tanev ($1.15MM, UFA)
F Andrew Copp ($1MM, RFA)
D Joseph Morrow ($1MM, RFA)
F Nic Petan ($874K, RFA)
F Marko Dano ($800K, RFA)
G Laurent Brossoit ($650K, RFA)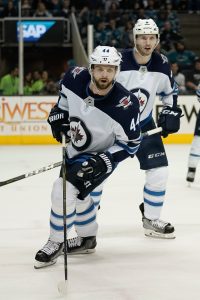 While the team is deep in forwards, their defense has many long-term questions surrounding them. Two of those players have contracts that will expire at the end of the season. Trouba is the most interesting. Despite holding out several years ago and showing little interest in Winnipeg, it looked like things were improving after Winnipeg enjoyed an impressive season last year that took them to the Western Conference Finals. However, another difficult negotiations that failed to bring in a long-term deal and the team may be forced to move on from Trouba sooner than later. He can be an unrestricted free agent after the 2019-20 season.
Myers is also a candidate for the team to move on from as the veteran is on the final year of a seven-year, $38.5MM deal. While Myers is still a very productive player, the long term deals the team has already signed off on as well as potential deals with Laine and Connor could make him a cap casualty as well. The team has Niku, among others, sitting in the AHL waiting for a spot to open and some could open up at the end of the year.
Two Years Remaining
D Dmitry Kulikov ($4.33MM, UFA)
D Josh Morrissey ($3.15MM, RFA)
The team made a couple of free agent signings last offseason, including bringing in goalie Steve Mason and signing Kulikov. Mason has already been traded away after a disappointing season, while Kulikov has had trouble fitting in as well, even being held out of several playoff games last year. The 27-year-old is barely holding onto his spot as a third-line defender and could find himself fighting for time eventually if he can't improve his game.
Morrissey is a different story. The partner to Trouba has been a solid defender and has continued to improve his game and will still be a restricted free agent in a few years, giving the team another opportunity to lock him up long-term.
Three Years Remaining
D Dustin Byfuglien ($7.6MM, UFA)
F Mathieu Perreault ($4.13MM, UFA)
F Adam Lowry ($2.92MM, UFA)
Byfuglien is locked up long-term and in many ways is the face of the franchise, who produces both physicality and offense for the team. The 6-foot-5, 260-pound blueliner did just provide eight goals last year, one of the lowest totals of his career, but the 33-year-old still managed to produce 45 points. The team needs the veteran to continue his dominant play for a few years more if the team intends to continue a long-term Western Conference run.
The team also needs Perreault to continue playing solid hockey as one of their best bottom-six forwards. The 30-year-old posted 17 goals last year, one goal shy of his career-high. The 25-year-old Lowry is another player who the team needs to step up for the franchise. He posted 15 goals in 2016-17, but managed to score just eight goals last year in 45 games. However, his passing game showed quite a bit of improvement.
Four Or More Years Remaining
G Connor Hellebuyck ($6.19MM through 2023-24)
F Mark Scheifele ($6.13MM through 2023-24)
F Nikolaj Ehlers ($6MM through 2024-25)
F Blake Wheeler ($5.6MM in 2018-19; $8.25MM through 2023-24)
F Bryan Little ($5.29MM through 2023-24)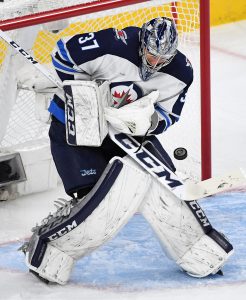 The franchise has quite a few blue-chip players already locked up long-term with the most important position, goaltending, looking to be in good shape after the team signed Hellebuyck to a six-year, $37MM deal. The 25-year-old posted an impressive breakout season that saw him post a 2.37 GAA and a .924 save percentage and should be a major positive for the team over the next six years.
The team signed Wheeler, their captain, to a long-term extension this offseason. He will finish out his previous deal at $5.6MM, but will start on a four-year extension at $8.25MM. Wheeler posted 20 goals for the fifth-straight season, but also saw his points total surge as the 32-year-old put up a career-high 91 points last year, way better than his previous career-high of 78 points.
Ehlers signed a seven-year extension at this time last season and the 22-year-old posted a career-high 29 goals last season playing on the other side of Laine and producing one of the team's most dangerous lines. The team also has Little working as a second-line center, although many believe that he'd be better off with a bottom-six role down the road, which would make him an expensive long-term cost at $5.29MM.
Buyouts
F Mark Stuart ($583K in 2018-19)
Retained Salary Transactions
None
Still To Sign
None
Best Value: Scheifele
Worst Value: Kulikov
(Excluding entry-level contracts)
Looking Ahead
The Winnipeg Jets have done an incredible job so far drafting and developing high-end talent and so far have done an excellent job keeping them in the fold for what the team hopes to be a solid five year run for a Stanley Cup. The team has already locked up many of their top players and while they still have a few more to go, they look well on their way to doing that. The only real question is how general manager Kevin Cheveldayoff handles his defense as he has a pair of major decisions to make within the next year when it comes to dealing with Trouba and Myers.
Photo courtesy of USA Today Sports Images.