Navigating the Salary Cap is probably one of the more important tasks for any general manager to have. Teams that can avert total cap chaos by walking the tightrope of inking players to deals that match their value (or compensate for future value without breaking the bank) remain successful. Those that don't see struggles and front office changes.
PHR will look at every NHL team and give a thorough look at their cap situation heading into the 2018-19 season. This will focus more on those players who are integral parts of the roster versus those who may find themselves shuttling between the AHL and NHL. All cap figures are courtesy of CapFriendly.
Current Cap Hit: $70,812,500 (under the $79.5MM Upper Limit)
Entry-Level Contracts
F Alex Tuch (One year remaining, $925K)
D Zach Whitecloud (Two years remaining, $925K)
Among the many things that went right for Vegas was the play of Tuch, who was a surprise in training camp and quickly earned himself a full-time role. The 6-foot-4, 222-pound winger had an impressive rookie season with the Golden Knights, scoring 15 goals and 37 points with much of his playing time coming with the team's third line. He only improved over time, showing an ability to get into the corners and extend offensive opportunities for the team. He tallied six goals in the playoffs as well, which allowed the Golden Knights to let go veterans James Neal and David Perron, knowing that the 22-year-old Tuch is ready to take his game to the next level. With one year remaining on his entry-level deal, expect him to become a key restricted free agent for the team next season.
Potential Bonuses
Tuch: $93K
Whitecloud: $93K
Total: $186K
One Year Remaining, Non Entry-Level
F William Karlsson ($5.25MM, RFA)
D Nate Schmidt ($2.23MM, UFA)
F Oscar Lindberg ($1.7MM, UFA)
D Deryk Engelland ($1.5MM, UFA)
F Pierre-Edouard Bellemare ($1.45MM, UFA)
F Tomas Nosek ($963K, RFA)
F Ryan Carpenter ($650K, UFA)
D Brad Hunt ($650K, UFA)
G Malcolm Subban ($650K, RFA)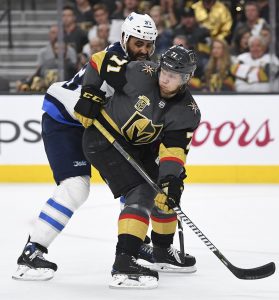 The most important piece the Vegas Golden Knights need to lock up is Karlsson, who just signed a one-year deal with Vegas Saturday. However, now the team has just one year to lock up Karlsson, the team's top scorer, to a long-term extension. Less than a year, actually, as the team can't agree to an extension until Jan. 1, 2019. That gives Vegas time to see how 25-year-old will respond in his second year. After piling up 43 goals last season (and seven more in the playoffs), the team wants to see that he can put up similar numbers before handing him a major deal considering the most he's ever scored in his NHL career was nine goals.
The team will also have to lock up the speedy Schmidt, as well to a long-term deal at some point. The 27-year-old was a key figure on the Golden Knights defense, posting career highs of five goals and 36 points, but also showed his mettle in the playoffs, putting up another three goals and seven points. He could easily get a similar deal to the one that Miller signed with the team (four years, $15.5MM) earlier in the offseason. With an influx of prospects likely to hitting the team for the 2019-20 season, several veterans will have to prove they deserve new contracts this coming  year, including Lindberg, Bellemare, Engelland, Carpenter, Hunt and Subban, although unless someone has a breakout year, none should cost the team too much.
Two Years Remaining
F David Clarkson ($5.25MM, UFA)
F Cody Eakin ($3.85MM, UFA)
F Ryan Reaves ($2.78MM, UFA)
F Erik Haula ($2.75MM, UFA)
D Nick Holden ($2.2MM, UFA)
D Jonathon Merrill ($1.38MM, UFA)
F William Carrier ($725K, RFA)
The team likely will have to pay up if they want to keep Haula. The team's second-line center may move to the third line now that the team locked up Stastny to a free agent deal. However, if Huala can continue to produce like he did last season, the 27-year-old should be able to fetch a nice contract. He had a career-high in goals last season as he scored 29 and 55 points.
The team should also recoup some of their losses as well in two years as Clarkson's deal will expire, so that will free up $5.25MM for the team as the team currently has to wait till the start of the season before they can place his contract on LTIR. Others like Eakin and Reaves will likely have to earn another deal over the next two seasons. Both had solid showings for Vegas this year, but will have to prove their consistency. While Reaves deal looks overpaid on paper, the team opted to give him three years worth of money as long as he only signed for two years.
Three Or More Years
F Paul Stastny ($6.5MM through 2020-21)
G Marc-Andre Fleury ($5.75MM for 2018-19; $7MM through 2021-22)
F Tomas Tatar ($5.3MM through 2020-21)
F Reilly Smith ($5MM through 2021-22)
F Jon Marchessault ($5MM through 2023-24)
D Colin Miller ($3.88MM through 2021-22)
D Brayden McNabb ($2.5MM through 2021-22)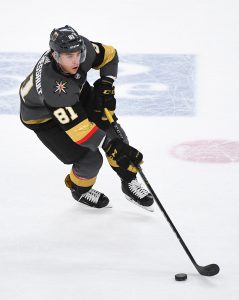 The team has done a nice job locking up some of their talent for the future, but have also kept a precious eye on their long-term projections. The team has a number of players in the mid-twenties who have been locked up for multiple years, including Marchessault, who has been a major key to the success of the team's top line. They assumed the responsibilities of Tatar and Smith, both talented players, who many feel were overpaid for their services. However, both only have three years remaining, so those salaries don't carry on for another eight years.
The team has been very careful about locking up players in the 30's, which is why they allowed Neal and Perron to walk away. They did manage to sign one of the top free agents on the market this offseason in Stastny, but have kept his deal to just a three-year term instead. In fact, the only move that seems to have broken their mold is the three-year extension they handed to the 33-year-old Fleury. Of course goaltenders can last a lot longer than position players, but the team likely made the exception seeing as he has become the face of the franchise.
The team has also done a nice job locking up their defense so far. Miller, who has developed into a top-four defenseman and likely the team's best, signed a four-year deal for under $4MM per season this offseason and he hasn't peaked yet, while McNabb has proven to be a reliable physical presence and also signed for just $2.5MM.
Buyouts
None
Still To Sign
Best Value: Miller
Worst Value: Reaves
Looking Ahead
While the team has not made the splashy move to acquire a big name player like many assumed as they were heavily involved in the Erik Karlsson discussions, the team has quietly moved on, signing many of their free agents and keeping a keen eye on their long-term future. While the team made it to the Stanley Cup Finals in their first year, the expansion franchise has always insisted that it plans to pay hard attention to the salary cap and not abuse it. With a group of impending young talent headed towards Vegas in the next year or two, Vegas could prove to be a talented powerhouse over the next few years.
Photos courtesy of USA Today Sports Images.