The New York Rangers and Detroit Red Wings have agreed to a deal that will send Brendan Smith to New York in return for Ottawa's 2018 second-round pick—received in the Derick Brassard–Mika Zibanejad deal—and a 2017 third-round pick in the upcoming draft. The Rangers don't have their second round pick for the 2017 draft as they dealt it last season for Eric Staal.
Just this morning we wrote how the Rangers would be looking for defense help after Dan Girardi went out for 10 days with an ankle injury, and despite calling up Steven Kampfer for tonight's game, they look like they'll be getting a more permanent solution.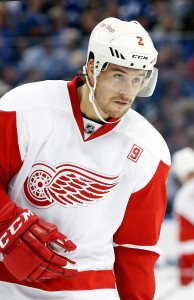 Smith is another player who will be a free agent at year's end, and though the Red Wings have tried to come to an extension agreement with him the reported return is definitely worth it for the rebuilding club. The 28-year old defenseman has been a dependable role player for Detroit through the years, and has shown the ability to take on a larger role. An analytical darling, Smith has always had excellent possession numbers despite his limited minutes and point production.
Even though Marc Staal has a much bigger contract and name recognition, Smith would likely become the Rangers second best option on the left side immediately behind captain Ryan McDonagh, and actually lengthen out their defense corps quite nicely. Yes, Kevin Shattenkirk would have been a bigger upgrade but Smith is no slouch. It's not clear exactly where he would fit in, but helps the Rangers keep pace in the Metropolitan as the Penguins and Capitals both made additions to their back end. The nice thing about Smith is that he has experience on both sides and could fit in wherever the Rangers needed the help most.
Currently making $2.75MM, McKenzie tweeted today that he would be looking for at least a three year deal at $3.5MM if extended by the Red Wings. If the Rangers believe he could fit into their plans for longer than just the next few months, a similar extension would be tough to fit into their current cap situation with raises due for Jesper Fast, Mika Zibanejad and several others.
The pair of picks the Rangers gave up are a hefty price for Smith, but at least they haven't dealt their first-round selection so far. The team hasn't picked a player in the first round since 2012, when they chose (somewhat fittingly) Brady Skjei, a player Smith may be replacing in some sense. The Rangers keep moving out picks at the deadline, and yet have remained competitive in recent years. They are currently in fourth place in the Metropolitan Division but could easily end up anywhere in the top four.
For Detroit, getting two fairly high picks is a great return for Smith that they likely should take even if he was willing to sign an extension. After Michael Stone garnered a third, and Ron Hainsey a second, getting both in this deal seems like larceny. He'll be a solid addition to the Rangers, but the Red Wings now have nine selections in the first three rounds the next two drafts. Sure, they're headed for their first postseason drought in decades but collecting draft picks is the way to turn it around and start towards another consecutive playoff streak.
Bob McKenzie of TSN was first to break the deal on Twitter, and gave the details as the trade call was finishing.
Photo courtesy of USA Today Sports Images