The Arizona Coyotes have broken open the trade gates, dealing defenseman Michael Stone to the Calgary Flames. The Flames will send a 2017 third and conditional 2018 fifth-round pick back and that Arizona will retain 50% of his salary for the remainder of the season. The condition will kick in should Calgary be able to re-sign him.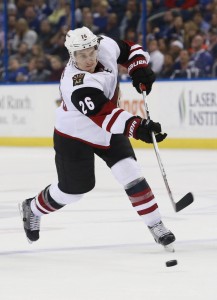 The Flames will only be on the hook for $544K for the rest of the season, a small number for a team that is still trying to make the playoffs this season. This won't stop them from being active at the deadline, as they still have almost $3MM of further LTIR relief should Ladislav Smid remain out for the rest of the season.
Stone is a 26-year old defenseman who before this season had been a solid contributor at both ends of the rink. Last year he registered 36 points in 75 games but just hasn't been able to stay healthy throughout his career. A right-handed defender, we ranked him 15th among our Midseason Free Agent rankings, despite a disaster 2016-17.
For just a third-round pick, Stone is an excellent gamble for the Flames who know him quite well. Brad Treliving worked for Arizona before becoming the Calgary GM, and should understand what he can bring to the table when he is healthy. At very worst, they'll get a few months with him to try and get him under a longer-term contract.
As written previously on PHR, right-handed defensemen are one of the hardest commodities to acquire in the NHL, and if Stone can get back to the form he showed last season (even without the inflated point totals from his powerplay time) he is worth much more than a third-round pick.
This might signal the beginning of the fire-sale in Arizona, who are expected to deal all of their expiring contracts before the March 1st deadline. Martin Hanzal, Shane Doan and Radim Vrbata have all been rumored for the last few weeks, but it is now Stone that has moved first. Bob McKenzie of TSN tweets after the deal was completed that Arizona may not even be finished today, as they continue to work on other deals.
Bob McKenzie of TSN was first to break the news on Twitter that the two sides had agreed to a deal, with Elliotte Friedman of Sportsnet providing the details.
Photo courtesy of USA Today Sports Images