We've made it past the holiday season but there is still plenty to be thankful for. Like the last few years, PHR will take a look at what teams are thankful for but this season comes with a bit of a change. Typically at this time of the calendar year, the trade deadline is fast approaching but now, we're only at the one-quarter mark.  Still, we'll analyze what they're happy about so far and what they can be hoping for in the months to come.
What are the Jets most thankful for?
For years, Winnipeg has been looking to improve their depth down the middle which resulted in several trades for rental players including adding Paul Stastny for the second time last fall.  With Mark Scheifele established as a legitimate number one center, Stastny gave them a bit of insurance with Bryan Little out for the season.  That's good but not great.
That changed with last month's acquisition of Pierre-Luc Dubois from Columbus.  Dubois, who was the top pivot with the Blue Jackets, gives Winnipeg a second high-quality option down the middle.  Perhaps more importantly, Dubois is team-controllable for three more years which lines him up with Scheifele.  There are some strong one-two center punches in the North Division and Winnipeg now has one of them and will have them in place for a while yet once Dubois moves to the middle (he has started on the wing for the time being).
Who are the Jets most thankful for?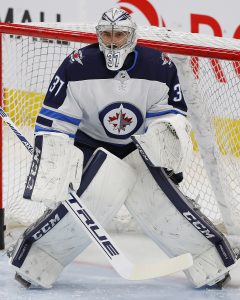 Connor Hellebuyck.  Last year's Vezina-winning goaltender hasn't had the best of defenses playing in front of him (more on that shortly) and with some inconsistent performances from his backups, he has had to log a heavy workload, leading all netminders in games played in two of the last three seasons and facing the most shots in each of the last two years.  Despite that, Hellebuyck has been able to provide the Jets with steady, above-average goaltending on a regular basis for a reasonable price; his $6.167MM AAV is eighth in the league and is only about $1MM higher than the median price tag among starters.  He's still signed for three more years after this one so Winnipeg doesn't have to worry about their goaltending anytime soon.
What would the Jets be even more thankful for?
One of their young defensemen stepping into a top-four role.  Josh Morrissey is a capable core blueliner and Neal Pionk has thrived since coming over from the Jacob Trouba trade.  After that, the depth starts to go down in a hurry.  Dylan DeMelo is a capable third-pairing option which is nice to have but right now, Derek Forbort is logging more than 21 minutes a night just one season removed from being limited to all of 20 games, most of which were on the third pairing.  He's a serviceable blueliner but in an ideal world, he's not playing anywhere near that much.
Meanwhile, Winnipeg has several young defenders with some upside in Tucker Poolman, Sami Niku, Logan Stanley, and Ville Heinola that have all seen NHL action this season.  The latter two were both first-round selections and are key cogs of their back end of the future but haven't shown that they're ready yet for a top-four spot; Heinola also has contract considerations in terms of extending team control to factor in.  Unless they're able to add someone via trade over the next six weeks, the improvement is going to have to come from within.  One of these four stepping up would give them a huge boost heading into the playoff push.
What should be on the Jets' wish list?
Let's stick with the defense.  A top-four blueliner is a piece that would really elevate the Jets to another level for the stretch run.  They do have some LTIR space at their disposal – about $2.8MM worth – and with Little out for the year, they can safely spend without having to plan about getting into compliance.  It's not a situation where it will increase in value on a daily basis like regular cap room so if GM Kevin Cheveldayoff finds the right fit, he can pull the trigger sooner than later.
Photo courtesy of USA Today Sports Images.