We've now made it past the holiday season but there is still plenty to be thankful for. Like the last few years, PHR will take a look at what teams are thankful for but this season comes with a bit of a change. Typically at this time of the calendar year, the trade deadline is fast approaching but now, we're only at the one-quarter mark.  Still, we'll analyze what they're happy about so far and what they can be hoping for in the months to come.
What are the Maple Leafs most thankful for?
Their collection of top-end offensive talent.  When you're spending nearly half of the salary cap on four forwards, it better be a highly-skilled group.  There's no denying that Auston Matthews, John Tavares, Mitch Marner, and William Nylander qualify as highly-skilled.  Few teams can match up with a one-two center punch in Matthews who is scoring at a torrid pace in the early going and Tavares and Marner is one of the premier playmakers in the league.  Nylander is a little streakier than the others but has the ability to take over a game as well when he's on.  There's shouldn't be many long offensive droughts with that level of firepower at the top of their lineup.
Who are the Maple Leafs most thankful for?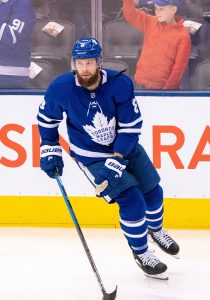 The answer is Matthews but he's already been mentioned above so instead, let's highlight Jake Muzzin.  With all of the money they have spent up front, it has come at the expense of being able to spend much on the back end.  When they acquired Muzzin, the hope was that he'd bring some defensive stability and grit to Toronto's defense corps but there were questions as to whether or not they'd be able to afford to keep him.  He was as advertised and the two sides worked out a four-year extension last season, ensuring he'd stick around.  With Morgan Rielly up for a new deal after next season, the Maple Leafs will at least be able to enter those talks knowing that they have one key cog on the back end locked up already.
What would the Maple Leafs be even more thankful for?
Avoiding short and medium-term injuries.  The cap structure of this team still works when players are placed on LTIR but anything under 10 games or 24 days becomes a little trickier to navigate.  They can afford one extra skater over the minimum when fully healthy but if more than one skater is unavailable due to a short-term injury, they'll be in a situation where they have to play short a player for a game.
On a similar note, they'd also be thankful for Jack Campbell returning soon and staying healthy.  His absence has forced Toronto to use Frederik Andersen more than they'd like early on.  And with Andersen set to become an unrestricted free agent next season, they need to get a good look at Campbell to try to determine if he can take on a bigger role in 2021-22.  It's hard to make that evaluation when he's on IR.
What should be on the Maple Leafs' wish list?
With their cap situation being where it is, there isn't a whole lot they'll be able to do on the trade front.  A forward who can play on the third line that extends their depth would certainly help but it's someone that will need to be making close to the minimum.  Today's pickup of Alex Galchenyuk ($1.05MM) may be tough to carry on the roster on a full-time basis so they may need to look cheaper.  Goaltending depth has been hard to come by but given their hesitance to use Michael Hutchinson so far (Aaron Dell was originally in the reserve role before short-term injuries forced them to waive him to open up cap room), bringing in a different third option that they'd be comfortable using would also be beneficial.
Photo courtesy of USA Today Sports Images.