We've now made it past the holiday season but there is still plenty to be thankful for. Like the last few years, PHR will take a look at what teams are thankful for but this year comes with a bit of a change. Normally teams would have an idea of where their season was heading, coming up on the one-quarter mark with mountains of statistics to analyze. Instead, in this unprecedented year, things are just getting underway. We'll still take a look at what each group is excited about and what they could hope for with the calendar having now flipped to 2021.
What are the Sharks most thankful for?
Last season, San Jose finished dead last in the Pacific Division but while most teams in that situation could at least take solace in knowing that such a performance would yield a high draft pick, that wasn't the case as Ottawa held their first-round pick from the Erik Karlsson trade, using it on Tim Stutzle.  This season, they're not off to the best of starts either (currently sitting in last place in the West Division) but they at least have their first-round selection this time.  After underachieving last year and getting off to a sluggish start this season, there isn't much to be thankful for in terms of on-ice success but at least they have their top pick in their pocket this time around.
Who are the Sharks most thankful for?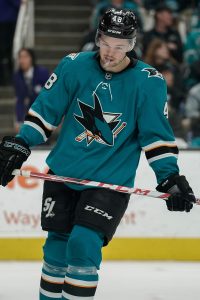 While many of San Jose's players have underachieved lately, that can't be said for Tomas Hertl.  After leading all of their forwards in scoring in 2018-19, he produced at a rate that would have been good enough for the team lead had it not been for a knee injury last season.  He has returned without any lingering issues and currently leads the Sharks in scoring in the early going this year.  After starting his career on the wing, Hertl has also successfully transitioned to a full-time center role, giving them a second homegrown fit down the middle with Logan Couture.  Hertl still has this year and next left on what has become a below-market contract with a $5.625MM AAV and will likely be looking for a deal around Couture's price tag ($8MM) in 2022.
What would the Sharks be even more thankful for?
Karlsson providing a better return for their investment, both in terms of price paid to get him and his contract.  The pick used on Stutzle and Joshua Norris have given Ottawa two potential franchise cornerstones (not to mention the other players they parted with including Chris Tierney and Dylan DeMelo) while Karlsson hasn't come close to living up to expectations.  His point-per-game average has dipped each year since 2015-16 which is concerning for an offense-first defenseman and he has managed just nine goals in a San Jose uniform.  With a record-setting $11.5MM AAV through 2026-27, the Sharks need a whole lot more from Karlsson than they've received so far.
What should be on the Sharks' wish list?
Two areas come to mind with one being a lot more attainable than the other.  The realistic one is trying to add scoring help; the Sharks are averaging just 2.75 goals per game and no one has more than three with Brent Burns being the only defender to get on the board (this despite having the priciest back end in the league).  They are pegged to finish more than $4MM under the cap, per CapFriendly which is quite important in this environment where so many teams are capped out.  If they can hang around the playoff race, they could put themselves in a spot to add.
The less likely one is getting a reliable goaltender.  The Sharks added Devan Dubnyk in the hopes that a change of scenery could spark him after a tough showing with Minnesota last year while also giving Martin Jones a bit of a reprieve to help him improve.  Neither have happened.  Jones has been pulled twice already and is narrowly allowing less than four goals per game while Dubnyk has just a .902 SV%.  However, while getting a steadier option would certainly help, given the difficulty in acquiring any sort of goaltending help this season, it's unlikely they'll be able to adequately address this area.
Photo courtesy of USA Today Sports Images.