We've made it past the holiday season but there is still plenty to be thankful for. Like the last few years, PHR will take a look at what teams are thankful for but this season comes with a bit of a change. Typically at this time of the calendar year, the trade deadline is fast approaching but now, we're only at the one-quarter mark.  Still, we'll analyze what they're happy about so far and what they can be hoping for in the months to come.
What are the Golden Knights most thankful for?
Their scoring depth.  Most teams in their fourth year of existence haven't typically built up a deep group of veterans but Vegas hasn't been a typical newer team at any point along the way.  They have five forwards that scored at least 15 goals in the pandemic-shortened 2019-20 season and have two players not in that group that have a shot at that mark this season.  Having three lines capable of putting up strong offensive production is a luxury that many teams aren't able to afford.  Vegas GM Kelly McCrimmon has gone through quite a few hoops to assemble this roster which is one of the deepest in the league that should give them enough firepower to win most nights, even if one of their two starting-caliber goalies has an off night.
Who are the Golden Knights most thankful for?
Mark Stone.  While he isn't a player that's going to be contending for the Art Ross Trophy, he's a consistent offensive producer having hovered near the point per game mark for the last three seasons plus this one while being one of the top defensive forwards in the league.  That's a rare combination to have.  Sure, Vegas is known for the glitz and glamour but Stone is anything but flashy and that's just what they need from their captain.  He's signed for six more years after this one so it's safe to say that he'll be a fixture on their top line for a long time yet.  There has been considerable roster turnover in the early going for the Golden Knights but Stone gives them some much-needed stability.
What would the Golden Knights be even more thankful for?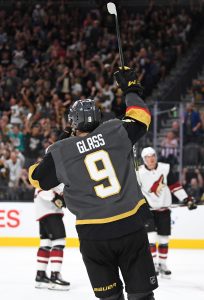 A big jump forward from Cody Glass.  The sophomore is off to a nice start to his season with two goals and five assists through his first ten games so he's already trending in the right direction.  However, they had to part with Paul Stastny over the offseason while William Karlsson isn't the number one center he was in their inaugural year.  That's left them a bit thin down the middle with Chandler Stephenson also taking on a bigger role.  His ceiling is nowhere near that of Glass, however.  Their first-ever draft pick, Glass was picked with the expectation that he will one day become their top pivot.  He's definitely on the right track although the sooner he can get there, the more dangerous Vegas can become.  That's a lot of pressure but with an inability to afford any additions, any further improvement is going to have to come from within the roster and he has the highest ceiling.
What should be on the Golden Knights' wish list?
Cap space.  They've been able to stay in cap compliance this season by often dressing just five defensemen and are currently using LTIR to carry a more typical gameday lineup.  There aren't many ways to free up cap room without subtracting a key piece off the roster but if they could find a way to sneak a depth forward like Tomas Nosek to the taxi squad and just bring him up for games they're going to use him.  Forget about accruing enough cap space to make a deadline acquisition; instead, the focus for McCrimmon should be trying to bank enough room to afford to merely call someone up.  Such is life with a team that's as well-stocked with veteran talent as they are.
Photo courtesy of USA Today Sports Images.