We've made it past the holiday season but there is still plenty to be thankful for. Like the last few years, PHR will take a look at what teams are thankful for but this season comes with a bit of a change. Typically at this time of the calendar year, the trade deadline is fast approaching but now, we're only at the one-quarter mark.  Still, we'll analyze what they're happy about so far and what they can be hoping for in the months to come.
What are the Capitals most thankful for?
A consistent stream of firepower.  While a few players have come and gone due to salary cap constraints, the majority of Washington's core has been intact for a while.  The end result has been plenty of offense.  The Caps are in the top ten in goals scored this season and that's a spot they've been in for a while.  You have to go back all the way to 2013-14 to find the last time they weren't in the top-ten in that department (they were 11th that year).  Yes, it's an expensive core which has presented some challenges for GM Brian MacLellan along the way but it's also an enviable foundation to build from and knowing that there's a top-ten attack year in and year out certainly makes things a bit easier from a roster-building perspective.
Who are the Capitals most thankful for?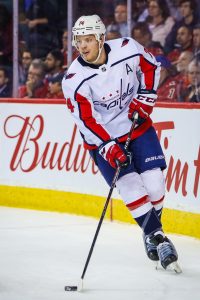 Alex Ovechkin would be the best answer but there will be more on him shortly.  Instead, let's look at another significant offensive threat in John Carlson.  He's the one Washington defender that produces with any offensive consistency; he almost has as many goals so far this season (five) as the rest of their back end combined (six).  Last year, he outscored the rest of Washington's blueliners 15-11 while leading the team in points.  Carlson's defensive zone play has also improved and it has reached the point where his $8MM price tag went from being viewed as a reasonable gamble to an outright bargain.  He was the Norris Trophy runner up last season and should be in the mix for that award for a few more years.
What would the Capitals be even more thankful for?
Getting an extension done with Ovechkin.  He has been their franchise player since the moment he first set foot in the league back in 2005 and the 13-year, $124MM contract he signed back in 2008 that seemed a bit outlandish at the time has wound up yielding a lot of value for the Caps.  Ovechkin has committed to re-signing with Washington although his playing career is likely to come to an end back in Russia.  Even so, it's something that MacLellan will want to get done sooner than later just to get a sense of what their salary cap situation will be down the road.  They're not in a position to ask him to take a significant hometown discount and his next contract may very well come in close to his current $9.538MM AAV.  They can wait until the offseason if they need to but getting it done now would certainly make everyone thankful.
What should be on the Capitals' wish list?
With cap space at an absolute premium right now – they can't afford to recall anyone right now even with Henrik Lundqvist and Michal Kempny's LTIR room, MacLellan's hands may ultimately be tied in terms of trying to add anything by the April 12th trade deadline.  But if the opportunity presents itself, adding center depth would be a worthwhile addition.  When Evgeny Kuznetsov was on the CPRA list, the Caps were forced to turn to T.J. Oshie down the middle and they don't really have any reliable proven options on the taxi squad or with AHL Hershey right now.  They have high hopes for Connor McMichael who could be their best option for any extended absence but as a junior-aged player, that would be a tough ask.  Finding someone that could cover in the bottom six and allow Lars Eller to move up if necessary would be a great luxury to have – if only they could afford it.
Photo courtesy of USA Today Sports Images.