The Anaheim Ducks have signed former Detroit Red Wings depth defenseman Robert Hägg to a one-year contract, per a team announcement. According to CapFriendly, the deal is a one-way league-minimum contract.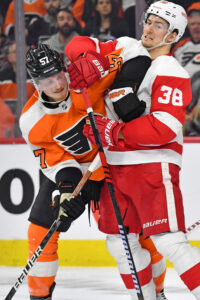 Hägg, 28, spent last season as a depth defenseman for the Detroit Red Wings, skating in 38 games and averaging 15:31 time-on-ice per night.
The former Philadelphia Flyers has never been much of an offensive defenseman (he has just 63 points in 338 career NHL games) but he's been valued by clubs for his physicality and ability to lay down big hits on the opposition.
The Ducks have a glut of young, relatively unproven left-shot defensemen set to compete for lineup spots in the fall, with top prospects Olen Zellweger, Pavel Minytukov, and Jackson LaCombe in the running to win a job in new head coach Greg Cronin's defense.
This addition of Hägg is less about adding a blueliner who'll play meaningful NHL minutes and more about bringing in some experienced competition for those younger players. Should none of them manage to beat out Hägg for a regular role on the Ducks' back-end, Hägg can log time on the Ducks' defense and not look out of place, even occasionally wowing fans with a big hit.
But this signing was likely made with the hope that Hägg will end up taking a back seat to one of the Ducks' prospects, and the team will now have to wait and see if their young defensemen are up to the task.
Also, even if one or two of the Ducks' prospect defensemen takes a regular job, Hägg will still have the opportunity to compete with 26-year-old Colton White for the team's seventh-defenseman role, the role he occupied in Detroit last season.
Photos courtesy of USA Today Sports Images