The Vancouver Canucks have found some certainty during this difficult season. Today they announced that they've signed Ben Hutton to a two-year extension that will pay him $2.8MM annually. The deal will kick in at the start of the 2017-18 season.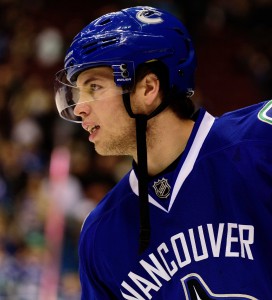 After selecting Hutton in the fifth-round of the 2012 draft (147th overall), the Canucks couldn't have envisioned his quick rise to the NHL blueline. At just 22 last season, Hutton led all Vancouver defensemen in points with 25, in what would be an excellent rookie campaign. While he has only four points this season, he's been relied upon even more, logging over 21 minutes a night.
With the Canucks floundering somewhere between contending and rebuilding, Hutton is a shining light for the future. The team will, however, be spending quite a bit of money on their defense next season as Erik Gudbranson and Nikita Tryamkin are up for new contracts and Alexander Edler, Chris Tanev and Luca Sbisa already cost $13MM combined.  It'll be an interesting offseason for a team who put money up this summer to try and compete during the closing Sedin window, but have gotten off to a tough 8-10-2 start.
With Hutton signed, GM Jim Benning says next on the list is former first-round pick Bo Horvat, a player he'd like to sign long-term if possible. The Canucks have roughly $55MM committed to just 15 players for next season, meaning that they'll have somewhere around $18-20MM (depending on where the cap lands) to fill out their roster. Horvat, Gudbranson, and Tryamkin join many other including Brendan Gaunce and Michael Chaput on the team's long list of RFAs this summer. If Horvat does indeed get a long-term deal, he'll substantially eat into that cap space.
Photo courtesy of USA Today Sports Images.