With the trade deadline less than a week away, we continue to take a closer look at each team. Where do they stand, what do they need to do, and what assets do they have to fill those needs?
The Philadelphia Flyers are one of the most depressing stories of the season so far (sorry Flyers fans) after their hot start has crumbled in front of their eyes. Once winners of ten straight, the Flyers have gone 9-15-4 since then and have almost seen their playoff hopes vanish entirely. They are currently five points out of a playoff spot with two teams between them, and are in danger of being overtaken by the surging Tampa Bay Lightning and perhaps even the Buffalo Sabres.
It's not all bad for the Flyers though, who have seen Ivan Provorov and Travis Konecny have solid debuts as teenagers, and Wayne Simmonds continue to make his deal look like one of the best in the NHL. They have two games remaining before the deadline, one against their cross-state rival Pittsburgh Penguins, and one against the lowly Colorado Avalanche. Perhaps they will decide the fate of the Flyers come the deadline.
Record
28-25-7, 6th in Metropolitan Division
Deadline Status
Likely Seller, but with eyes on a quick reload.
Deadline Cap Space
$740K – full-season cap hit, 46/50 contracts per CapFriendly.
Draft Picks
2017: PHI 1st, PHI 2nd, PHI 3rd, BOS 3rd, PHI 4th, NYI 4th, PHI 5th, PHI 6th, PHI 7th
2018: PHI 1st, PHI 2nd, PHI 3rd, PHI 4th, PHI 5th, PHI 6th, PHI 7th
Trade Chips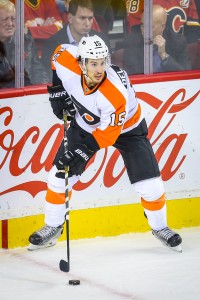 It's all about the rental defensemen for the Flyers, who have a few options to sell at the deadline. If they want to move on from both Mark Streit and Michael Del Zotto, there will be takers for both. While neither is a defensive dynamo, both provide offensive ability and can be used to boost a powerplay. Their value is fairly low, as both have been healthy scratches at times this season and aren't reliable enough in their own end to warrant a high draft pick or top prospect.
Both Steve Mason and Michal Neuvirth are free agents at the end of the year, but neither has played well enough for a team to think they could help them win games down the stretch. Philadelphia is likely stuck with them for the rest of the year, unless they can convince someone to take Mason's hit in a salary-swapping deal.
It will be interesting to see if the Flyers push any of their other assets into the fray, and try a little rebuild on the fly. They've benched Shayne Gostisbehere at times this season to try and help his development defensively, and could get a ransom for him if they made him available. Brayden Schenn and Sean Couturier would both be considered among the best available names if they listened on them, and could bring back packages close to the ones Joe Sakic is looking for in Colorado.
Likely though the deadline will come down to shopping defenders for Philadelphia, who would listen on Radko Gudas and Andrew MacDonald if anyone called. Both players (especially MacDonald) likely have too big of a contract to deal in-season though.
Five Players To Watch: D Michael Del Zotto, D Mark Streit, D Radko Gudas, C Nick Cousins, F Chris VandeVelde
Team Needs
1) Expansion Draft Goaltending: The Flyers have a decision to make at the expansion draft, as currently the only goaltender that fills the requirement is Anthony Stolarz, a prospect they likely wouldn't want to lose—though they do also have Carter Hart and Alex Lyon in the pipeline. They'll either have to re-sign one of the two pending free agents, or bring in another goaltender to expose. It doesn't have to be anyone who will play for the team next season, but look for them to at least address that situation by the deadline.
2) Young Roster-Ready Players – The Flyers won't want to undergo a complete rebuild, with Claude Giroux and Jakub Voracek right in their prime and signed long-term. Mid-round draft picks are nice to keep a pipeline full of talent, but the Flyers need to get better now. Look for them to go after any pre-prime player that is available, though those are few and far between this season. The crunch up front in Tampa Bay, or the crop of good young defenders in Carolina and Anaheim could be targets but will likely have to wait until the summer to get anything done.