This edition of the mailbag tackles a couple of draft questions, Jonathan Toews' future, Ottawa's struggles this season, plus the NHL rulebook.
DaBinx: Which of these options would be the best for the Canadiens?
Move down in the draft and acquire more picks.
Stay at #3 and see who is available.
If you think there is a better option let me know.
Of those two options, I'd prefer the stay at #3 one from the standpoint of the Canadiens.  This is a team that is lacking in top talent up front so dropping back and losing out on some of the more talented forwards (I'm assuming they'd be leaning towards a forward and not a defenseman here) doesn't seem ideal.  They also already have four second-rounders so a deal to potentially add another one doesn't make much sense unless they plan to package two of those to get back in towards the bottom of the round.
The other option, of course, is to trade the pick.  Despite their tough season, Montreal's roster is designed to be more of a win now team.  Accordingly, trading for someone who could make more of an impact now will probably be considered.  I'm not talking about someone with a year or two left on their deal before they become unrestricted but a 20-22-year-old who is somewhat established in the league already and is ready to fill an important role now.  And if that player happened to play center, all the better from Montreal's standpoint.  If they can't get that, then they should hold onto the pick and give themselves another quality forward to build around, even if they're not necessarily ready to make a big impact right away.
acarneglia: What will the Rangers do with their 3 first round picks? Will they trade up with someone like Ottawa who doesn't have a first next year?
Considering that their two extra picks project to be at the back of the round, it will be difficult to use those to move their top selection (ninth overall) up by any substantial amount.  A team like Ottawa probably isn't going to want to drop down five spots when they have to give up an unprotected first-round pick to Colorado next year.  If they're keeping that pick (and it appears they are), they're likely going to want to use it on a top youngster and will value quality over quantity.
If someone ranked in the early teens starts to fall, then maybe there's a case to try to move up by packaging the two later firsts.  Alternatively, maybe moving one for a young NHL player who can fit in next season and the foreseeable future would be something worth considering.
Otherwise, I like the idea of them simply keeping the three and hoping to hit big on one of their picks at the back of the round.  If you can get two impact NHL players in the first round, that's pretty good for them long-term.  New York is doing a good job at stockpiling young prospects but they're not at a spot where they have enough where they can start packaging just yet unless there's a big upgrade on the table and because those picks are so deep in the round, I don't think they'll be able to combine them to get that big upgrade.
@jwlwade: Has the game passed Jonathan Toews by?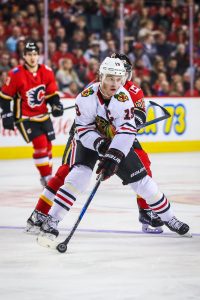 I wouldn't go quite to that extent but I'd acknowledge that his days as one of the elite players in the league are probably done.  He's still a number one center on quite a few teams and even though he has started to slow down, he still brings a lot to the table for Chicago.  He remains a very effective defensive player, is still quite strong at the faceoff dot, and he has managed to score 20 or more goals even as his decline starts.
Unfortunately for the Blackhawks, with what they're paying him ($10.5MM for five more years after this one), this decline is going to be a concern.  With that type of cap hit, they're expecting an elite player, not 'just' an above average one.  I think Toews has several years left of being a solid performer for Chicago but they're not going to be getting great bang for their buck the rest of the way.  Considering they're already a team with some continued salary cap challenges, this is cause for some concern.
ThePriceWasRight: Sounds like the Sens are blaming Boucher for last year but should the blame not fall more on Dorion for some poor personnel decisions? (Condon contract, Oduya pickup, etc.)
I would say the coaching staff still deserves a good chunk of the blame.  Guy Boucher's system can be effective but it's a drag to play.  That's part of the reason he has bounced around a bit as of late – it works for a while and then the players aren't as willing to buy in.  This year was exacerbated by their poor performance – it's even less fun to play a no-fun system when it isn't resulting in wins.  Clearly, GM Pierre Dorion wants to see Boucher be a bit more flexible in his methods which is why they wouldn't commit to him until they had their meeting earlier in the week.
That being said, Dorion's decisions haven't been perfect by any stretch.  The goalie tandem of Craig Anderson and Mike Condon is inconsistent so giving three years to Condon was a bit much and even the in-season extension for Anderson was somewhat questionable.  He also didn't make out too well in the Matt Duchene deal (and I wasn't a fan of the Dion Phaneuf swap either).  That back end needs improvement after losing Phaneuf and Marc Methot in expansion and that really wasn't addressed aside from Johnny Oduya's pickup that clearly didn't pan out like they hoped.  The fact that they've now committed to more of a rebuild will buy Dorion a bit of time but he needs to have a better summer this time around.  With a new deal looming for Mark Stone and Erik Karlsson's situation, there will be a lot of pressure on him.
ByeTheNumbers: Any rule changes likely in the offseason? What rule changes would you like to see? Coach's challenge for penalties? Elimination of the trapezoid?
The goalie interference rule is bound to come up in any offseason discussions.  We've seen a lot of frivolous challenges which makes me wonder if we might see some talk of changing to the way the offside rule is now – you don't need a timeout but it's a penalty if the call on the ice stands.  Obviously, it's not necessarily as cut and dry as an offside call but if they're looking to drastically reduce the number of questionable (and largely unnecessary) challenges, that is something that I could see being discussed.  If they want to expand challenges to include penalties, the puck-over-glass one would be an option.  I'm not sure there's much of an appetite for big changes though.
In terms of what I'd like to see changed, a few things come to mind.  I've never liked the trapezoid but I think that's here to stay (with some advertising coming in the no-play zones in the near future).  I'd like to see the NHL adopt the current IIHF rule when it comes to shootout eligibility – if a player is in the box at the conclusion of overtime, they become ineligible to participate in the shootout.  There have been instances where a player takes a penalty in the dying seconds of overtime and then play a role in the shootout moments later.  Since overtime isn't getting extended, extend the penalty to take the player out of the shootout.  It's not much, but it's something.
I'd also like it if the NHL tried to go back to the era of the fast faceoff.  The standard back then was five seconds for the visitors to change, five for the home team, and five to drop the puck.  On icings, since one team can't change, it could go even quicker.  At a time where professional sports leagues are looking to speed up the overall length of a game, going back to this standard would certainly help.  Unfortunately, it didn't last long when they tried to implement it and with the haggling over faceoff alignment we've seen this season, it probably isn't going to be on the table anytime soon.
Photo courtesy of USA Today Sports Images.