Topics in this edition of the mailbag include Tampa Bay's spot in the Atlantic, worst case odds for Detroit in the draft lottery, Henrik Lundqvist's future, the backup situation for the Blues, Kyle Dubas' tenure with Toronto, and a projection for the Flyers in the postseason.  If your question doesn't appear here, check back for it in last weekend's mailbag.
mydadleftme: Any chance you think the Lightning are avoiding first place so they don't have to match up against the Blue Jackets again? Is it actually safer for them to play the Maple Leafs?
I wouldn't say Tampa Bay was actively trying to avoid reaching the top spot in the Atlantic Division to avoid being matched up with Columbus again.  A big factor for them not them contending with Boston is their cold start to the season.  It wasn't until mid-December that they started to find their form and in doing so, they left a lot of points on the table.  Let's also give the Bruins some credit – they've earned their spot atop the standings.
I'll touch more on Toronto later but I don't think they'd be the easier matchup compared to a Wild Card team from the Metropolitan such as Columbus.  The Maple Leafs, when they're on their game, have the firepower to keep pace with the Lightning.  The Blue Jackets or Hurricanes don't.  Sure, Toronto may not be built for the postseason based on a general lack of physicality on the roster aside from a few players but Tampa Bay is somewhat of a finesse team as well which mitigates that concern somewhat.  If this winds up being the matchup (depending on if and when the games resume and if the playoff structure will be the same), it certainly won't be an easy one.
tigers22: If the lottery takes a turn for the worse and the Red Wings get passed by three teams and select fourth, do you believe they will take a look at the top goalie prospect or trade down to collect more picks for this rebuild?
This is a really interesting question.  Detroit certainly needs goaltending in a big way and their depth at all levels isn't great.  (Having said that, I think Keith Petruzzelli has at least a bit of upside.)  But, I don't think Yaroslav Askarov is worth the number four pick.  The Red Wings could plausibly trade down and still get him closer to the back end of the top ten which would be the best of both worlds for your worst case scenario.
But is that the right way to go?  I'm not so sure.
It is quite risky to draft for need that early in the draft and with goaltenders, they usually take a lot longer than position players to get to the NHL level.  Chances are that players like blueliner Jamie Drysdale or winger Lucas Raymond would make an impact much sooner than Askarov would.
There's also the distinct possibility that by the time that Askarov is ready to play in the NHL, Detroit's goaltending need would be solved.  They have plenty of cap room to work with this summer so they're going to be going after players like Jacob Markstrom, Robin Lehner, and Braden Holtby if they make it to the open market.  If they commit to one of them as their long-term starter, the need for Askarov would be lessened.  Of course, the draft falls before free agency so it's not as if GM Steve Yzerman will know who his likely new starter will be by then.  If they did want Askarov though if this particular scenario occurs, they should be able to trade down for him.
met man: Now that Lundqvist has been demoted to third string, do you think he will consider retirement? I love the guy, but his time seems to have passed.
I think that would be Plan A for the Rangers at this point as it would avoid another season of the awkwardness that has seen Lundqvist play all of five games over the last two months (two of those coming in relief).  If he was to voluntarily retire, everyone would walk away and the goalie controversy would be over.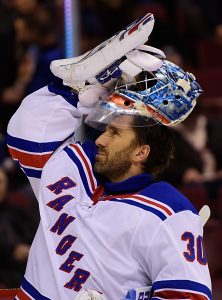 But why would the 38-year-old want to do that voluntarily?  While his contract was frontloaded, he's still owed $5.5MM in salary for next season (which includes a $1MM signing bonus).  He has made a lot of money in his career but $5.5MM is $5.5MM.  Yes, Roberto Luongo walked away with some money left on the table but the total money owing to him over the final three years that were left on his deal is far less than Lundqvist's salary so the situations are far from the same.
At this point, a trade is unlikely.  He doesn't want to leave and with an $8.5MM cap hit, no one's going to want him at that price tag.  That leaves two options – carry three goalies again or go for the buyout.  The former isn't appealing as their cap space will be limited by the time they re-sign their other free agents and the latter isn't appealing either as it involves paying a franchise legend to go away.  But it's the lesser of two evils at that point.  If that happens, then Lundqvist can decide if he wants to try somewhere else or walk away and essentially retire as a Ranger (or close to it).  Doing it that way makes him a lot more money than if he was to retire following the season.
vincent k. mcmahon: If the Blues move Jake Allen this summer, would Ville Husso be Jordan Binnington's backup or would they look at the FA market?
I would say it almost has to be Husso in that scenario.  They already have nearly $74MM in commitments to 17 players on the current roster for next season and that doesn't include Alex Pietrangelo who they certainly want to re-sign.  It'll take all of their remaining room and then some (perhaps Allen being moved) to get him signed so it's unlikely they'll be able to afford to turn to free agency to pay for a backup.  That market has gone up considerably the last few years with good second stringers getting more than $3MM per year.  That's well out of the price range for St. Louis.
Back at the end of January, GM Doug Armstrong gave Husso a two-year, one-way extension worth $750K which gives him some cost certainty at that position.  If he remains in the minors next year, he's an affordable injury recall and if he's the backup, he'll give the Blues some much needed financial flexibility.  There's a risk going with Husso as Binnington's backup but it's one that is justified to take.
jimmertee: Does Dubas still have a job after an early Leafs playoff exit?
General managers don't have anywhere near as short a shelf life as head coaches do.  It takes time for them to execute their vision for the roster and even longer to see if it's the right approach or if tweaks or needed.  While Dubas has been with Toronto since 2014, he has only been in the GM chair for two seasons.  That's not a lot of time to execute and evaluate his strategy.
Rightfully or not, he has gone all in on the big four up front which is going to leave a lot of positions in flux every year in terms of roster turnover while decisions will eventually have to be made regarding core players in Morgan Rielly and Frederik Andersen and how they can afford to keep or replace them.  Brendan Shanahan signed off on Dubas going the way he did with building his team.  Now he needs to let his GM navigate the salary cap challenges associated with those decisions.  I'm sure they've foreseen the challenges ahead long before they committed to this approach so there's likely a plan in place already.
As for the potential for an early playoff exit, it's certainly possible considering how much of an up and down team they were in the weeks leading up to the pause in the schedule.  At their worst, they could be swept pretty easily.  But when they're on, they can play with the best of them.  If the standings hold and it's a usual playoff format, they'd get Tampa Bay and I think they match up relatively well with them so a quick out would be far from a guarantee.  It'd be one of the tighter series in the entire first round.  But no matter how that plays out, Dubas should still be calling the shots for the foreseeable future.
Darkside830: How far will the Flyers go?
I'm not sold on Philadelphia just yet.  Time and time again, they've had hot streaks which have been immediately followed by lengthy winless droughts which give back most of what they gained in the standings.  Perhaps this layoff will be beneficial to them in that respect.
But how well will their scoring by committee approach work in the postseason?  Vegas showed two years ago that it's doable but plenty of other times, top talent has helped push teams over the top.  The Flyers have a lot of quality players but their top talent isn't at the level of some of the other teams in the division that they'll need to push through in the postseason.
I'm also leery about trusting young goaltending in the playoffs.  Let's give Carter Hart plenty of credit.  He has navigated the early trials and tribulations of the NHL rather well for someone that won't turn 22 until the summer.  But this will be his first crack at the postseason and over the years, some top young goalies have faltered in their first test.  (Some have thrived too but it's a question mark nonetheless.)
A month ago, I'd have had a hard time thinking they'd win a round.  I think that's doable now.  But I still can't see them getting past Washington in the second round, even if they happen to leapfrog them in the standings and get home ice advantage for that series.  Even if that was to occur, it'd still be a pretty successful season for the Flyers after missing the playoffs last season.
Photo courtesy of USA Today Sports Images.