While William Nylander was a popular topic among the mailbag questions, there were still some queries regarding other topics around the league.  This edition of the mailbag looks at the impact of some significant injuries, Nick Ritchie's situation in Anaheim, Filip Zadina, teams struggling out of the gate defensively, and a slow start in St. Louis.
ByeTheNumbers: Lots of big injuries to start the season: Luongo, JVR, Perry, etc. Who fares the worst?
I think Anaheim is hit the hardest out of that group.  There are already some question marks surrounding the health of core players like Ryan Kesler and Patrick Eaves and with Ondrej Kase also on the shelf, their depth is getting tested.  Because of the long-term nature of Corey Perry's injury, they at least have LTIR space to work with if they want to add help from outside of the organization.  However, with their financial commitments beyond this season (more than $74MM which doesn't include Ritchie), any addition would need to be on an expiring contract.
I think the Panthers and Flyers are relatively well-equipped to handle their injuries.  Everyone knows Roberto Luongo's an injury risk at this point which is why Florida gave Michael Hutchinson $1.3MM to start in the minors and be a capable recall option whenever Luongo goes down.  A tandem of Hutchinson and James Reimer isn't going to steal them a lot of games but they should be able to tread water at the very least.  As for Philadelphia, losing James van Riemsdyk hurts but they basically have their entire offense back from last year, a team that was around the middle of the pack in scoring.  They should be able to overcome missing van Riemsdyk for now, as long as their goaltending holds up.
ThePriceWasRight: How long do the Nylander and Ritchie sagas play out? Maple Leafs have shown they likely don't need Nylander but could still use a shutdown d-man. Anaheim, on the other hand, could use some offense in its lineup.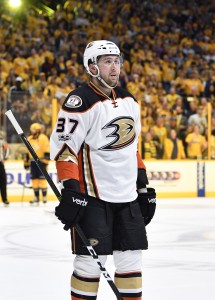 Of the two I think Ritchie and Anaheim will get a deal done first.  While the Ducks could use some offensive upgrades due to their injuries, I'm not sure Ritchie (who had just ten goals last year) really moves the needle for them too much; he's more of a middle-six player.  The team wants a three-year bridge deal and Ritchie's hoping for one year with the idea that a strong season will set him up for a bigger contract next summer.  Given how much they have committed already for next year though, I'm not surprised that Anaheim appears to be looking for some more cost certainty here.  Eventually, I have to think they'll meet in the middle within the next week or two.
Nylander was covered previously in the Nylander-specific edition of the mailbag.
Mark Black: What are the implications of the Zadina loan clarification in terms of finances? Do the Mooseheads receive any financial compensation from the Red Wings/NHL in terms of transfer fees or does that money go to Zadina's originating team? How much did the Mooseheads lose out on aside from a very good roster player?
This is a really intriguing question but considering the required documents to answer this aren't available publicly (the NHL-CHL Player Transfer Agreement, the PTA between the NHL and the Czech Republic, and the loan agreement between Halifax and Pardubice), I can only give you a general guess on the answer.
Zadina was ruled eligible to play in the AHL this season which is noteworthy.  Had he been classified as a CHL player, he wouldn't have been able to as the PTA between the NHL and CHL would have prevented him from doing so.  The age/years of experience restriction that exists in that agreement does not exist in international ones which is why Zadina is currently suiting up in Grand Rapids.  With that in mind, I'd have to surmise that in the eyes of the league, the transfer fees would go to the Czech Republic.  (And without the actual agreements, I can't even speculate on what the price paid would be.)
While it certainly feels like Halifax gets the short end of the stick here, they wound up getting very good value on their top pick in the 2017 Import Draft in that Zadina became an impact player right away.  Most teams have to wait a year or two before their import selections really blossom (such as the two they took in the most recent draft) so even though he wound up being a one-and-done player (and likely not getting much, if anything, in transfer fees), the Mooseheads still have to be somewhat pleased with what they got out of Zadina.
ThePriceWasRight: Which team is more in need of immediate defensive help?
Toronto 13 GA in 3 games
Chicago 14 GA in 3 games
Pittsburgh 13 GA in 2 games
Considering Chicago has multiple injuries on defense and is still without Corey Crawford, I wouldn't worry too much about them just yet.  If they allow goals like this when they're fully healthy though, then it's trouble.  Pittsburgh hasn't had a great back end on paper for a while now and it hasn't held them back so I think they're okay for now.  Before the season is out though, I think some sort of small upgrade would be useful.
As for Toronto, their defensive woes can be covered as long as their attack is at the level it's at now.  I can't see their offense averaging five goals per game all season but even when that comes down, they can still outscore their defensive struggles most nights.  That will allow them to bide their time so while an upgrade is needed at some point, it doesn't have to be a move that's made in the short-term either.
At this time of the season, most trades are depth-based so it's going to take some time for a team to be willing to part with a top-four blueliner that would represent a tangible upgrade for most clubs, including these three.
Paul Heyman: When is the Blues offense/defense going to help Jake Allen win a game this season?
The offense had a good showing on Thursday night but it's not too surprising that it's off to a somewhat slow start.  The Blues are integrating quite a few new players into their system – half of their top-eight forwards in terms of ATOI weren't on the team last year.  On top of that, they're also playing two top youngsters in Robert Thomas and Jordan Kyrou who weren't with the team either.  When half of their forwards weren't there last season (even more when you factor in Robby Fabbri's eventual return), there are going to be growing pains.  If this question is coming up 30 games from now, then there will be cause for concern.
I think they'll be okay defensively before too long.  Getting Joel Edmundson back is a big help and if Jay Bouwmeester can stay healthy, that will also shore up the depth on their back end while Vince Dunn should be able to play a bigger role after a good rookie year as well.  This isn't a group that should be winning too many games on their own but, when healthy, they shouldn't be costing the Blues too many either.
Photo courtesy of USA Today Sports Images.