This edition of the PHR mailbag takes a look at what the Senators should do with their pending unrestricted free agents, assesses the Metropolitan Division, compares the Henrik Zetterberg situation to Marian Hossa's, and looks at whether or not the Bruins need to make a move to upgrade their top-six up front.
ThePriceWasRight: Fantasy GM time. Sens have Duchene, Karlsson, Stone, Dzingel all facing UFA after this season. Noting that obviously ownership plays a factor, How would you address each situation?
Looking at it from afar, the objective approach would be to accept the reality that a long-term rebuild is their best course of action, particularly with the self-imposed payroll constraints.  However, the Senators are a team that has lost a lot in ticket sales in recent years – they've dropped in average attendance for three straight years and averaged less than 16,000 a night last season.  Take Erik Karlsson, Matt Duchene, and Mark Stone out of the lineup and that number is really going to take a hit.  There are already some concerns about the long-term viability of the franchise and a big cut in ticket sales is only going to exacerbate that.
With that in mind, I think Ottawa has to make a legitimate effort to re-sign their big three UFAs.  It sounds like they've made that effort with Karlsson already but not the other two just yet.  These are all players that will still be impact players a few years from now when the rebuild should be coming to an end.  If they can't get something done, then they have to bite the bullet and deal them all, taking the risk that their ticket revenue is really going to dip.  (I expect that if this was to happen, they'd really be in the market for players with high cap hits and low salaries to allow them to opt for an actual payroll below the cap floor.)
I don't think the market for Karlsson gets a whole lot better as the season progresses so he's one that I'd look to move sooner than later.  (And I wouldn't devalue what they get for him by looking to attach Bobby Ryan's deal either – GM Pierre Dorion needs the best return possible.)  It's often easier to work around salaries now than it is in mid-February.  Duchene's case could stand to wait a little while as they'd probably be better served waiting to try to leverage a team that has a long-term injury to one of their top-six centers.  Since a new deal for Stone can't really be worked out until January at the earliest, I'd wait to move him until then when an 'acquire-and-extend' becomes a legitimate option as I think that's where his value will be maximized.
As for Ryan Dzingel, I think a bit more patience is required.  He doesn't have a long-term track record to build off; he has only been an NHL regular for two years.  Could he be a part of their long-term plans?  It's probably too early to say.  If he fares well and looks like he could be a core part, then I'd be making a push to extend him after January.  If no deal can be reached, then he's a nice trade commodity at the deadline given his $1.8MM cap hit which is something a lot of contenders should be able to afford.
acarneglia: Can you make sense of the crazy Metropolitan division? Capitals, Penguins, Blue Jackets seem to be the favorites, but the Flyers, Devils, and Hurricanes are on the rise. Don't count out the Rangers and Islanders either.
At this point, I'm prepared to count out the Rangers and Islanders.  Both teams have enough talent on their rosters to not be pushovers but merely being competitive isn't going to be enough to knock off some of the top teams in the Metro.
I don't think Carolina is really going to be in the mix either.  This is a team that struggled to score last season and decided that their best course of action was to get rid of one of their few scoring threats in Jeff Skinner for a bunch of mid-tier future assets.  They still have significant question marks in goal as well – newcomer Petr Mrazek has been up-and-down in recent years while Scott Darling's first season as a starter wasn't pretty.  They have a good young nucleus to build around and a strong back end but their incoming rookies up front probably won't be enough to solve their scoring woes which will hold them back.
New Jersey was a pleasant surprise last year but a lot went right for them.  I wouldn't be shocked if they took a small step back, especially since they haven't done anything to improve this summer.  They can still push for a Wild Card position but a top-three spot may be out of their reach.
The Flyers are consistently inconsistent and have goalie questions of their own.  However, adding James van Riemsdyk really gives them a boost up front.  Columbus has questions surrounding Artemi Panarin's future.  If they decide to go for it this year and add, I think they could land the number three spot but if not (or if they move him), I'd put Philly in that position instead.
That leaves Pittsburgh and Washington for the top two spots.  Both teams are returning the bulk of their cores from last year but I think a healthy Matt Murray could be worth a few more wins next season which would wipe out the five-point gap they had a year ago.  It's going to be a coin flip but if I had to pick right now, I'd give the Penguins the top spot.
@SirReginaldRay: So, is Detroit pulling a "Hossa" with Zetterberg? I hate to make light of any injury or allergy, but are we seeing the new way teams get out of the punishment for those long front-loaded, back-diving contracts? Seems a shame to deny players a proper retirement.
The back issues for Henrik Zetterberg aren't completely out of nowhere.  It has been documented that he missed a lot of practice time last season due to the pain but he managed to still suit up for every game.  Marian Hossa's career-ending glove allergy was out of the blue so the parallel isn't really perfect.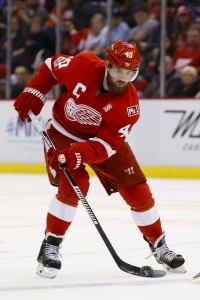 However, I find it curious that in speaking about him, Red Wings brass has been talking about how he may not play next season already.  We're in mid-August and the end of the season is still nearly eight months away.  A lot can change regarding Zetterberg's back issues between now and then.  The fact they're saying that instead of simply questioning his availability for the start of the year has at least made me wonder if something's up.
It should be noted that while Zetterberg's salary takes a big dip for the upcoming season, it's not down to the much-lower level that Hossa's is at.  He's still owed a $3.35MM salary which is far from insignificant.  For the final two years, it drops to $1MM and at that time, I think there will be mutual interest in him having a lengthy stay on LTIR.  It's that reason that I don't believe this is the same as Hossa's case although I certainly understand the comparison.  We've seen this done before and it probably is the sign of things to come when other deals like this approach their completion.
Puckhead83: You are now Don Sweeney. Your fan base is clamoring for you to go out and get Top 6 help. Since Day 1, you preached a youth movement. What do you do?
If I'm Sweeney, I'm inclined to practice what I've preached.  There's an opening in the top-six but I don't think it has to be filled right away.  Jake DeBrusk, Danton Heinen, and Ryan Donato all showed signs of promise last year – if one or more of them continue to progress, things will be looking pretty good.  (I'm also optimistic that David Backes can have more of an impact if he can stay healthy.)  I'd also want to see if other young forwards (Anders Bjork, Jakob Forsbacka Karlsson, or Trent Frederic) could make a push to fill a spot.  It's going to take some time to evaluate those options so filling up the position with a more proven option now could be a bit counter-productive.
What works in Boston's favor is the lack of competitive depth in the Atlantic.  Ottawa's in for a rough year, Detroit doesn't appear to be on the verge of contention, and Montreal would need an awful lot to go right to really be in the mix.  Buffalo will be better but they missed the playoffs by 35 points last year – are they that much better?  Probably not just yet.  Even if the Bruins take a small step back, they're at worst contending for a Wild Card spot.  As a GM, I'd look at this as an opportunity to really play things out.  If the young players aren't ready, then the time will be right to make another in-season move for a top-six winger closer to the trade deadline.  If they are ready, then I don't have the necessity to make a move which gives me some leverage in talks leading to the deadline; any trade I make then is to add extra depth which is more of a luxury-type move.
There's a temptation to deal away from the defensive depth (Torey Krug has come up a lot in speculation) but unless there's a young, cost-controlled forward with several years of team control available, I think the team would be better off having the additional firepower from the back end even if it means potentially carrying eight defenders to start the season.  There are always injuries and the teams that have extra capable replacements are typically a lot better off for it in the end.
Photo courtesy of USA Today Sports Images.