Topics in this edition of the mailbag include offer sheet candidates in Vegas, Buffalo's offseason, Chuck Fletcher's future in Philadelphia, and much more.  If your question doesn't appear here, check back in last weekend's mailbag.
aka.nda: Any thoughts you'd like to share on the Golden Knights? As a Kraken fan, earlier, I was hoping they'd offer sheet Nicolas Roy, which I'm told is uncommon. Seems like he could be had for a deal. Think any teams are contemplating offer sheeting anyone out there, not just VGK's?
While there have been a couple in recent years, offer sheets are still indeed quite rare.  In a marketplace where many teams are looking to clear money, it's hard to think that there are teams that will be willing to place an above-market offer to try to land a restricted free agent.  It doesn't help that a lot of the teams that have enough cap space (plus their own draft picks) to attempt to go this route are teams that aren't particularly interested in trying to compete right now and thus are likely disinclined to do an offer sheet that will cost them draft picks.
I think you're correct in identifying Vegas as a team that's particularly vulnerable to an offer sheet.  Roy, in particular, is a viable candidate.  His camp clearly knows that as by not filing for salary arbitration earlier this month, he's still eligible to receive one.  A one-year offer sheet in the second-round pick tier ($4.2MM) might be enough to get him to sign as it would represent a substantial raise from the minimum salary he received the last two years.  Defenseman Nicolas Hague is another player who would be an intriguing offer sheet candidate.
I'm intrigued to see what Vegas is going to do.  They'll clearly be in LTIR after acquiring the rest of Shea Weber's contract and Nolan Patrick could wind up there for the season as well with the uncertainty surrounding his future.  Notwithstanding the various mechanics involved with the timing of those placements that can affect the actual cap space, that'd give them around $7.5MM to work with, to use a simple number.  Is that enough for Roy, Hague, Keegan Kolesar, and at least one other forward making the minimum?
If that's the plan, they're going to hold out and try to get Hague to take a really cheap one-year deal (he didn't have arbitration eligibility) and then there might be enough left to commit a medium-term contract to Roy that buys out a UFA year or two.  But even with that, they'll be 'creative' with their LTIR usage all season long.  If nothing else, they're clearly used to navigating that situation.
sabres3277: Do you think the Sabres did enough in free agency or should they be interested in Nino Niederreiter to add some grit and physicality to the forward position?? Or maybe get involved in making a trade for some more forward help while not bankrupting the future??
Let's look at Buffalo's free agent additions since the market opened up.  Eric Comrie came over to be a platoon partner with Craig Anderson in goal and they added Ilya Lyubushkin to add some grit and physicality on the back end.  (Niederreiter signed in Nashville not long after this question was posed.)  That's a pretty small list of additions.
Allow me to pose a question back for a moment – what is Buffalo's goal this season?  Their actions (or lack thereof) tell me that it's not time to flip the switch to try to win.  What they did was shield their youngsters – Comrie's addition allows Ukko-Pekka Luukkonen to go back to AHL Rochester and Lyubushkin gives a bit of protection to a back end whose next-oldest player is Jacob Bryson who's only 24.
In that spirit, yes, they did enough in free agency.  What little they did was for their youngsters and they're going to try to continue to develop their young core.  That's basically all they really needed to do so I think GM Kevyn Adams did enough by not doing much of anything.
That said, I have no issues with them adding a forward in the right scenario.  So many teams are looking to clear up cap space and teams with that space can leverage future assets for taking that deal on.  If there's an expiring contract that a team needs to shed and that team is willing to part with a draft pick and/or prospect to make that happen, Buffalo would be wise to jump on that.  There will be injuries and some youngsters will struggle so another forward certainly wouldn't hurt and if that forward can be flipped with retention at the deadline for more future assets, even better.
That's the type of trade to make for them right now, not one that requires moving future assets away.  There will come a time for that type of move (I'm thinking a couple of seasons from now for them to start that transition) but it's not yet.
@Joebad34TD: What is the current rumor on Patrick Kane's trade destination, and is Buffalo a potential team of interest for both parties?
The latest on Kane is that there's a report that Chicago is listening to offers and a report that they're not listening to offers.  Admittedly, that's not a lot to run with here but the uncertainty is an accurate depiction of where things stand.  At this point, his camp hasn't approached the team about a trade and the Blackhawks have already said they won't go to him to try to move him.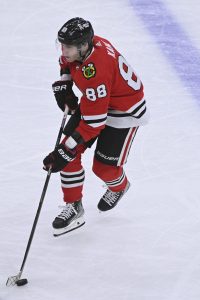 At this point, I think just about everyone thinks that will change at some point.  Chicago appears to have no interest in trying to compete next season (or for a few years) and that's unlikely to appeal to Kane at this stage of his career.  In all likelihood, his thoughts are probably similar to that of Jonathan Toews' opinions which were voiced earlier this week.
As we've seen in recent weeks, it's hard to move money and Kane has a cap hit of $10.5MM.  That's a lot of money.  At the trade deadline in February, three-quarters (give or take) will be paid which is a lot easier for contenders to absorb, particularly if the Blackhawks are willing to retain on the contract to facilitate a trade.  Whoever is a playoff contender and has some needed cap flexibility will be the ones to watch for at that time.
Buffalo clearly isn't a playoff contender so they have no reason to trade for Kane.  Yes, he's from there and they'll probably kick tires on him in free agency but a team that's expected to not be all that close to the postseason chase shouldn't be gearing up to try to acquire what likely will be the top rental player available at the deadline.  Unless there was a guarantee that acquiring him early would result in an extension, don't expect to see them linked to Kane next season.
baji kimran: If Columbus offered Arizona Jake Bean, Alexandre Texier, Gustav Nyquist, and two #1 draft picks for Jakob Chychrun, would that be enough to get a deal done? The point is the Jackets are trying to acquire Chychrun and free up cap space to sign Laine If not, what do you think would be acceptable to the Coyotes? Also, how long will Johnny Gaudreau have to appear on podcasts and apologize for signing with the Blue Jackets?
Clearly, the scenario has now changed since the question was posted with Patrik Laine re-signing and Oliver Bjorkstrand being the cap casualty but that's an offer that I think Arizona would give serious consideration to.  Bean is a little too far removed from being a first-rounder to automatically be one of the three first-round elements they've been believed to be seeking but two firsts is a strong start while Bean and Texier are youngsters that could be around for a while and should more than offset taking on the rest of Nyquist's deal.  Such a move probably isn't happening now but there's a framework for a deal that might be enough to meet Arizona's high asking price.
As for Gaudreau, I hope the public appearance tour has come to an end.  No matter how much he tries to smooth things over, it's not going to make any sort of difference for most Calgary fans.  He informed them less than 24 hours before the start of free agency that he wouldn't re-sign, preventing the Flames from getting anything in return for him.  Even if he had signed closer to home in New Jersey, there would have been resentment with that decision.  Now, compare what happened to what Matthew Tkachuk did (which happened after this question was posed), that's going to paint Gaudreau in an even more negative light.
He decided to leave Calgary which was his right having qualified for unrestricted free agency.  But fans of the Flames aren't going to simply shrug their shoulders and go 'Oh well, it was fun while it lasted'.  No, they're going to be upset, understandably so, no matter what Gaudreau says publicly.  The sooner he realizes that, the better.
bigalval: How would you grade the Kings' offseason? I think they have done a great job and Kopitar's contract has two years left and Quick has one year left so it will free up some more money thoughts?
Johnny Z: To add to this: what LD will they pursue?
I'd have their summer in the B/B- range.  I don't mind the Kevin Fiala trade but I don't like the contract.  He has one season with more than 25 goals and 55 points under his belt.  They're paying him like he'll be a 75-point player for the duration of that deal.  I don't think he will produce at that level consistently in a lesser offensive environment.
Adrian Kempe's contract was going to be painful thanks to his platform season but $5.5MM for a player who, until 2021-22, produced at the level of a third-liner, is risky, to put it lightly.  Is he a 35-goal player moving forward?  Probably not.  Is he a 25-goal forward?  Even that I'd be hesitant to agree on.
These contracts basically took them out of the market of trying to add a left defenseman.  They barely could afford to bring Alex Edler back and will have to pursue one-year deals with Michael Anderson and Sean Durzi to stay cap-compliant.  Sure, they're better with the addition of Fiala but they still have a back end that thins out fairly quickly.
Yes, there is some cap flexibility on the horizon with their expiring contracts but a good chunk of that will be eaten up as their younger core comes off their entry-level deals.  They're not going to be in cap trouble but for as close as they're going to get this year, I thought they'd have tried to shore up more than just finding an improvement on Dustin Brown.  It's not a bad offseason and they'll be in the playoff race hence the grade in the B range but I don't think they got enough accomplished for the cap space they had two months ago.
DonnieBaseBallHOFer: Please make Fletcher's moves (or rather lack thereof) make sense…Give a 50+ year fan some glimmer of hope?
Feels like the whole next season is just built on Ifs…if this guy comes back, if Torts can turn things around…Please tell me there is more of a plan than this?
EMoney123: When do the Flyers cut Chuck Fletcher loose considering salary cap, poor roster construction, and the poor PR of not signing Gaudreau?
The lack of moves actually makes some sense to me.  From his standpoint, his team on paper should have been better last season.  Frankly, I don't disagree with that; they should have been better than what they were.  Where we disagree is on whether this roster is good enough to contend when everyone is healthy.  I'm not as confident in that as Fletcher seems to be.
I even understand the lack of movement.  We've seen the cost of moving money this summer.  It's not pretty.  Would it have been justifiable to part with a high pick or top prospect (or a combination of picks and prospects) to clear James van Riemsdyk off the books?  As a non-playoff team, probably not.  One could quibble about adding Anthony DeAngelo on that contract but with Ryan Ellis' availability appearing to be in question again, I can't fault the logic of looking for insurance although if everyone is healthy, that's a very pricey back end.  That'd be a good problem for them to have at this point.
There are a lot of ifs with this team and if they hit on most of them, they can be in the Wild Card mix.  They didn't hire John Tortorella for his long-term coaching acumen; he's someone that has a shorter-term shelf life with an expectation of short-term success.  The boost from him, the return to health of some key players, and a bounce-back year from Carter Hart and voila, that's the plan to return to being in the playoff battle.
As for Fletcher's future, I'm always hesitant to publicly speculate on people losing their jobs.  That said, I think he is running out of moves to make if things don't go as planned again.  He has played the coaching change card and with how tough it is to move contracts this summer, the roster basically is what it is and most of it (with van Riemsdyk being a notable exception) are players that he has brought in or signed to their current deals.  This is his team, for better or for worse.  If this doesn't work, ownership will have to consider if Fletcher is the right one to make the necessary connections and with the way last season went, there may not be much of a leash left for him.