Topics in this edition of the PHR Mailbag include Toronto's playoff potential, Philadelphia's summer shuffle and goaltending situation, predictions for some surprises this season, and much more.  If your question doesn't appear here, check for it in next weekend's mailbag.
jimmertee: Can the Leafs ever win in the playoffs with Matthews on the team and the core that's getting paid so much money but don't produce in the playoffs? How long do the Leafs stick with that core?
I think they can definitely win a round although that's about as far as I'm willing to go this season; Tampa Bay is in their division after all and would be the likely favorite in what would be a second-round matchup.  They've come close enough in recent years and have done some things well; a good bounce here and there and they'd have won a series already.  So no, this core isn't doomed to lose forever and they can definitely get over the proverbial hump.
There really isn't an easy jumping-off point with this core, especially among their four high-priced forwards.  High-paid players are hard enough to move and getting top value for them will be even harder.  It's not that those players aren't any good but moving and matching money is going to be tough for a while.  The overall core group will weaken as the flattened salary cap ultimately prevents players from re-signing but I believe they're locked into this team structure for a few more years yet.
wreckage: Do you see anyone declining an invite to play at the Olympics?
I'm assuming you're asking on the political and public pressure fronts.  Lots can change as we get closer to February so this answer may not hold up in the end but I'm going to say no.  There hasn't been a chance for an NHL player to participate in eight years so it's going to be the first opportunity for many and the last chance for many others.  It's hard to pass up on that.
There's also the fact that the NHL isn't overly enthusiastic about long-term participation in this event.  There's a commitment to try for 2026 but after that, if they can rekindle and make money off the World Cup, they're going to push for that so Olympic participation is hardly a guarantee.  With the opportunities being so infrequent, I just can't see anyone declining for that reason.  Players will withdraw/decline due to injury but I think that will be the only reason.
Black Ace57: After a busy offseason, is this going to be the make-or-break year for the Flyers? At this point, if they can't play up to expectations is there really any option but retooling for a year or two?
It sure feels like there's a lot riding on this season, doesn't it?  GM Chuck Fletcher has made several key changes to their roster with the additions of Cam Atkinson, Ryan Ellis, and Rasmus Ristolainen with the sole design of getting back to the playoffs and doing some damage when they get there.  If that doesn't happen, changes are going to be made.
Claude Giroux is an unrestricted free agent next summer and he's someone whose odds of returning will likely directly be tied to Philadelphia's success.  Once James van Riemsdyk moves to being an expiring contract which happens next summer, he's likelier to be gone as well.  Those two leaving would be another significant retooling.  We'll see what happens with Ristolainen, another pending UFA, as well.
With the commitments they have on the books already – nearly $66MM in a dozen players per CapFriendly – a big overhaul seems less likely so while there could be a big name or two coming and going again, most of the core would stay intact so I like your classification of a retool instead of a rebuild in that situation.
Emoney123: Do the Flyers have a goalie problem? Hart is coming off a down year so should he be looking over his shoulder at Sandstrom, Ersson, Ustimenko, Ross, Tomek, and Fedotov? Is there a generational talent in there somewhere or just prospects hyped by the organization?
I'll answer the second one first.  No, there isn't a generational goalie in the pipeline.  I'm not even sure there's an NHL starting goalie in there let alone a rare elite talent.  Samuel Ersson has some upside but he needs to do well in North America before calling him good enough to potentially push Carter Hart for playing time.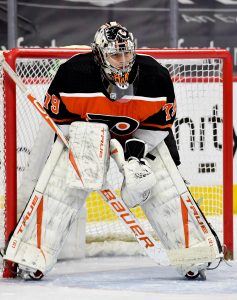 So, is that a problem?  I'm not ready to call it that yet.  I expect Hart to bounce back playing behind an improved defensive group and even if he isn't a long-term star netminder, they'll settle for someone that's capable of being a decent starter.  He's 23, signed for three years and under team control for four.  That's a good foundation and finding a capable second goalie is certainly doable although I don't think they necessarily landed one in Martin Jones who they're also hoping will benefit behind a better defense.  If they have to reallocate some cap space to goaltending, they should be able to get a better backup to push Hart and, in the process, give them at a minimum a serviceable tandem.  If you have that, it's not a problem.
In the meantime, adding a quality goalie prospect should be fairly high on the priority list.
YzerPlan19: Predictions for Bennett and Reinhart in Florida's top six? Can Reinhart get 30 goals playing on Barkov's wing? Did they bring him in to add more offense or does he slot in at 3C? Can Bennett exorcise his demons and continue on a point per game clip as 2C with Huberdeau?
I can't see Florida paying a first-round pick and a pretty good goalie prospect in Devon Levi to have Sam Reinhart play on the third line.  He's there to be an impact scorer and will be in their top six, potentially on the wing alongside Aleksander Barkov.  I think he's absolutely capable of scoring 30 this season.  Very quietly, he scored at a 38-goal pace last season on a Buffalo team that was bereft of offense.  Put him in a more offensive-oriented environment while still being with a high-end center and 30 is definitely attainable.
Bennett, to me, is one of the biggest wildcards in the league.  I don't think he's going to be able to keep playing at a point-per-game pace as he did after the trade.  10 regular season games is a pretty small sample size as is five playoff contests.  But he absolutely can put up more than he was providing with Calgary.  If he had a 45-50-point season while being a capable center and playing with plenty of grit, I think they'd take that.  If he can hover closer to that point per game mark though, his contract will wind up being one of the better bargains in the league.
pawtucket: What are your top surprises in each division? Could be team, player, standings, whatever.
Atlantic: Will Butcher (Buffalo) gets back to being an impact offensive defenseman.  He was a bit better down the stretch in New Jersey but was still given away (with retention).  He's not going to a winning environment but he will have a chance to play a bigger role and has the offensive skills to be a real weapon.  With his lowered price tag ($2.822MM after retention), he becomes one of the most sought-after rentals at the trade deadline.
Metropolitan: Columbus doesn't bottom out and finish last in the division.  They've blown up their roster and at some point, one of their two pending UFA goalies is going to have to go as well.  The end result is a mishmash of players that are supposed to have the Blue Jackets contending for the top pick.  They're not making the playoffs but they'll be more competitive than many realize at and the end of the day, someone else is last in the Metro.
Central: Vladimir Tarasenko (St. Louis) is still with the Blues after the trade deadline.  There's a mutual desire for a change of scenery and he has been in all sorts of trade speculation but they don't want to give him away in case he bounces back.  Tarasenko produces close to a 20-goal level which still isn't a good return on a $7.5MM AAV but it's enough that they decide to hold onto him.  Many expect him to move – particularly since they need to re-sign Robert Thomas – but someone else becomes the cap casualty to make that happen.
Pacific: Nolan Patrick is this year's Chandler Stephenson.  Stephenson's trade to Vegas gave him a chance to play a bigger role and he certainly made the most of it.  Now, Patrick, freed somewhat from the expectations that come from being a second-overall pick, has a similar opportunity and puts up 35-40 points, giving the Golden Knights the center depth they've lacked lately.  He's not going to be the number one that would make a huge difference but he'll be a big part of their secondary core, not too shabby for a reclamation project.