Topics in this edition of the PHR Mailbag include the winners and losers of the NHL's realignment, players that benefitted the most from offseason trades, Alex Ovechkin's pursuit of Wayne Gretzky's scoring record, predictions for several players and the potential for fans to be allowed in arenas this season, what's next for Boston's back end, and how one of the top-scoring OHL players last season went undrafted.  If your question doesn't appear here, check back in last weekend's mailbag.
acarneglia: Biggest winners and losers of proposed 2021 divisions?
St. Louis and Colorado find themselves in a nice spot in the West Division.  While they now have to contend with Vegas, that's the only other team in that group that was in the top eight in the Western Conference.  The battle for the top two spots and home ice in the first round will be tight but there are more games against weaker opponents than there would be with the normal alignment.  I'd also put Columbus and Carolina in the winner category as they get to avoid the gauntlet that is the East Division and move into a group that has more weaker opponents.  Tampa Bay and Dallas are there too but those last two spots should be easier to get than had they been assigned with the other teams in the East.
As for teams that aren't so fortunate, I have to put Buffalo at the top of the list.  They added Taylor Hall and Eric Staal and while their team has improved, they get to play most of the top teams from the Metropolitan and don't get to escape Boston while they're at it.  The three Canadian teams from the Pacific Division lose the opportunity to play against some of the rebuilding and likely less competitive teams and now get to face a potent Toronto team, Montreal who improved considerably, and Winnipeg who is always in the playoff mix instead while playing a higher percentage of games outside of their time zone.  (Even Ottawa has shown improvement although their playoff hopes took a hit with this format as well.)
Eaton Harass: Which player do you feel will benefit most since changing teams this offseason? And how many times do you think Devon Toews said "thank you God" after his trade to the Avs?
I'd go with Max Domi.  He leaves a situation in Montreal where he was being squeezed out of his preferred position to one where it looks as if he'll have a defined role as their second-line center in Columbus behind Pierre-Luc Dubois.  I could see his ice time moving up to a new career-high as well and he should get plenty of power play time.  On top of that, he wound up signing what amounts to a second bridge deal, one that walks him to unrestricted free agency two years from now.  Assuming he can improve upon his performance with the Canadiens last season (and he'll have ample opportunity to do so), he should be able to position himself quite nicely for an even bigger payday two years from now.  He probably wouldn't have had that chance with Montreal.
I'll toss out a couple of under the radar names as well.  Minnesota's addition of Nick Bjugstad for next to nothing didn't garner much attention but he's going to go from a situation where he would have had a limited role to probably being a middle-six center.  If he can stay healthy and produce, he should be able to restore some value quickly.  The other is Pittsburgh's pickup of Mike Matheson.  I think moving to a winning environment will help as well as lower expectations.  They can also afford to work him in slowly on the third pairing.  I expect that he should benefit a fair bit from that particular combination.
As for Toews, there are definitely worse situations to be traded to but it's not like he was leaving a terrible one with the Islanders.  He had just emerged as an impact defender with them and may have even had a bigger role this coming season.  They've also been quite competitive despite a roster that isn't the strongest on paper so it's not as if he's leaving a perennial non-playoff team either.  It worked out well for him in the end – he got a long-term deal from a top team – but I think he'd have been just fine sticking around where he was had they been able to afford him cap-wise.
2012orioles: Will Ovechkin lose his chance to catch Gretzky with another shortened season?
It certainly doesn't help his odds.  He sits 188 away from matching the record so 189 is the target.  Here's some quick math to come up with some projections.
Ovechkin is averaging 0.61 goals per game in his career and while that has dipped slightly over the last four years, it has only gone down to 0.58 goals per game which still represents a 47-goal pace over a full 82-game season.  He's going to slow down at some point but that time isn't now and even when he eventually does slow down, he'll still be producing at a pretty good clip.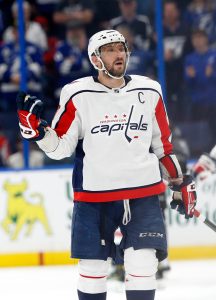 Let's forecast his goal per game average at 0.5 for this next four-year stint (assuming his next deal runs that long considering he has made it clear that he intends to play in Russia again before his career is over).  That's a bigger drop-off than before but I don't think that's unrealistic as he's still a top scorer.  Assuming the NHL gets back to an 82-game schedule after 2020-21, that would give him 302 games to work with, or 151 goals.  That's assuming he stays healthy but it's worth noting that he has only missed six games over the last six years combined and not all of those were due to injuries.  As far as players go, Ovechkin is quite durable.
That would put him around 35-40 goals behind Gretzky and at that point of his career, it may take two years to get there.  Had 2020-21 been a full season, that target could be shaved by 10-15 goals which could have shortened the number of years to catch him by one which is significant.
For me, it all depends on Ovechkin's desire to get the record.  If he wants it, he'll stick around long enough to get it, even if it means him staying with Washington for an extra year than it may have taken otherwise.  But if he wants to go back to the KHL before he's in his early 40s, then this abbreviated campaign could be the difference.  I don't think it will be though – Ovechkin will either get it or be more than 10-15 goals behind Gretzky when he decides that his time in North America has come to an end.
The Duke: Crystal Ball Scoutings (e.g., annual goals/points; PP unit; top- or bottom-6, etc.) please for Mssrs. Veleno, Lindblom, Tolvanen, Zadina, Rasmus Sandin & Adin Hill. Thanks in advance.
Joe Veleno: I know he was a prolific scorer in the QMJHL but I don't see him being a big point producer in the NHL.  Detroit would be happy with him cracking the second line but I like him more as a two-way third-line center with secondary special teams time.  He should be a valuable player for them but that won't necessarily translate to a ton of production – maybe 15 goals, 35 points per season.  He's a couple of years from being in that role, however.
Oskar Lindblom: Assuming he is able to get back to the level he was at before his cancer diagnosis (and the contract he got from the Flyers suggests they believe he can), he should settle in around the 20-25 goal mark and around 40-45 points.  (He was on pace for more than that last season but that shooting percentage probably wasn't sustainable.)  I'm not sure he'll be able to get number one minutes (which could also push him to the second power play unit more often than not) but he should quickly work his way back onto the second line.
Eeli Tolvanen – I thought he was a sure-fire top-six player when he was drafted but I'm not as sure now after his first two seasons with AHL Milwaukee.  Maybe he's someone that ultimately plays a lot better with more talented players but at this stage, it's hard to forecast a top-six role down the road.  He'll be eased in when he gets to Nashville full time so it'll be a while yet before he reaches his ceiling.  Right now, 10-15 goals and 25-30 points with secondary power play time would be my projection.
Filip Zadina – Can he drive a line or is he more of a complementary scorer?  That's the big question and there are two different statlines depending on the answer.  One is a 30-plus goal-getter with consistency, the other is closer to 20-25 per year that could get to 30 once or twice if all goes well.  I'm leaning towards the latter category but he'll see plenty of top-six minutes and top unit power play time either way.
Rasmus Sandin – A lot depends on Morgan Rielly's future.  If Toronto can't afford to re-sign him, Sandin could very well become the lynchpin to their offense from the back end.  That would mean plenty of power play time and with the firepower they have, 45-50 points (10 or so goals) wouldn't be out of the question.  If Rielly re-signs, however, Sandin becomes more of a secondary power play threat which could dip him more towards the 30-35-point territory.
Adin Hill – He should get his first real NHL opportunity in 2021-22 once Antti Raanta likely moves elsewhere in free agency but I'm not sure he's a starter down the road.  I'd have him around the 25-30 start mark as his ceiling as a result.
Baji Kimran: What are the chances fans will be allowed in the arenas this season? I'm a full season ticket holder for the Columbus Blue Jackets and I'm starting to think I'll be watching all the games on television. I'm hoping you'll tell me I'm wrong.
I'd put the odds at 100% that fans will be allowed in some arenas this season as there are a handful of teams that will have limited capacity to start the season.  A lot will depend on how things go with the virus over the next few months.  Will the number of positive tests start to decrease sharply; how quickly will vaccinations make a difference?  And, of course, each jurisdiction's respective health authorities have various levels of tolerance for risk; what one city thinks is risky could be considered acceptable in others.
I'm not as bullish that things are going to drastically change in the next couple of months.  While there's a light at the end of the tunnel, progress is still going to be gradual.  As a result, I expect quite a few teams will ultimately go without fans for the entire year.  And if Columbus happens to be a state that allows some fans, I imagine it would be with limited capacity and with it, perhaps some sort of lottery to determine which season ticket holders get to attend which games.  You could get a chance at watching a handful in-person if all goes well but I suspect you'll be watching most of the games on television.
VonBrewski: I hear the Bruins are not taking Chara back. So, what does Boston do on the left-side D?
I wouldn't rule out Zdeno Chara returning to Boston just yet.  While team president Cam Neely has spoken about the desire to get a look at some of their younger options, they haven't ruled out the veteran returning yet.  Earlier this week, his agent also indicated that Chara's focus at this time is returning to the Bruins although other teams have reached out as well.
But let's assume he doesn't come back for the purpose of this question.  I expected someone to be brought in to try to replace Torey Krug but that clearly hasn't happened and with less than $3MM in cap room, there isn't a top-four option available.  I expect Matt Grzelcyk will be tasked with taking on a bigger role and after hovering between 18-19 minutes a night the last two years, he'll probably come in closer to 22 minutes per game or so.  They'll also hope that John Moore can hold down a regular spot in the lineup after playing a sparing role last season.
After that, youngsters like Urho Vaakanainen and Jakub Zboril are likely to get a long look with the hopes that one of them can take hold of a regular spot.  It also wouldn't be shocking for one of their right-shot options to be asked to change sides and a lefty or two could be brought in on a PTO (they were linked to Karl Alzner a couple of months ago) to give them some more options.  It'd be a patchwork fix no matter what though which is why I don't think they've entirely closed the door on Chara just yet.  While he's not the top-pairing player he once was, he's still better than some of the options here.
bigalval: Pavel Gogolev was not drafted again and had to sign overseas. I don't get this because his stats a were great in the OHL. Why did no one draft him or sign him as a player who was not drafted, I watched a lot of video on this kid, he could be a steal. Could have signed him for next to nothing. Any ideas?
There's no denying that Gogolev's numbers were quite impressive last season – 45 goals and 51 assists in 63 games with Guelph, good for sixth in league scoring.  But there are a few factors that I think contributed to him being passed on again, aside from simply being Russian which still tends to scare some teams off (even though he moved to Canada early on).
As you alluded to, it wasn't Gogolev's first draft-eligible year and his performance in his prior years of eligibility weren't particularly strong.  Was his jump in production due to him putting everything together, simply being a year older and stronger, or due to chemistry with a particular linemate?  The last two are almost certainly factors and that would have worked against him.
Gogolev has shown that he can score at the junior level but players with that type of production that get passed up on are often viewed as highly flawed in other areas.  It's safe to infer that the fact he went unpicked again means that teams have similar concerns here.  Yegor Sokolov, another 2000-born prospect, had a similar jump in the QMJHL last year and was picked in the second round by Ottawa.  It's the all-around game that was the difference.
It's worth noting that while he has been passed up again in the draft, he did spend time at camps in Detroit and Vegas in the past so he is on the NHL radar for some teams and perhaps down the road he'll be able to land an entry-level deal as an undrafted free agent.
Interestingly enough, Gogolev was able to find a place to play just yesterday as Vasby of the Allsvenskan in Sweden announced that they've signed him.  A good showing there would certainly bolster his value around the NHL.
Photo courtesy of USA Today Sports Images.