Topics in this edition of the mailbag include what might be next for Washington, Lindy Ruff's future in New Jersey, some summer moves that teams might want a mulligan on, and more.  If your question doesn't appear here, check back in last weekend's column.
2012orioles: Will the Capitals do anything with their LTIR money?
KRB: Only 22.5% of teams outside of a playoff position at American Thanksgiving make the playoffs. Washington may be outside looking in at that cut-off date, Peter Laviolette's contract expires at the end of this season, and only Carlson is signed of their D corps, beyond this year. Are the Caps sellers at the deadline? Too early to speculate?
As we did with the Los Angeles questions last week, let's combine the Washington ones.
I fully expect Washington will use their LTIR money, it just might not be the way you think.  For starters, they've already used some on claiming Nicolas Aube-Kubel from Toronto.  The rest is going to depend on Nicklas Backstrom.  If he's able to return later this season (he skated today which is certainly promising), they're going to need what's left of Connor Brown's LTIR money to try to get cap-compliant to be able to activate him.  (They'll have to get a bit creative to free up the rest of the room from there.)  But if Backstrom can't return in-season, then yes, they'll be able to go out and add another piece.  LTIR space doesn't bank like regular cap space does so in theory, they could do something sooner than later but knowing the uncertainty with Backstrom, I suspect they'll wait for a little while until they have a firmer understanding of when he might be able to come back.
I have a hard time thinking Washington is going to be sellers unless things really go off the rails and they have no choice but to move some expirings at the deadline.  And even in that scenario, it'd be a one-year sell with an eye on getting back into the mix in 2023-24.
As bad as the early season has gone, they're just three points out of a playoff spot heading into today's games.  Tom Wilson is going to be back before too long and that will be a significant boost to an injury-depleted forward group so there's a bit of room for optimism on the horizon.
There was speculation last month that Laviolette would be the next coach to sign an extension.  Perhaps the sluggish start gives GM Brian MacLellan pause but I don't think Laviolette's contract situation is going to play much of a role in their decision-making.  They're built to be a win-now team and I expect they'll operate that way as long as they can which means that if they can add (depending on Backstrom's situation), they'll do that.
DonnieBaseBallHOFer: I know it's early yet to talk trades, but what are the odds the Flyers try to move Risto and that terrible contract? He's currently on the outs with Torts (but then on a daily basis someone always is) but I feel that even though he brings the physicality Torts wants, the defensive lapses are just too much to overcome. And, who would be more likely to move…Risto or JVR? I lean towards JVR, even though he has more value to the Flyers than Risto at this point. Between these contracts and the career-threatening injuries, the immediate future seems bleak…hoping some of the younger kids in the AHL develop soon….
To say there has been some angst during Rasmus Ristolainen's tenure with the Flyers would be an understatement.  The price to acquire him seemed high and then the decision to not trade him at the trade deadline didn't go over well.  Neither did the five-year, $25.5MM extension he signed.  And now that he is seemingly in John Tortorella's doghouse, things are somehow getting worse.
Having said all that, I'd say the odds of them trying to move Ristolainen right now range from slim to nil.  It's clear that GM Chuck Fletcher is a big believer in the 28-year-old and a rough seven-week patch probably isn't going to change that.  There's also the matter of the contract.  The trade market is minimal at this point to begin with but I find it hard to believe that there will be teams lining up to trade value for Ristolainen when his value is by far the lowest it has ever been.  And if the options are either to give up assets to get out of the contract or keep him and hope things work out, I suspect they'll opt for the latter.
So, to answer the second half of your question, James van Riemsdyk is the likelier of the two to move.  Closer to the trade deadline, there should be some interest in him as a middle-six scoring upgrade as long as the Flyers are willing to retain 50% of the rest of the contract (which runs through the end of this season).  It might not be a significant return as there will be other wingers like him available (probably on cheaper deals) but they should be able to get a small something for him.
Grocery stick: Coach Ruff has been seen as a stopgap solution between now and the moment the Devils are ready for contention. The Devils had a strong start to the season and – perhaps even more importantly – have some impressing offensive and possession metrics. I guess that offensive uptick was exactly what they hoped for when they signed Ruff. Did this start to the season improve Ruff's chances of staying at the helm long-term? Or is he basically just accelerating time until his successor steps in?
New Jersey's strong start has only gotten better since this question was posed as they enter play today on an 11-game winning streak which has them first in the Metropolitan Division.  But I still don't think Ruff is viewed as the long-term coach for the Devils.
You used stopgap as the type of coach Ruff was viewed as heading into the season and I had a similar term for him as well and still do.  He turns 63 in February and while there's no must-retire age for coaches, he's probably not too far away from that point.  I'm not even sure this earns him an extension right away – he's in the final year of his contract – as GM Tom Fitzgerald probably wants to see if this is sustainable before entertaining that idea.
The moment they hired Andrew Brunette, New Jersey had their coach of the future as long as someone doesn't swoop in and hire him away before they're ready to make that switch.  But I don't think it's a coincidence that they hired an offensive-minded younger coach to apprentice behind an offensive-minded older coach; it's a natural succession plan but Brunette won't want to be in the number two role for any extended period of time.
When Ruff was hired, I pegged him as a bridge coach, one that could get the team going offensively and aid in the development of core youngsters like Jack Hughes and Nico Hischier.  He has done that, even when the results weren't great last year.  Perhaps this buys him a short-term extension over time but this is his third season with the team now.  I'd be surprised if he lasts three more which is probably needed for him to be considered as a long-term coach.
Vegas Moved: Is there any indication Anaheim might move Gibson? What sort of haul could they expect?
There has been speculation about John Gibson and the possibility of a trade for a few years now but I don't really see why.  I get one side of the discussion – Anaheim is in a rebuild and Gibson might not mind going to more of a contending team.  However, the other side is where I struggle to see a fit.  With how Gibson has played lately, what contending team will want him?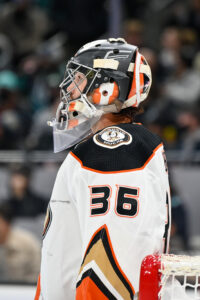 Gibson has been below the NHL average in save percentage for each of the last three seasons and is once again below that mark early on this year at .893 while his 4.13 GAA is far from ideal either.  Is that the statistical profile that teams would want?  Granted, there is a possibility that he'd improve on a better team.  But to what extent?  If he gains 10 points on his save percentage, that just brings him back to where he was the last three years, below average.  If he shaved half a goal per game off, he'd still be near the bottom of the league.  At a full goal per game improvement, his GAA would improve to mediocre.
There's also the contract to consider as he's signed through 2026-27 at $6.4MM.  For that money and commitment, you're not exactly getting bang for your buck anymore.  So what teams are lining up to provide anything let alone a haul for Gibson?  If anything, Anaheim would be trying to incentivize teams to take on the rest of the contract.
I have to be honest, I misread this deal a few years ago.  I thought this would be a contract that was ahead of the curve, one that was about $1MM higher than the goalie median at the time but as the cap continued to increase, goalie salaries would go up and they'd have an above-average goalie at about an average price tag.  But the cap stopped going up and Gibson stopped being an above-average goalie.  That was the worst-case scenario for the Ducks and it came true here.