The offseason is in full flight with free agency almost here.  We continue our series which examines what each team needs to accomplish over the coming weeks and months.  Next up is a look at Montreal.
The 2020-21 season was a strange one for the Canadiens.  They were one of the top teams early on before things started to go off the rails.  The end result was head coach Claude Julien, associate coach Kirk Muller, and goalie coach Stephane Waite being let go with Dominique Ducharme taking over on an interim basis.  They continued to struggle in the second half but once the playoffs came, they were much better, making it all the way to the Stanley Cup Final despite only winning 24 of 56 games during the regular season.  Ducharme had his interim tag quickly removed but GM Marc Bergevin has plenty of other work to do this summer.
Add Scoring Help
Last fall, the Canadiens added Tyler Toffoli in free agency and he responded with the best season of his career with 28 goals in 52 games.  They added Josh Anderson in a trade with Columbus and he was second on the team in goals.  They signed Cole Caufield late in the season and he gave their attack a boost down the stretch.
And yet, even with those moves, Montreal is still not a particularly strong offensive team.  They were hovering near four goals a game early on but by the end of the year, they were in the bottom half of the league and were struggling to score more than two per night late in the season.  A lack of reliable scoring also hurt them in the Final against Tampa Bay.  They're about to lose one of their better regular season offensive players in Tomas Tatar to free agency and Shea Weber, one of the bigger offensive threats from the back end, is done for at least the year and his career may very well be over.
Even with a full season of Caufield who is an early Calder Trophy candidate, this is an attack that remains decidedly mediocre.  While they hope the return of Jonathan Drouin will help, he only scored twice in 44 games so they can't count on him to be a difference-maker at this point.  While there are other holes to fill, Bergevin will be looking for a top-six piece to deepen his attack.
Replace Weber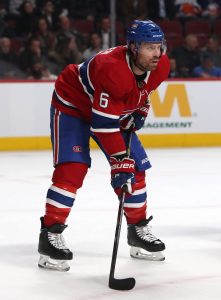 This is one of those tasks that sounds simple enough on paper but is going to be quite difficult to accomplish.  While Montreal's captain was undoubtedly starting to decline compared to his level of play in his prime, he was still a key cog on their back end last season.  Weber logged nearly 23 minutes per game and was only two seconds behind Jeff Petry for the team lead in ATOI, finished tied for third in power play goals, played more than anyone shorthanded, and was his usual physical presence.  Finding a player that can check off all of those boxes is a nearly impossible task for Bergevin; even if he was to sign the top UFA defenseman in Dougie Hamilton, there are elements that Weber provides that he can't (and vice-versa).
It appears that the Canadiens will instead have to try to fill that void by committee.  They've been linked to David Savard and Chris Wideman as potential free agent signings and each of them could replace a part of what Weber has given them – Savard can play a physical shutdown role while Wideman is coming off a strong season offensively in the KHL and it appears their hope is that he could help on the offensive side of things.
Is there room for another impact addition?  Montreal's back end wasn't the most mobile to begin with and bringing Savard or a similar player in for Weber doesn't really change that.  How much can Wideman be relied on considering he has been out of the NHL the last two years?  If the Canadiens are opting to replace Weber with a by-committee approach, the committee coming in to replace him is going to need to be a big one.  Weber will be eligible for LTIR, giving them up to $7.857MM in space to work with to replace him.
Center Decisions
This one is three-fold.  First, Jesperi Kotkaniemi is a restricted free agent this summer and will need a new contract.  The third-overall pick in 2018 has shown flashes of top-six upside but has been inconsistent as well to the point where he was a healthy scratch at both the start and the end of their playoff run.  While they're still hoping that he can be a core player for them down the road, he isn't quite there yet and accordingly, a short-term bridge contract makes sense for both sides.
The second pertains to their other young center in Nick Suzuki.  He is eligible to sign a contract extension as of Wednesday and while Kotkaniemi's development has been spotty, that isn't the case for Suzuki.  He played well during the regular season and stepped up in the playoffs for the second straight year while showing some chemistry with their top prospect in Caufield.  If Bergevin believes the best is yet to come from the 21-year-old, working to get a contract extension done now before it gets more expensive would be a wise course of action.
The final element pertains to Phillip Danault.  He has been a fixture down the middle for them for the past five seasons and has become one of the stronger defensive forwards in the league along the way.  He's coming off a strong playoff showing in terms of shutting down top opponents (though he only scored once in 22 games) and between that and his age (28), he's likely to be the most sought-after center on the open market.  A long-term extension was rejected last offseason and there have been no contract talks since.  Assuming he's leaving, how will they replace him?  Jake Evans and Ryan Poehling are both young pivots but are they ready to step into a bigger role?  If not, Bergevin will have to add a veteran center to his shopping list as well.
The Canadiens are coming off an improbable playoff run but as it stands, the roster will look quite a bit different next season.  Finding the right mix of returnees and newcomers will be the key task for Bergevin this summer as Montreal moves back into the Atlantic Division.
Photo courtesy of USA Today Sports Images.  Contract information courtesy of CapFriendly.