The offseason is in full flight with the draft and free agency fast approaching.  We continue our series which examines what each team needs to accomplish over the coming weeks and months.  Next up is a look at Boston.
The Bruins underwent a few notable changes over the last year but the end result was the same as they were eliminated in the second round, this time by the eventual Cup winner in Tampa Bay.  GM Don Sweeney has more salary cap flexibility this summer than he's accustomed to although he also has some other holes to fill this time around as well.  Here is an overview of what they should be looking to accomplish.
Goaltending Decisions
Tuukka Rask has been a fixture in Boston's goaltending tandem for the past dozen years.  However, he's set to become an unrestricted free agent this summer and hip surgery will cost him the first half of next season.  He has made it clear that he wants to return to the Bruins and that he's not looking to go elsewhere but is the feeling mutual?  More specifically, can they afford to wait for him?
With Jaroslav Halak also set to become an unrestricted free agent, Jeremy Swayman currently stands as the only goalie in the mix for one of the two spots.  Swayman was quite impressive in his first taste of NHL action this season – a 1.50 GAA with a .945 SV% in 10 games (all starts) – but can they afford to enter 2021-22 with him as the starter and a placeholder as the backup while waiting for Rask to return?  If they believe Swayman is ready for a full-time NHL role, they could certainly go that route and adding Rask midseason or soon after would give them a nice boost for the stretch run.
But if the answer to that is no, that complicates things a little bit.  Daniel Vladar is the other goalie in the mix and has impressed in the minors but has just five career NHL games under his belt.  He's eligible for waivers and could be a candidate to be claimed.  If they don't want to run the risk of losing him, the Bruins could be faced with running two rookie goalies out to start the season.
If they opt to bring in a veteran goalie (which could simply be re-signing Halak) and re-sign Rask, that could create a situation where Swayman is the odd one out midseason by default once Rask returns.  Unlike Vladar, he's waiver-exempt so there are no issues there but if he has a strong first half making it difficult to send him down, it could be a three-goalie situation down the stretch for the second year in a row.  It can work but it's typically not an ideal spot for teams to be in.
With Rask's injury, his specific fate doesn't necessarily have to be decided at the beginning of free agency.  But if they want to go outside the organization for a goalie, whoever they want to work with Swayman will need to sign sooner than later knowing how fast the goalie market typically is in free agency.
Re-Sign Or Replace Hall
The Bruins weren't able to get a deal done with Taylor Hall last fall but when Buffalo opted to move him at the trade deadline, the veteran was able to leverage his trade protection to force a deal to Boston.  At that time, both sides expressed an interest in a longer-term arrangement and reiterated the same following the playoffs.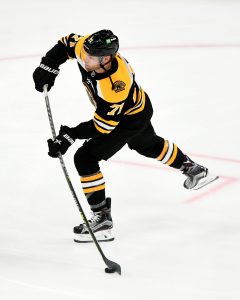 It's one thing to have mutual interest in getting something done and another to actually agreeing on a contract.  Hall opted for a pillow contract last fall with his one-year, $8MM agreement with the Sabres with the hopes that a rebound season would better position himself for a long-term deal this summer.  That didn't happen; at least, it didn't happen with Buffalo.  His time with them was nothing short of a disaster as he scored just twice in 37 games.  But things went much better following his trade as he tallied eight goals in just 16 contests and came up just shy of a point per game average.  That's still not $8MM value but it was a whole lot better.  He was a bit quieter in the playoffs, however, with just five points in 11 games.
It's safe to say he's looking at a cut in pay but by how much?  The free agent market wasn't particularly kind to wingers last fall and his marketability is probably a little lower now than it was in October.  Accordingly, landing something at his prior contract – a $6MM AAV – may even be difficult as his recent production would justify something a little lower than that.
At this point, Boston would appear to be the odds-on favorite to bring back the 29-year-old but if they don't, Sweeney will need to move quickly to try to replace him.  A capable secondary scoring threat has been something they've been coveting for a while now and their offense was certainly boosted when Hall came in so bringing in someone else to fill that role if Hall leaves would certainly be helpful.
Add Defensive Upgrades
When Torey Krug (and to a lesser extent, Zdeno Chara) left as unrestricted free agents, there was an expectation that reinforcements were on the way.  That didn't happen.  Then the season started and the hope became an early-season addition.  That didn't happen either.  It took until the trade deadline for Sweeney to try to make a meaningful pickup and that came in the form of Mike Reilly, a player who had bounced around a bit but really found his footing with Ottawa before continuing that with the Bruins.  Even so, Reilly is no more than a second-pairing defender but made a huge impact on Boston's back end.
Between Reilly's impact and the injuries they dealt with in the playoffs, that should have sent a strong message to Sweeney about the need to supplement their back end.  Cap space certainly won't be an issue as with the big-ticket deals coming off the books (Rask, Hall, and David Krejci), they have over $26MM at their disposal.  Yes, a good chunk of that will be spent on goalies and re-signing or replacing Hall but there is more than ample cap room for the Bruins to try to add an impact defender as well as upgrade their depth.
Find A Second Line Center
Speaking of Krejci's expiring contract, this creates another void up front that needs to be addressed.  The 15-year Bruin has indicated he wants to return to Boston but is undecided on whether or not he's going to play again in the NHL.  If he does come back, this is a pretty easy spot to fill – re-sign Krejci for less than the $7.25MM cap hit he had on his most recent contract and call it a day.
If that doesn't happen, Sweeney will need to go shopping.  Charlie Coyle had a tough year in the third spot and recently underwent a pair of knee surgeries.  While he's expected to be ready for training camp, counting on him to boost the second line when he struggled as much as he did would be risky.  Having said that, it's once again not a great free agent class down the middle (Phillip Danault, Alexander Wennberg, Mikael Granlund, and Paul Stastny are the top options available) so if they can't land one of those, the addition would need to come from outside the organization.  The short supply of free agents means that this market should develop fairly quickly so Sweeney would certainly prefer a firm commitment sooner than later from Krejci in the hopes of filling that spot before it really opens up.
Photo courtesy of USA Today Sports Images.  Contract information courtesy of CapFriendly.