The offseason is in full flight with only two teams still standing.  We continue our series which examines what those eliminated teams need to accomplish over the coming months.  Next up is a look at Toronto.
Things didn't quite go according to plan for the Maple Leafs this season.  Yes, they won the North Division as expected but it didn't result in much playoff success.  Instead, they were ousted in the opening round once again, this time by Montreal.  GM Kyle Dubas indicated after the season that he doesn't intend to move any of his four highly-paid forwards so they will be looking to make smaller moves to try to upgrade this summer.  Here is what they should be working on this offseason.
Add A New Assistant Coach
Seattle's decision to hire Dave Hakstol as their first head coach caught many by surprise but it also created a vacancy on Toronto's bench that will need to be filled.  With head coach Sheldon Keefe still relatively inexperienced at the NHL level and Manny Malhotra not having any head coaching experience, bringing in a replacement who has been an NHL head coach would be a nice addition to the bench although Paul MacLean is also on the staff and could be elevated to a larger role.  Bruce Boudreau was speculated as a possible addition last offseason and could make sense this summer as well.
Re-Sign Or Replace Hyman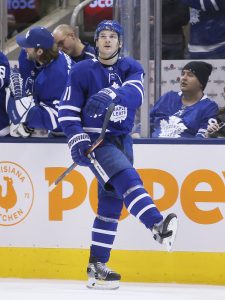 Zach Hyman has worked his way up Toronto's depth chart from a depth piece at the start to a key member of their top six and had a strong season offensively with 15 goals and 18 assists in 43 games.  Of course, offense is only a piece of what he brings to the table as he's an effective checker and a strong complementary piece on the top line.  This has him well-positioned to land a significant contract in free agency later this month, even with a flat salary cap in a free agent environment that wasn't kind to most wingers back in the fall.
But is that a contract they will be able to afford?  They have over $70MM in commitments for next season already to 16 players and another high-priced deal would force them into even more low-cost depth pickups to stay cap compliant while filling out the roster.  On the other hand, can they afford to lose him?  Yes, he's a complementary player on their number one line but he has logged more than 19 minutes a game the last two years while leading the way in penalty kill ice time among forwards as well.  If he goes elsewhere, it'd be a big loss.
But if he winds up outpricing himself from what Toronto can realistically afford, Hyman's departure would allow them to shop in the free agent market for a replacement.  They've been linked to Nashville's Mikael Granlund before and someone in his projected price range is what the Maple Leafs can more realistically afford while filling out the rest of their roster.  Their preference would undoubtedly be to keep Hyman but if that doesn't happen (and at this point, it sure sounds like the asking price is too high for their liking), the ability to dangle a spot alongside Auston Matthews and Mitch Marner could make them a team to watch for in free agency.
Rielly Extension Talks
Morgan Rielly has been a fixture on Toronto's back end for the last eight years, often being their number one option over the last several seasons.  His current contract – one that carries an AAV of $5MM – has turned into quite a bargain along the way.  However, that deal is up a year from now which means that the 27-year-old is eligible to sign a contract extension as soon as the calendar flips to the 2021-22 league year on July 28th.
It's safe to say that he will be landing a sizable raise and could push past the $7MM mark as long as he has a strong final year on his contract.  If he gets to the open market, he'll be one of the more sought-after players in the 2022 free agent class.  And with over $57MM in commitments to just nine players for 2022-23 (which doesn't factor in a new deal for Hyman or a replacement), there will come a time where they won't be able to keep all of their core players.
But James Mirtle of The Athletic recently reported (subscription link) that Rielly is willing to take a discount to remain with the Maple Leafs.  If that's the case, Dubas would be wise to try to get a new deal for Rielly done this summer, giving them some extra certainty in terms of what their cap picture looks like for 2022 and beyond.  If the framework of an extension was in place before free agency started, it'd give them some better clarity on what they can afford long-term on a Hyman re-signing or replacement as well as one other need that will have to be filled.
Platoon Partner For Campbell
That need is finding a second goaltender to team up with Jack Campbell next season.  Frederik Andersen is set to become an unrestricted free agent and while he has expressed an interest in returning, he'd also like to have chance at being a starter again.  That probably won't come with Toronto with the way that Campbell played down the stretch and in the playoffs.
Campbell may not be the undisputed starter but he could very well be on the stronger side of the platoon which would be a good situation for him as he heads into the final year of his contract before being eligible for unrestricted free agency for the first time.
The good news for the Maple Leafs is that there are several goalies who fit as possible platoon partners.  The bad news is that those netminders still carry a notable price tag with deals for them in recent years hovering in the $3MM range.  They have the room to afford that for next season but it will undoubtedly cut into what they can afford in Hyman's slot.
If there's an opportunity to do what they did when they acquired Campbell and bring in a lower-cost netminder with team control beyond next season, that may very well be the more desirable route even though it would cost them an asset or two versus free agency where it's just money.  That would give them more flexibility on the cap and some certainty with Campbell's deal being up next summer barring an extension over the summer.
Either way, through trade or a free agent signing, Toronto will need to add another goaltender over the next few weeks.
Photo courtesy of USA Today Sports Images.  Contract information courtesy of CapFriendly.