The offseason is in full flight with the draft and free agency fast approaching.  We continue our series which examines what those eliminated teams need to accomplish over the coming weeks and months.  Next up is a look at Carolina.
The Hurricanes had a strong regular season, finishing first in the Central Division while slotting in third overall.  However, it didn't result in the playoff success that they were looking for as they were ousted in the second round by the eventual Stanley Cup champion in Tampa Bay.  Now, GM Don Waddell enters the summer with ample cap space at his disposal – more than $29MM – but also some key areas to address which are noted on their offseason checklist.
Resolve The Hamilton Situation
Carolina made headlines last month when they gave pending UFA Dougie Hamilton permission to speak to other clubs early, basically giving him a head start on free agency.  It's an interesting move but it was necessitated by a sizable gap in contract talks.  It allows Hamilton to see if he can get the contract his camp thinks he's worth and if so, creates the potential for Carolina to try to get something in return for his rights.
The only card the Hurricanes have to play is that they can give Hamilton the extra year in basically what would amount to a sign-and-trade agreement.  Otherwise, the negotiation rights on their own are only going to be worth a mid to late-round draft pick.  That's still better than losing him for nothing but it wouldn't be much of a return.
If that happens, Waddell will likely need to turn towards trying to replace Hamilton.  He'd be a big loss but at the same time, they should be bracing themselves to lose a defenseman to Seattle as well – one of Jake Bean or Brady Skjei – so there would be multiple holes to try to fill.  There aren't many impact blueliners on the open market so it may have to be addressed by a trade.
On the other hand, if Hamilton's discussions with other teams don't prove as fruitful as he hopes and the offers aren't as strong as he hoped for, it's quite possible he circles back and tries to work out a new deal with Carolina.  If that's the case, the window to do something will be limited as they'd likely want to wait until after expansion to sign him; that leaves one week to work a new deal out before the calendar flips to the new league year and with it, the ability to give him the extra year on his contract.
Make Goaltending Decisions
Carolina successfully managed to juggle three quality goaltenders down the stretch but that's a strategy that isn't going to be viable over the course of a full season.  Accordingly, there are decisions to be made on all fronts.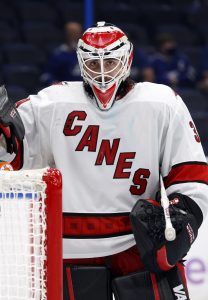 Alex Nedeljkovic went from being passed on by every team in the league on waivers to their starter late in the year and in the playoffs.  In doing so, he played enough games for the Hurricanes to retain his rights as a restricted free agent but with that carries arbitration eligibility.  A recent report suggested that the team is at least kicking around the possibility of non-tendering him to avoid the risk of an arbitration award that's too high for their liking.  That wouldn't preclude him from signing a new deal – it's a route that teams have increasingly taken in recent years to keep their players – but it also creates an opportunity for him to hit the open market.  Are they committed to him as their starter?  With such a small track record (less than 30 career regular season games), that's a hard commitment to make.  Are they ready to commit a year or two with a significant raise to keep him around?  They have a few weeks to make that call still.
The question then becomes which of their unrestricted free agents do they keep around.  Petr Mrazek has the better recent track record but is he going to get an opportunity to have a bigger role than a platoon goalie?  There are enough vacancies around the league that makes it a legitimate possibility which could price him out of Carolina's desired price range.  That could open the door for James Reimer to stick around.  He's not at the top end of the backup/platoon goalies out there but still shouldn't be facing too substantial of a pay cut from the $3.1MM salary he made this season.
Of course, with 11 goalies in unrestricted free agency playing in at least 20 of 56 games this season, Waddell could opt to change things up and bring in a newcomer.  There is a possibility that two of the three goalies come back.  There's a possibility that none of them do.  Given how quickly the spending happens on goalies in free agency, this is a decision that will be made soon.
Re-Sign Svechnikov
A new deal for winger Andrei Svechnikov was something Waddell was hoping to get done last fall but it didn't happen.  Instead, the 21-year-old will hit restricted free agency for the first time but will not have salary arbitration eligibility.
With all of that cap room, it appears that they have the ability to give him a max-term deal if they wanted but a lot depends on their internal budget; will they be a cap-spending team?  And from Svechnikov's perspective, is this the right financial environment to lock in a contract that buys out some UFA years?  Such a deal would put him over $7MM annually in all likelihood but he's coming off a quieter year than his sophomore campaign.  Would a bridge contract make more sense, allowing him to ideally get another strong couple of years under his belt, become eligible for arbitration, and work out a new deal as the salary cap starts to increase?  At this point, this seems like the likeliest outcome.
Such a move can often take time.  Without any other leverage beyond the remote possibility of an offer sheet (and Carolina matched the last one quite quickly), all Svechnikov can do if he doesn't like the status of negotiations is wait and hope that Waddell ups his offer.  Patience may be required on this front but a deal that boosts his price tag beyond the $3.575MM he could have earned by maxing out on his bonuses will be forthcoming.
Utilize Cap Space
Even by the time they re-sign or replace Hamilton, figure out their goalies, and leave enough room for Svechnikov, Carolina will have ample space to work with.  They'll need to reshape their bottom six with a trio of pending UFAs there (Jordan Martinook, Brock McGinn, and Cedric Paquette) but there will be an opportunity to add another asset even after addressing their other areas.  If they're going to be a budget team, their best bet may be taking on a contract with a higher AAV than salary and leverage that into adding another asset on top of the player.  If they are spending to the cap, however, they could be a sneaky presence in free agency and even one impact addition could vault them into contention as they return to the Metropolitan Division next year.
Photo courtesy of USA Today Sports Images.  Contract information courtesy of CapFriendly.