The offseason is in full flight with only two teams still standing.  We continue our series which examines what those eliminated teams need to accomplish over the coming months.  Next up is a look at Nashville.
It was another season of hanging around the middle for the Predators.  They managed to secure the final playoff spot in the Central before being dispatched by Carolina in the first round.  Their offense again sat around the middle of the pack once again as it was a case of history largely repeating itself with several high-priced veterans underachieving.  GM David Poile has to be encouraged by the fact they won 18 of their last 25 games to get into the postseason but despite that, the biggest part of their offseason should revolve around shaking up the core, something that is already underway.
Granlund Decision
Mikael Granlund was one of the stranger UFA cases back in the fall.  He was much better in 2019-20 after the coaching change to John Hynes and it looked like his strong finish was going to help him rebuild some value heading into the open market.  It was at the point where both sides were expected to move on as he was expected to cost more than what the Preds could afford.
That didn't happen.  Instead, he was one of the players that couldn't get the money he wanted at the start of free agency and tried to wait it out.  However, even that didn't work and he ultimately returned to Nashville in late December on a small pay cut ($3.75MM) with the hopes of a repeat second half that would give him a bigger market this time around.
That didn't really happen either.  He had 13 goals and 14 assists in 51 games this season which isn't bad by any stretch but it's hardly top-line production.  He logged plenty of ice time (19:28 per game which led all Nashville forwards) and he spent extended time at center for the first time since 2015-16.  Those are elements that will help his market.
In the end, Granlund's market hasn't changed much.  The 29-year-old is a capable second-liner who is miscast in a bigger role with Nashville.  Is he worth keeping around?  Given his role, definitely.  But at what price?  Is Granlund willing to take a multi-year deal around this price tag?  If so, they should be able to work something out.  But if he's aiming for closer to his previous contract as he was in October, that contract probably isn't going to come from Nashville.
Re-Sign Goalies
The Predators have their minor league goaltending situation settled for next year with a trio of players under contract.  However, the same can't be said in the NHL as both Juuse Saros and Pekka Rinne are in need of new deals and are in very different situations.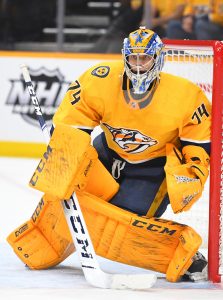 Saros was long viewed as Nashville's goalie of the future and after basically being in a platoon last season, he became their starter this year, getting nearly 63% of the starts.  The 26-year-old responded with the best year of his career, posting a 2.28 GAA with a .927 SV%, well above the league average on both fronts.  That has him well-positioned for a big raise from the $1.5MM he made on his bridge deal.  He's now arbitration-eligible and is a year away from reaching unrestricted free agency, giving him some extra leverage in talks.  However, the Predators have Yaroslav Askarov in the system having made him their first-rounder last October.  He is now the goalie of the future, not Saros.  So while Saros' performance is deserving of a long-term, big-money deal, does Poile have interest in that type of commitment?  That's certainly not a given.  Knowing Askarov is in the system, another medium-term pact (three to five years) could be a preferable compromise, giving them some stability for now but allowing them to pivot to their top prospect when he's ready.
As for Rinne, he was Nashville's starter for more than a decade but his numbers have dipped considerably in the past two years to the point where they have been below the NHL average.  At 38, he is on the last legs of his career and hasn't even committed to playing next season although he has expressed a desire to remain with the Preds if he does come back.  Given that there will be better options available that could also push Saros for playing time though, the fit may not be great aside from the element of having him be a career Predator.  At this point, Rinne will be going year to year which opens up the ability to offer bonus-laden deals which would give them some extra cap flexibility but it will come at a sharp dip in pay from the $5MM AAV he had the past two seasons.  Even half of that could be a stretch.  If they do decide to move on, the UFA market is deep enough that they'll be able to bring in a capable replacement.
Offensive Core Shakeup
Over the past several seasons, Poile has tried to add to his core group up front, particularly down the middle.  Ryan Johansen was acquired as was Kyle Turris while signing Matt Duchene and Nick Bonino as free agents.  That's a pretty good group of players on paper but it hasn't panned out.  Johansen and Duchene have underachieved significantly, Bonino was traded (though Luke Kunin, who they acquired in the move, has some upside), and Turris was bought out.  Simply put, it's not working.
The problem for Nashville is that the rest of their attack has also scuffled recently.  Viktor Arvidsson had seen his production drop sharply which helped lead to this week's trade while Filip Forsberg's has ticked down.  Even Granlund underachieved offensively.
To Poile's credit, he has recognized the problem in the past and tried to address it; it just hasn't gone well when he has done so.  But it's time to try again.  Younger forwards like Kunin and Eeli Tolvanen can be part of the solution but they're not ready to step into top roles and the combination of veterans they have just aren't getting the job done under multiple coaches now.
With the flat salary cap, there could be an increase in swapping high-priced underachieving forwards and the Predators are a team that may want to look at going that route.  With nearly $23MM in cap room, there will also be an opportunity to try to add a secondary scoring piece or two which would be welcome additions but that alone won't take them from being a below-average scoring team to an above-average one.  There's a lot of work that needs to be done up front and bringing in a new piece or two to the top-six may very well help them go in the right direction.  A shakeup is needed and Arvidsson's departure alone won't be enough.
Photo courtesy of USA Today Sports Images.  Contract information courtesy of CapFriendly.