The offseason is in full flight with the draft now complete and free agency fast approaching.  We continue our series which examines what each team needs to accomplish over the coming weeks and months.  Next up is a look at the Islanders.
For the third straight season, the Isles made it to the third round of the playoffs.  Also for the third straight season, they lost to the eventual Cup champion in Tampa Bay.  With cap constraints fast approaching, GM Lou Lamoriello has freed up some cap space with the trade of Nick Leddy to Detroit and losing Jordan Eberle to Seattle in expansion.  Now that he has some room to work with, his offseason checklist revolves around the reshaping of his roster.
Secure Defensive Certainty
There are several teams with multiple long-term commitments on the back end where their core is locked up.  The Islanders are not one of those teams.  Instead, they have just one blueliner signed beyond next season and that's Scott Mayfield while Noah Dobson will be an RFA for the first time.  Maybe Sebastian Aho is a regular by then as well but otherwise, there aren't many players guaranteed to be on the roster this time a year from now.
Ryan Pulock is entering the second and final year of his contract and looks to be one of the more prominent blueliners in the 2022 UFA class.  He has quietly emerged as a capable defender that can log big minutes on a top pairing, be reliable defensively, and contribute offensively with three straight seasons over 30 points before 2020-21.  He's looking at a raise from his $5MM AAV if he gets to the open market but Lamoriello would be wise to have some discussions about an extension before then.
Then there's Adam Pelech.  He's set to hit restricted free agency for the final time this summer as he will also be eligible for unrestricted free agency in 2022 if he doesn't sign a multi-year agreement in the coming months.  That gives him a bit of extra leverage heading into negotiations although his next deal shouldn't be a highly expensive one.  Getting a multi-year deal in place would certainly by ideal for the Isles.
Otherwise, it's possible that they enter next summer with $1.45MM in commitments on the back end.  While that's plenty of spending flexibility at that position (that low of committed money on defense is basically unheard of), it would also put them under a lot of pressure a year from now.  Whether it's getting Pulock and Pelech on multi-year deals, adding a veteran on a multi-year contract, or both, having some more certainty on the blueline is something Lamoriello needs to be working on.
Re-Sign Palmieri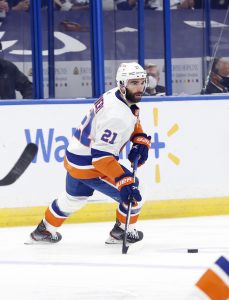 The decision to protect two veteran fourth liners while leaving Eberle and Josh Bailey unprotected was largely for financial reasons.  New York clearly wanted to free up some cap space with an eye on retaining Kyle Palmieri and Eberle's selection did just that, opening up $5.5MM in the process.
Now that they've freed up the money to keep Palmieri, they need to sign him.  The 30-year-old was acquired at the trade deadline from New Jersey (although with veteran Travis Zajac, another pending UFA) in exchange for a first-round pick (used on Chase Stillman).  He's coming off a quiet year with just 10 goals in 51 games between two teams but before this past season, he had five straight seasons of 24 goals or more.
Chances are that Palmieri's new deal will be close to what Eberle was making but assuming an agreement can be reached, it will basically be a trade, Eberle for Palmieri.  Now they just need to make sure both don't leave for nothing but cap flexibility in return.
Add Scoring Help
There's a reason that the Islanders are known as a defense-first team.  They play a stifling defensive system that they certainly get the most out of but part of that is by necessity as they are not a particularly talented team offensively.  The last time they finished higher than 20th in goals scored was 2017-18 back when Doug Weight was coaching and the team played a whole lot different than they do now.
Now consider that Eberle is gone; he tied for third in team scoring this past season.  Yes, Palmieri will effectively replace him assuming he re-signs but they're basically only breaking even with that 'trade'.  Leddy had more points than any other Islander blueliner so there's another hole that needs to be filled.
The hope is that there is room for some internal improvements.  Dobson should be able to produce more and expectations will be high on RFA winger Anthony Beauvillier for him to step up into a bigger role and score with more consistency.  That will certainly help but they will still a below-average team at the offensive end.  Bringing in another top-six forward and even a blueliner that can help offensively would be a huge boost for them.
Of course, that's easier said than done.  New York has about $17MM in cap room (that can be extended by up to $6MM with Johnny Boychuk on LTIR with their cap situation at the time of placement determining how much extra room is opened up) but a lot of free agents to contend with.  We've covered Palmieri, Pelech, and Beauvillier already but goaltender Ilya Sorokin (RFA) and center Casey Cizikas (UFA) also need new deals.  By the time all of those are done, they won't have a whole lot of room left.  Accordingly, Lamoriello may still need to free up even more cap space over the coming days if he wants to add some scoring punch to his roster.
Photo courtesy of USA Today Sports Images.  Contract information courtesy of CapFriendly.