The height of free agency ended a little less than a month ago and once again veteran center Paul Stastny finds himself without an NHL contract heading into next season. Unlike, most younger players Stastny probably isn't too concerned about financial security as he has made nearly $85MM during his career (CapFriendly). Stastny has also been here before, having waited until August 23rd to sign last summer with the Carolina Hurricanes. Stastny may find himself unsigned late in the offseason once again but given that he is just a year removed from a 45-point season, there is reason to believe he will find an NHL job next year.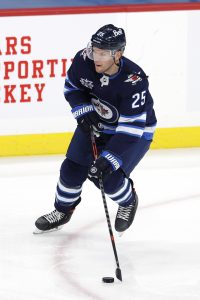 Stastny began his career as a perennial 70-point player on a talented but inconsistent Colorado Avalanche team that could never seem to get over the hump. He remained an important top-six piece as his career progressed, but as injuries started to impact his body, he began to descend into a 50–60-point scorer. By the time he signed a four-year $28MM contract as a free agent with the St. Louis Blues in 2014, he had settled in as a 40–50-point contributor that could post solid faceoff results and contribute in other ways. Stastny put up 40 or more points in each of his three and a half seasons with the Blues and was dealt to the Winnipeg Jets at the trade deadline in 2018.
After a cup of coffee in Winnipeg, Stastny signed with the Vegas Golden Knights in the summer of 2018. He spent two years with the team and failed to meet the expectations that came with his three-year $19.5MM contract. Stastny put up 80 points in 121 games with Vegas, but his production didn't live up to his $6.5MM cap hit and he was traded back to Winnipeg in the 2020 offseason.
Stastny remained a solid center option in his two seasons in Winnipeg and continued to be a consistent 40-point threat despite being in his mid-30's. Last summer, Stastny was coming off the aforementioned 45-point season and seemed like a good bet to sign a decent one-year deal, but as the height of free agency came and went, Stastny was left without a dance partner and eventually signed a one-year deal with the Carolina Hurricanes for $1.5MM. The deal was good value, although probably a tad below expectations for Carolina as Stastny centered both the third and fourth line at different points during the season.
At the end of the season, the Hurricanes opted to let Stastny go and that's where we find the 37-year-old today, unsigned and coming off a season in which he put up nine goals and 13 assists in 73 games while averaging a career-low 11:52 of ice-time per game.
Stastny has had a terrific career up to this point, but he is still chasing that elusive Stanley Cup. He seems to have a knack for leaving organizations just as they are on the cusp of winning Lord Stanley as evidenced by his former clubs Colorado, St. Louis, and Vegas all winning championships shortly after his departure.
Now, the Quebec City, Quebec native is in the twilight of his career and is likely looking to sign with a contender. He showed last year that he could be a solid contributor on the bottom two lines and probably has more to give. Teams aren't going to be lining up like they once were for Stastny's services, but with two months left until opening night, there is plenty of reason to be optimistic that he will find a landing spot before the first week in October.
Stats
2022-23: 73 GP, 9-13-22, +4 rating, 16 PIMS, 80 shots, 57.6% faceoffs, 60.9% CF, 11:52 ATOI
Career: 1145 GP, 293-529-822, +43 rating, 500 PIMS, 2326 shots, 54.2% faceoffs, 52.2% CF, 18:27 ATOI
Potential Suitors
It seems that teams are always looking for help at center, which makes Stastny's status a bit surprising this late in the offseason. While he is hardly the only pivot that is unsigned, he is probably the best of the leftovers. For Stastny, if he does choose to continue his career, he will be looking for a situation where he is a good fit. He never quite found a groove in Carolina, and despite playing on an excellent team, he did seem frustrated at times. He also fell out of favor with the coaching staff for brief periods, evidenced by his benching when the team opted to use Derek Stepan in his spot.
Let's start in the East. The Buffalo Sabres have several players that are over the age of 35 and while Stastny isn't going to push the team into the next stratosphere, he could be a nice stopgap for the team as they wait for more of their young prospects to develop into everyday NHLers. The Sabres also need to navigate the injury to Jack Quinn, and while this version of Stastny is no replacement for the youngster, he could be a part of a solution until he returns. Stastny would add a lot of experience and leadership to the Sabres dressing room and could also provide the team with a center who can win most of the draws he takes and will generally help his team control the play when he is on the ice.
In the West, the Edmonton Oilers still need a solid fourth-line center. The club does currently have a few options that they can slot into the lineup in a pinch, but ideally, they would have a pivot that can bring similar skills to that of Stastny. The Oilers don't need a player that will drive the offense, but they do need capable bottom six players who can play a responsible brand of hockey and dictate play when they are on the ice. Stastny fits the bill having won 57% of his faceoffs last season, and having terrific possession numbers as Carolina controlled the puck 60% of the time Stastny was on the ice. His offense dried up last season, but Edmonton doesn't need an offensive juggernaut, they need smart bottom six players that can chip in on offense from time to time.
Projected Contract
Many of the remaining unrestricted free agents are likely going be forced to take contracts that are around the league minimum of $775K, however, I don't believe that will be the fate for Stastny. As mentioned earlier, he waited until the end of August last year and still secured a seven-figure AAV on a one-year deal. This year is different for Stastny though as he is coming off his lowest offensive output in his 17-year career, so a contract approaching what he made last season might be off the table. I would venture a guess that Stastny will get a one-year deal in the range of $1MM to $1.25MM which could also include a small bonus. Several teams have utilized bonuses for players over 35 years of age signing one-year contracts and Stastny could be the next in line to receive it. Regardless of where he winds up, he will likely be able to give the team that acquires him good value on a short-term deal.
Photo courtesy of USA Today Sports Images.