The 2023 NHL Draft will take place next week in Nashville, and it's shaping up to be a special night both from the intriguing storylines emerging at the top of the draft order as well as the abundance of high-end prospects available to be selected. Even beyond generational talent Connor Bedard,this class boasts a deep, impressive group of emerging hockey players.
In this mock draft, we'll examine which player each team might pick at their draft position, building a roadmap for how the draft might play out. We're taking into consideration a team's needs and the currently available media reports indicating which players a team might be interested in. To be clear, this is not an exercise in picking players based on any personal evaluations of the prospects in question, but rather a look at the current landscape of the draft as well as the current standing of each team's prospect pool.
1. Chicago Blackhawks — Connor Bedard, C, Regina Pats
This is the easiest draft pick any NHL team has had to make since the Edmonton Oilers selected Connor McDavid first overall at the 2015 draft. Bedard possesses an elite shot, an elite mind for the game, and exceptional all-around talent.
The Blackhawks can't outright say they're selecting Bedard before they're on stage at the draft in Nashville.
But it's been obvious who they'd be taking since the moment their logo appeared on the number-one draft card in NHL Deputy Commissioner Bill Daly's hands during the draft lottery.
2. Anaheim Ducks — Adam Fantilli, C, University of Michigan
This is where some more intrigue has emerged. For a while it had been assumed that Fantilli would be a sort of "automatic" number-two pick the way Jack Eichel was to McDavid at the 2015 draft, especially after Fantilli had an Eichel-like rookie season at Michigan and took home the Hobey Baker award. But, it could be that something different could play out next week.
The Athletic's Corey Pronman wrote in a recent mock draft that "half the league thinks" the Ducks will take Swedish center Leo Carlsson, while "Half the people in the NHL think it will be Fantilli." (subscription link)
John Hoven of Mayor's Manor tweeted yesterday that he's "continuing to hear Anaheim Ducks will take Leo Carlsson at No. 2," and on the 32 Thoughts podcast Sportsnet's Jeff Marek brought up the possibility that the Ducks could take Russian winger Matvei Michkov. Although he stressed him bringing that possibility up was not a concrete report on the Ducks' preferences. Clearly, who GM Pat Verbeek will draft is far more of a mystery than it may have seemed a few weeks ago.
With all that said, though, it still seems as though Fantilli is where the team ends up. The Ducks already have Mason McTavish projected as one of their top-six centers going into their next competitive phase and they have star forwards Trevor Zegras and Troy Terry in the mix as well. With just how deep the Ducks' pipeline of defensive talent is, it seems they're best served taking the best forward available. Fantilli's play both in the NCAA and at the IIHF Men's World Championships served as a convincing case for why that player is him.
3. Columbus Blue Jackets — Leo Carlsson, C, Orebro HK
The Athletic's Aaron Portzline addressed the Blue Jackets' thought process with their top pick quite simply, writing that the "Blue Jackets will spend the No.  3 pick on a center." (subscription link) Who that center is likely depends on what Anaheim does with their pick. While the U.S. National Team Development Program's Will Smith has tantalizing skill, the Blue Jackets drafted a similar player in Kent Johnson with the number-five pick at the 2021 draft.
Both Carlsson and Fantilli offer more well-rounded skillsets at the current moment, and given each has experience playing against men (Carlsson from the SHL and IIHF Worlds, and Fantilli from World's) they're likely to be a bit closer to NHL-ready than Smith, who is headed to Boston College for next season.
The Blue Jackets have been aggressive in upgrading their team in advance of officially hiring Mike Babcock as head coach, so either Fantilli or Carlsson seems the most likely pick here. Since the Ducks took Fantilli second overall here, the Blue Jackets are thrilled to land Carlsson.
4. San Jose Sharks — Will Smith, C, U.S. National Team Development Program
The Sharks are building for the future, and we previously covered reports that San Jose is targeting defensemen and goaltenders as their priority for this class. Austrian blueliner David Reinbacher is the top defenseman in this class and could be under consideration here. But the Sharks have a second first-round pick and quite a few more selections, so they shouldn't feel forced to spend this pick to fill their wider organizational need.
Yes, the Sharks have centers Tomas Hertl and Logan Couture locked into long-term contracts. But it's going to be a few years at the earliest until the Sharks are ready to return to competing for Stanley Cups, and it's an open question where either player's abilities will be at that stage of their careers. Smith is an exceptionally skilled pivot who plays on one of the best lines in junior hockey. He adds a level of dynamic skill to a San Jose prospect pool that already boasts 2021 seventh pick William Eklund, and although some question whether he'll be a center at the NHL level he's the best chance the Sharks have at landing a first-line center with this draft selection.
5. Montreal Canadiens — Ryan Leonard, RW, U.S. National Team Development Program
This Canadiens front office has repeatedly emphasized how much they value seeing high compete levels in prospects, and that's something Leonard has in spades. While Michkov is still on the board, we've covered reports indicating the Canadiens don't "seem very likely" to take a shot at the electric Russian winger. That same report indicated the Canadiens are zeroing in on Reinbacher and Leonard for their pick. It is worth noting that Sportsnet's Elliotte Friedman said on 32 Thoughts that "there's a lot of teams that think" the Canadiens are "taking Reinbacher" if Smith isn't available, meaning he's also a very strong possibility.
6. Arizona Coyotes — David Reinbacher, RHD, EHC Kloten
Michkov remains on the board here, but the Coyotes have spent top-ten picks in the last two drafts on forwards. There's also the uncertainty of the Coyotes' long-term future in Arizona, which certainly can't help their efforts to lure Michkov out of the KHL, where he's under contract for the next three seasons. The Coyotes don't yet have the type of player in their organization who profiles as an all-situations NHL number-one defenseman, not since they traded Jakob Chychrun to the Ottawa Senators. So, they can use this pick to add the draft's top blueliner in Reinbacher.
7. Philadelphia Flyers — Matvei Michkov, RW, SKA St. Petersburg
Michkov's wait to see which team will own his NHL rights is over, though the Flyers' wait has just begun. The Flyers are in a prime position to take a shot at Michkov, a player some would argue has the highest offensive upside in this draft class — Bedard included. A report today indicated that the Flyers were interested in selecting Michkov, and Philadelphia as a landing spot would make sense. New GM Daniel Briere has a long runway to execute his rebuild plan, so the wait for Michkov wouldn't be as big of a hurdle as it may be for other clubs.
The Flyers have some talent in their system and on their NHL roster but badly need to inject some offensive star power into their organization since they said goodbye to Claude Giroux last season. Michkov is the best chance they have to do so of the players still on the board.
8. Washington Capitals — Dalibor Dvorsky, C, AIK
The Capitals can't be thrilled to have Michkov go one pick before theirs, let alone to a division rival. Their reported interest in Michkov means they're likely to attempt to trade up in the draft, likely with the hope of leap-frogging Philadelphia in order to secure the rights to the Russian winger. But in this scenario where they're unable to do so, Dvorsky is a sound pick in his own right.
Capitals Assistant General Manager Ross Mahoney told The Athletic's Tarik El-Bashir that the Capitals "this year, we're gonna take the best player," regardless of the organization's larger positional needs. (subscription link)
Dvorsky's ability to play down the middle would certainly help the Capitals, though, as Evgeny Kuznetsov's contract expires in two years, so other than Dylan Strome the Capitals don't have many players who confidently project to become top-six pivots. Dvorsky is exactly that, a potential top-six center with experience already playing against men in Sweden's HockeyAllsvenskan.
9. Detroit Red Wings — Samuel Honzek, LW, Vancouver Giants
According to Steve Ewen of The Province, Detroit Red Wings GM Steve Yzerman personally scouted Honzek's playoff games against the Kamloops Blazers in April. At the NHL Combine in Buffalo, Honzek told the media "Detroit was one of the, I would say the best meeting I've ever had here." While the rankings from the draft media sphere might indicate that Honzek could be available for the Red Wings to pick at 17th overall, his impressive physical testing and tantalizing physical tools make him a defensible selection inside the top ten.
The six-foot-four Slovak winger scored 56 points in 43 games in the WHL and has some believing he can play center at the next level, which only enhances his value going into the draft next week.
10. St. Louis Blues — Tom Willander, RHD, Rogle BK
Willander, a smooth-skating Swedish blueliner, has been a fast riser during the draft process since his season ended with Rogle. He's committed to play for Boston University next fall, meaning the Blues could keep tabs on him without needing to cross an ocean.
The last time the Blues selected a blueliner in the first round was Jordan Schmaltz over a decade ago at the 2012 draft. Willander makes a lot of sense as a pick to help the team infuse some high-end talent into a blueline that has gone a bit stale at the NHL level.
11. Vancouver Canucks — Nate Danielson, C, Brandon Wheat Kings
The Canucks' Patrik Allvin has told the media that he's looking at options to trade up in the draft, but if a trade-up scenario never materializes Danielson is the type of pick that would help their organization. The Athletic's Thomas Drance reported that Danielson was among the players the Canucks are most interested in selecting with their top pick, (subscription link) and he could fit in their long-term plans as a number-two center behind Elias Pettersson. That would allow J.T. Miller to shift to playing as a winger, where he may be most suited to play long-term.
12. Arizona Coyotes — Zach Benson, LW, Winnipeg Ice
After the Coyotes passed on Michkov to select Reinbacher with the sixth pick, Arizona gets incredibly fortunate here and has Benson, a widely respected WHL winger, still on the board. This Coyotes front office has spent high picks on forwards with size in the past, such as Dylan Guenther, Josh Doan, and Conor Geekie. With Logan Cooley on the way, Arizona takes another somewhat undersized forward in Benson, who happens to be oozing offensive skill and all-around creativity.
13. Buffalo Sabres — Dmitry Simashev, LHD, Lokomotiv Yaroslavl 
The Sabres are so well-stocked with young talent that they're in a uniquely strong position to roll the dice on one of the draft's more intriguing talents: Simashev. The Sabres are widely rumored to be seeking help on defense this offseason, and after drafting forwards with all three first-round picks in their possession last season the Sabres now take a rangy six-foot-four Russian blueliner who has reportedly drawn quite a bit of leaguewide attention.
14. Pittsburgh Penguins — Matthew Wood, RW, University of Connecticut 
The leader of Pittsburgh's hockey operations, Kyle Dubas, said today that he'd likely be retaining the Penguins' top pick, their highest selection over a decade. They've had one of the NHL's weaker prospect pools in recent years, and their need for quality scoring forwards has resulted in trades that have been widely panned, such as the team's acquisition of Mikael Granlund at the trade deadline a few months ago. Adding an offensive talent like Wood, who scored at a nearly point-per-game rate as the youngest player in college hockey would be a huge boost to their organization's future. If he can improve his skating, the six-foot-four forward can be a true difference-maker.
15. Nashville Predators — Quentin Musty, LW, Sudbury Wolves
New Predators general manager Barry Trotz has an identity in mind for his Predators club: a fast, skilled, high-octane offensive team. He's tasked his scouts with taking "swings" at the draft on offensive upside, so a player like Musty could be a fit for this pick as a result. In his age-17 season, Musty scored 78 points in 53 games in the OHL and offers a combination of six-foot-two size and high skill level that many NHL teams covet.
16. Calgary Flames — Oliver Moore, C, U.S. National Team Development Program
The consensus best skater in this draft class, Moore is the top center prospect still on the board. While Moore might not end up a first-line center in the NHL he drove play as a second-line center at the NTDP and his skating provides some hope that there's even more offensive upside to be unlocked in his game. With incumbent first-line center Elias Lindholm looking likelier than ever to depart Calgary at the expiry of his contract (or before) the priority in Calgary has to be adding more talent down the middle to their prospect pipeline, and drafting Moore achieves that.
17. Detroit Red Wings — Axel Sandin Pellikka, RHD, Skelleftea
The Red Wings have a bit of a logjam of blueliners in their system shaping up, but that shouldn't stop them from taking a swing on Sandin Pellikka, who is arguably the most skilled defenseman in this draft class.
18. Winnipeg Jets — Brayden Yager, C, Moose Jaw Warriors
Winnipeg is set to potentially lose both of its top-six centers in the same offseason, with Pierre-Luc Dubois a near certainty to be traded and Mark Scheifele in the final year of his contract. With Danielson and Moore gone, it's not an ideal scenario for the Jets to be in but Yager remains a quality consolation prize. He didn't quite meet lofty expectations this past year but with Brad Lambert and Chaz Lucius already in the system Yager can add to their wave of young pivots who will replace the outgoing ones.
19. Chicago Blackhawks — Daniil But, LW, Lokomotiv Yaroslavl
The Blackhawks landed Bedard, so regardless of how they spend the rest of their stockpile of draft picks this year will be considered a success. This gives GM Kyle Davidson the type of room to take risks other GMs might not have, and as a result, he gambles on talent here by taking But, a big Russian winger.
Like most teenage prospects But didn't play or score much in the KHL but was more dominant against his peers and offers the type of size and skill combination not even Bedard can offer.
20. Seattle Kraken — Colby Barlow, RW, Owen Sound Attack
There isn't a large sample size of Seattle draft classes to work off of.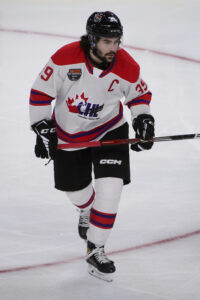 But, their picks of Ty Nelson, David Goyette, Jagger Firkus, Ryker Evans, and Ryan Winterton in the last two drafts indicate a willingness for the team to nab top-end CHL talents who might have fallen a little bit farther than they might have expected.
Barlow is exactly that, a potential lottery pick who slid right into GM Ron Francis' hands.
The Kraken already spent two high picks on right-wingers last class with Firkus and Jani Nyman but Barlow is firmly in the "best player available" argument at this slot and that's the philosophy most NHL teams draft under.
21. Minnesota Wild — Eduard Sale, LW, Brno Kometa
The Athletic's Michael Russo and Joe Smith asked Judd Brackett, who runs the Wild's drafts, about the possibility of selecting Sale at 21, and he had the following to say: (subscription link)
When you talk about Ed Sale, you're talking about a guy at 6-2 who can skate, has terrific hands, a prolific scorer. He's done it in his draft minus one year as good as anyone, and playing against men this year. We want goal scoring, and that's what he brings.
While there are other possibilities on the board and the Wild's overarching organizational need for centers may force their hand, Sale seems like a strong possibility here.
22. Philadelphia Flyers — Oliver Bonk, RHD, London Knights
After making the choice to invest the seventh overall pick in Michkov, a decision some would deem to be highly risky, the Flyers could opt to make a safer bet with their second first-rounder. Drafting Bonk, the son of former NHLer Radek Bonk would add a valuable right-shot all-around blueliner to a defensive prospect pool lacking those. He could even end up competing for an NHL spot sooner than some realize, which would certainly soften the blow of waiting for Michkov.
23. New York Rangers — Gabriel Perreault, LW, U.S. National Team Development Program
The Rangers have a quality NHL team well-stocked with players in their prime and ready to contribute. As a result, they're able to draft players with less regard given to their current NHL needs, and that allows them here to roll the dice on the offensive upside by drafting Perreault. While Perreault's linemates both went inside the top five picks, the son of former NHLer Yanic Perreault was far from a third wheel. He led the trio in scoring and offers the type of playmaking ability and hockey IQ that's rare to find at this stage of the draft, something the Rangers could definitely use in their system.
24. Nashville Predators — Gavin Brindley, RW, University of Michigan
Standing just five-foot-nine, Brindley would represent perhaps an even greater home-run swing than Musty and fit Trotz's requests of his scouts. He scored 38 points in 41 games in his first year of college hockey, an extremely impressive total, and while some might say his numbers were inflated by playing with Fantilli he is a quality offensive player in his own right. Brindley fits what the Predators are looking to achieve in this draft and would be a solid complement to their earlier pick of Musty.
25. St. Louis Blues — Calum Ritchie, C, Oshawa Generals
The Blues addressed a top priority of their offseason, adding quality defensive prospects, and with this pick, they check another significant box: adding center talent to their system. Ritchie's numbers may not jump off the page but like two of the last Blues CHL first-rounders, Jake Neighbours and Zachary Bolduc, Ritchie was a counted-upon team leader.
26. San Jose Sharks — Michael Hrabal, G, Omaha Lancers
Reports cited earlier in the mock draft indicated that the Sharks are highly interested in adding goalie talent to their system this offseason, and with their second first-round pick they select arguably the top goalie prospect in this class. Hrabal's numbers declined a little from early in the season when they were elite, but standing at six-foot-seven the UMass commit offers the combination of size and athleticism NHL teams want to see from top-end goalie prospects.
27. Colorado Avalanche — Ethan Gauthier, RW, Sherbrooke Phoenix
Colorado had just two picks at last year's draft, and their first came 193rd overall. They of course won the Stanley Cup, so it's hard to imagine their scouts were complaining, but with their first-rounder this year they need to repair the pipeline of young talent graduating to their NHL roster. They intend on competing for Stanley Cups into the future and teams with elite talent that do so typically need a consistent stream of young players to occupy roles on their roster at entry-level prices.
Gauthier isn't the best offensive player left on the board but he's the soundest balance between offensive upside and likelihood of making an NHL impact. That's the sort of investment the Avalanche need to make.
28. Toronto Maple Leafs — Mikhail Gulyayev, LHD, Avangard Omsk
Excluding size, Gulyayev has just about everything one could want from a defensive prospect. Toronto has not hesitated to draft talented Russian players in previous drafts which leads one to believe their scouts won't hesitate yet again, even though they have changed general managers. Gulyayev would instantly become the Maple Leafs' best defensive prospect and bolster a left side of their blueline in need of some more young options after the Rasmus Sandin trade.
29. St. Louis Blues — Andrew Cristall, LW, Kelowna Rockets
The Blues drafted two relatively safe players with their last two picks, and in the unlikely scenario, they make all three of their first-round picks taking a major swing on offensive upside could be in order. Cristall is an extremely divisive player whose stunning flashes of skill have drawn him many admirers and his low moments, such as in the WHL playoffs, have earned him quite a few detractors.
There has been an exodus of talent along the wings in St. Louis recently, with David Perron, Vladimir Tarasenko, and Ivan Barbashev all now playing for different teams. If Cristall hits, he'd go a long way toward fixing that.
30. Carolina Hurricanes — Bradly Nadeau, LW, Penticton Vees
The Hurricanes are among the NHL's best teams at mining upside at the draft from situations where most teams struggle to find high-end talent. They found one of the best hockey players not yet in the NHL, Alexander Nikishin, in the third round in 2020 and rolled the dice on offensive upside with Gleb Trikozov as their top pick last year. Nadeau ripped the BCHL apart with Penticton and if he can do it again at a heightened level of competition in the NCAA next year the Hurricanes could quickly have another steal on their hands.
31. Montreal Canadiens — Tanner Molendyk, LHD, Saskatoon Blades
After selecting Leonard the Canadiens double-down on traits that project well to the NHL game by selecting Molendyk. Molendyk is a premier rush defender who both skates and competes extremely well, and while the team already has quite a few young left-shot blueliners to work with (Jordan Harris, Kaiden Guhle, Lane Hutson to name a few) Molendyk is arguably the best player remaining and fits what the organization is targeting at their draft table.
32. Vegas Golden Knights — Etienne Morin, LHD, Moncton Wildcats
The Golden Knights won the Stanley Cup with a defense that combined size and offensive ability in many areas. While they have one of the NHL's best bluelines their group isn't getting any younger. Adding Morin, who scored 21 goals and 72 points in the QMJHL, would give the Golden Knights a potential successor to one of their current blueliners and someone who would give them a chance to maintain their current ability to generate offense from the blueline.
Photos courtesy of USA Today Sports Images