One of the longest-running trade sagas in recent NHL history has finally reached its conclusion. The Ottawa Senators have acquired defenseman Jakob Chychrun from the Arizona Coyotes, per a team announcement. In exchange for the star defenseman, the Coyotes are receiving a 2023 first-round pick, a conditional 2024 second-round pick (originally acquired from the Washington Capitals) and a 2026 second-rounder.
There are some conditions in this deal to untangle. The 2023 first-rounder is top-five protected, meaning if the pick lands inside the top-five of the draft, it becomes an unprotected 2024 first-rounder. Additionally, if the Senators reach the 2023 Eastern Conference Final, the 2024 second-rounder (via WSH) becomes Ottawa's 2024 first-rounder, top-10 protected. If that first-rounder ends up being inside the top-10 in that scenario, then the pick becomes a 2025 unprotected first-round pick.
Senators general manager Pierre Dorion had the following to say on the deal:
A defenceman we've coveted, Jakob is big and plays imposing. He possesses a quality skill set; he defends hard and is highly skilled. He uses his heavy shot with accuracy and is effective at creating offence as a threat at the offensive blue line.
At first glance, this looks like an extremely palatable price for the Senators to pay to acquire a top-pairing defenseman. Mattias Ekholm was recently traded for a first-rounder and a prospect recently drafted in the first round, while the Coyotes only managed to pry away one first-round pick in exchange for Chychrun. But as more and more contending teams interested in acquiring defensemen opted for other options (such as the Los Angeles Kings, who acquired Vladislav Gavrikov last night, or the Oilers, who got Ekholm) the market may have begun to shift into one more favorable to a buyer.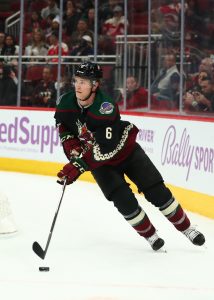 For the Coyotes, it's a tough pill to swallow after over a year of anticipation for this trade. Chychrun is the team's best defenseman and a legitimate top-pairing force on a bargain $4.6MM AAV deal through 2024-25.
Getting just one guaranteed first-rounder and two second-rounders, including one all the way in 2026, is a bit underwhelming, especially when one considers the fact that earlier today Filip Hronek returned a first-rounder and a second-rounder for this year's draft.
The fact that just recently Nashville Predators grinder Tanner Jeannot cost the Tampa Bay Lightning a package of a player and five draft picks, including a first and second-rounder can't make things easier for Coyotes fans as well.
The main redeeming element of this trade for the Coyotes is the upside this 2023 first-rounder has. With the Senators currently on the outside of the playoff picture in an Eastern Conference loaded with contending teams, it's not out of the realm of possibility that the Senators stumble and send Arizona a pick inside the top ten. If that ends up happening, then this price isn't totally out of line with what the Senators paid for Alex DeBrincat last summer. Sportsnet's Elliotte Friedman also notes that the Coyotes placed value in the fact that Ottawa didn't require them to take any money back as part of this deal, which is a relatively rare sight in today's flat-cap world.
While this return might be a bit disappointing for the Coyotes, it remains a valuable contribution to the war chest of draft picks they have stockpiled in recent years. They currently have the rights to four second-round picks in both the 2024 and 2025 drafts, and will have the chance to make two high picks in what is considered an extremely talented 2023 draft. So although after such a long wait this return will undoubtedly feel underwhelming, it does inch the team a little closer to their goal of loading up their organization with an army of talented young players.
For the Senators, this trade accomplishes the team's long-held goal of upgrading their defense, and at a relatively affordable price to boot. Dorion surrendered the same amount of first-round draft picks to acquire Chychrun (a better defenseman with extra years of affordable team control) as the Panthers surrendered to acquire Ben Chiarot at last year's deadline. While Chychrun hasn't played in quite a while, held out for trade-related reasons, he has a healthy 28 points in 36 games this season.
Chychrun scored 18 goals and 41 points in just 56 games during the 2020-21 season, flashing number-one defenseman ability. While his struggles to stay healthy since that point have cost him the chance to truly establish himself among the league's elite defenseman, he's a mid-twenties, team-controlled two-way blueliner who can capably handle 23-plus minutes a night. There's not a team in the NHL that wouldn't benefit from adding a defenseman like him.
With Chychrun now in the mix alongside Thomas Chabot, Artem Zub, and Jake Sanderson, the Senators now have a formidable group of top-four defensemen. While it definitely hurts to give up a possible top-ten pick, it's clear that the Senators' rebuild is meant to be over, and that finally returning to the playoffs is the goal. While it may not happen this season, this addition of Chychrun gives the Senators quite a boost as they look to make noise in a crowded Atlantic Division for next year.
Photos courtesy of USA Today Sports Images