The Columbus Blue Jackets are expected to acquire pending UFA defenseman Damon Severson from the New Jersey Devils in a sign-and-trade deal, per Sportsnet's Elliotte Friedman. Severson's extension will come in at eight years with a $6.25MM cap hit. Columbus would later make the deal official.
Columbus will send a third-round pick in this year's draft, 80th overall (originally owned by Calgary), to New Jersey for facilitating the deal, says Daily Faceoff's Frank Seravalli. PuckPedia has the details of Severson's max-term contract: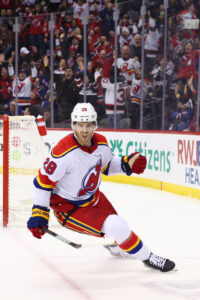 2023-24: $6MM salary, $2MM signing bonus, full no-trade clause
2024-25: $6MM salary, $2MM signing bonus, full no-trade clause
2025-26: $5.5MM salary, $2MM signing bonus, full no-trade clause
2026-27: $4.1MM salary, $2MM signing bonus, full no-trade clause
2027-28: $3.3MM salary, $1.8MM signing bonus, 20-team trade list
2028-29: $4.1MM salary, $1MM signing bonus, 12-team trade list
2029-30: $5.1MM salary, 12-team trade list
2030-31: $5.1MM salary, 12-team trade list
This is the second true sign-and-trade in NHL history. The Florida Panthers and Calgary Flames became the first to do it with last year's Matthew Tkachuk blockbuster.
It's also the Columbus Blue Jackets' second major move on defense in the span of three days. After an injury-riddled season that saw Columbus boast the weakest 'D' corps in the league on some nights, the team has now added a pair of top-four caliber players in Severson and Ivan Provorov to compliment youngsters like Adam Boqvist, Nick Blankenburg, David Jiricek, and Andrew Peeke.
Severson, 28, was the longest-tenured member of the Devils, drafted just weeks after their run to the Stanley Cup Final – and last playoff series win before this year – in 2012. The veteran of nearly 650 NHL games has always been a capable point producer, recording a pair of 11-goal seasons and multiple 30-point campaigns, but has also put up some strong defensive metrics, especially this season.
This season, his Corsi For percentage at even strength was 56.5%, although it came with a small reduction in his role from over 23 minutes per game in 2021-22 to just under 20 minutes in 2022-23. While he may not have the upside of his fellow new teammates, Provorov, he's got a much more solidified track record of two-way success and can play anywhere incoming head coach Mike Babcock chooses.
To put it simply – Severson is a capable, well-rounded, minute-munching defender who plays the right side. While the last few years of the contract carry some significant risk, given he'll be in his mid-30s, $6.25MM is a very fair price to pay for his services right now.
The move takes one of the top pending UFAs off the market, and along with Vladislav Gavrikov's extension in Los Angeles this week, the market for defenders on July 1 is looking a lot thinner. Dmitry Orlov, Erik Gustafsson, Shayne Gostisbehere, John Klingberg, and Matt Dumba now make up the remainder of the top UFAs available at the position.
One thing is abundantly clear – Columbus isn't willing to wait any longer for a return to postseason play. With the Severson extension in play, the team should have a little under $6MM in cap space remaining this offseason, per CapFriendly, assuming a $1MM increase is finalized. That will undoubtedly go to upgrading their group of forwards.
New Jersey Hockey Now's James Nichols reported earlier in the week that Columbus had an interest in Severson.