With Mike Babcock expected to be named Columbus Blue Jackets head coach later this summer, the Blue Jackets have made a major push to improve their roster for his first season as head coach.
In a trade officially announced by all three involved teams, Columbus is acquiring defenseman Ivan Provorov from the Philadelphia Flyers, but there are a lot of moving parts to the deal. Here are the full details as told by the team announcement:
Philadelphia trades Ivan Provorov and Hayden Hodgson to Los Angeles in exchange for Calvin Petersen, Sean Walker, Helge Grans and the Kings' 2024 second-round pick. Columbus acquires Kevin Connauton from Philadelphia in exchange for a 2023 first-round pick (22nd overall) and conditional second-round pick in either the 2024 or 2025 NHL Draft. Columbus acquires Provorov from Los Angeles in exchange for Connauton.
The Kings are retaining 30% of Provorov's deal, meaning he'll cost $4.725MM against the cap for Columbus for the next two seasons.
Laid out plainly, here is what each team is acquiring as part of this deal:
Columbus gets: Provorov. Philadelphia gets: Petersen, Grans, Walker, 2023 1st (via CBJ via LA), 2024 2nd (via LA), conditional 2nd (via CBJ). Los Angeles gets: Hodgson, Connauton.
Columbus' acquisition of Provorov should not come as a surprise, as it was reported months ago that the team had an interest in acquiring a defensive upgrade to fill the void left by their trade of Vladislav Gavrikov to Los Angeles. Blue Jackets GM Jarmo Kekalainen has found his upgrade in Provorov, 26.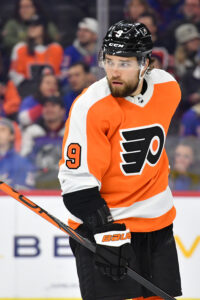 Provorov was the seventh-overall pick at that 2015 draft and at times looked to be a potential top-of-the-lineup, all-situations force for Philadelphia. He averages over 24 minutes per night for his career, and has a career-high of 17 goals and 41 points.
But in recent seasons, as the Flyers themselves have descended from consistent playoff team to league basement-dweller, Provorov's form has declined and this season he played a full minute less per game than his career average, earning 23:01 time on ice per contest.
As Provorov's inconsistency became harder and harder to ignore and the Flyers organization began to pivot to more of a rebuild-like direction, it became clear that a change of scenery would likely be in the best interest of all parties.
Now Provorov gets his change of scenery with two seasons remaining on his contract. He'll land in Columbus, where he'll be slotted more appropriately as the team's number-two left-shot defenseman behind franchise face Zach Werenski.
Assuming Werenski can return to form next season after an injury cost him most of his 2022-23, Provorov will be in a more comfortable position as a second-pairing anchor. It's likely that the Blue Jackets believe he'll be able to reach the heights he hit earlier in his career in that position sort of position, when he's not being leaned on as his coach's number-one option.
For the Kings, the motivations behind this deal seem relatively clear. First and foremost, creating cap space was an important priority, and is something the Kings have done by sending Petersen and his $5MM AAV deal to the Flyers.
Petersen once looked like a potential successor to Jonathan Quick for the Kings, posting a solid .911 save percentage in 35 games in 2020-21. Since that point, though, Petersen has declined sharply and this season spent most of the year in the AHL as he had a grisly .868 save percentage in his 10 NHL games. Now Petersen will get a fresh start in Philadelphia while the Kings clear his hefty cap hit off their books, save for any money they retain. (which will be revealed when the official trade details come in)
Cap space is of importance to the Kings as they are looking to sign an extension with Gavrikov, their mid-season trade acquisition. ESPN's John Buccigross on Twitter cited a conversation with a Kings executive who pegged the cost of Gavrikov's contract extension to be in the "$6-7 million" range, with the team preferring to keep the number as early in the $6MM range as possible. If the Kings do end up finalizing that sort of contract extension with the 27-year-old Russian rearguard, this trade of Petersen is an essential one.
ESPN's Kevin Weekes reports that Gavrikov is "only interested in a two-year contract extension with the Kings," which could contribute to the higher price tag Buccigross is reporting, as the conventional wisdom is that short-term contracts for coveted players who are in their prime would carry higher average annual values than the more traditional long-term commitments.
Meanwhile, the trade of Walker (reportedly to Philadelphia) is no surprise seeing as the Kings have been long expected to deal from their surplus of right-shot NHL-ready blueliners. With Sean Durzi a breakout talent and 22-year-old Jordan Spence clearly ready to take on the challenge of the NHL, it seems Walker was the odd man out in the team's right-shot defensive picture.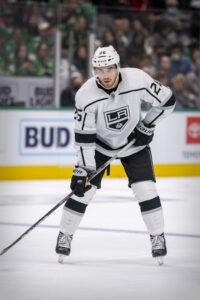 Walker is a 28-year-old undrafted Bowling Green State University product who is making $2.65MM against the cap for one more season. He scored 13 points in 70 games this season and contributed to the team's penalty kill, but his average ice time was cut from 18:22 per game last year to just 14:50 this season.
Perhaps he'll be able to earn a larger role in Philadelphia, or the Flyers could even opt to flip him to another team to earn even more draft capital to further their rebuild process.
They'll also get Connauton, a 33-year-old defender with 360 games of NHL experience on a $762.5k cap hit for next season. He scored 15 points in 63 games in 2022-23 for the Lehigh Valley Phantoms of the AHL, and it was his first season since 2013 spent without a single NHL game played. He'll likely play with the Ontario Reign in the AHL and add to the Kings' defensive depth.
Hodgson, 27, has just seven games of NHL experience but scored 19 goals and 31 points in 46 AHL games in 2021-22. His point total dropped to eight this past year, but perhaps the physical forward can return to AHL prominence in Ontario.
For Philadelphia, this deal is all about adding as much draft and prospect capital to further their rebuild under new GM Daniel Briere. Getting a first-rounder in a highly-regarded draft is a solid return for Provorov, and the additional two second-rounders are a great bonus. Grans has had an uneven time in the AHL with the Kings organization, but he's still just 21 years old and was the 35th overall pick at the 2020 draft. He's a talented prospect who could quickly put himself in the Flyers' blueline mix.
This trade is Briere's first move in what is likely to be a summer of major change for the Flyers. If they are indeed pursuing a complete rebuilding process, (perhaps including a trade of netminder Carter Hart, who has been the subject of "industry rumblings" about a potential trade) this is a strong first transaction to get that rebuild started.
Photos courtesy of USA Today Sports Images.
Sportsnet's Elliotte Friedman first reported the deal taking place. ESPN's Kevin Weekes, The Athletic's Aaron Portzline, Sportsnet's Jeff Marek, and ESPN's Greg Wyshynski each first reported other elements of the deal.