While the Montreal Canadiens appear to be in the midst of a second-straight season without a playoff berth, the upcoming trade deadline does present some opportunities for GM Kent Hughes and his organization to make some strides as they look to build for the long term.
One of the players whose name frequently comes up as a veteran the Canadiens could potentially trade is forward Josh Anderson.
On TSN's Insider Trading segment, TSN's Darren Dreger reported that "the only way" that Anderson is traded is if another club "makes an offer that the Montreal Canadiens simply can't refuse." Dreger cites GM Brad Treliving and the Calgary Flames as a team historically that has "expressed interest in Josh Anderson," but notes that the Canadiens would "prefer to keep" their power forward because he has a long-term contract that the team views as a solid investment.
For some, this report may cause some confusion. The Canadiens are a team looking to add younger players and draft picks in order to build a future contender, and if, as Dreger says, teams keep calling with interest in Anderson, it stands to reason that the most prudent path forward for their chosen path would be to cash in on their 28-year-old scorer.
But based on Dreger's reporting and other reports that have come out in the past, it seems that the Canadiens have never truly considered dealing Anderson for anything less than a king's ransom. While it's entirely possible that these media reports are simply a product of the Canadiens' front office attempting to place themselves in as advantageous a position as possible for trade negotiations, it's perhaps even more likely that the team is genuinely interested in keeping Anderson in Montreal.
Breaking down why the Canadiens, who came in last place in 2021-22 and have struggled quite a bit this year, would rather retain Anderson than trade him is somewhat challenging.
There is a stark mismatch in the public and inside opinion on Josh Anderson's worth, with executives admiring his blend of size and speed despite significant outside criticism of his performance and cost.
This season, Anderson is on pace to score 23 goals and 31 points. A 23-goal scorer is certainly useful, but there aren't many NHL players who just barely manage to cross the 30-point plateau and make over $5MM on a long-term contract, especially if that deal takes him into his mid-thirties.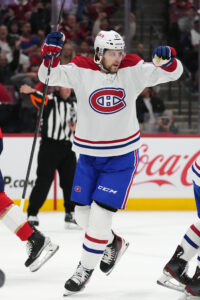 But despite that lackluster production, Anderson still seems to be a coveted player in the eyes of executives across the NHL.
There are many highly-paid players whose play has made them essentially unmoveable, players whose cost against the salary cap far outweighs their on-ice contributions, killing any outside interest in acquiring their services.
Anderson does not appear to be one of those "unmoveable" players, despite his lengthy contract.
There are doubtless many executives who see the struggles the Canadiens have faced in terms of creating goals and believe that, were Anderson on a more consistently functional scoring line, his production would rise to a level more in line with the talent he flashes.
There is definitely some merit to that view, and there are games where Anderson certainly makes a strong case that he's capable of scoring more than he has in Montreal so far.
One can understand that Anderson has a rare, valuable combination of traits, though, while also maintaining a healthy skepticism over how his game will age as he enters his thirties, especially since his contract stretches until the summer of 2027. Like with many players whose play invites debate over their true value, the reality of Anderson's value likely lies somewhere in the middle of the two extremes.
But it seems that in order to have any chance of presenting the Canadiens with an offer they deem acceptable for Anderson, a club will need to be a believer, an organization that has fully bought into the idea that Anderson will be able to reach a higher level of production in a new, more favorable offensive environment.
As Dreger mentioned, the Flames have had interest and could be that sort of team. Anderson certainly does fit the type of player coach Darryl Sutter seems to prefer, and the Flames could feel that they're in more need of a power forward due to the off-season departure of Matthew Tkachuk.
Unless the trade rumors surrounding Anderson become more concrete, though, the likeliest outcome will remain that the Canadiens will simply hold onto Anderson in the hopes that he can be a veteran leader for their next contending team. But even if the most likely outcome is that a trade does not materialize, Anderson will remain one of the more intriguing — and divisive — names in the rumor mill until the March 3rd trade deadline.
Pictures courtesy of USA Today Sports Images