The Columbus Blue Jackets have updated the status of Zach Werenski and it isn't good news. The star defenseman suffered a separated shoulder and torn labrum last season and is expected to miss the rest of the regular season. The team has also moved Nick Blankenburg, Sean Kuraly, and Jakub Voracek on injured reserve, while recalling Gavin Bayreuther, Marcus Bjork, and David Jiricek.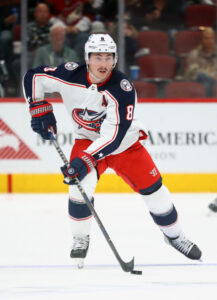 Blankenburg is out six to eight weeks with a fractured ankle. Kuraly is considered day-to-day with an upper-body injury. Voracek is out indefinitely with an upper-body injury. Erik Gudbranson is also day-to-day but will not play tomorrow.
This is about the worst-case scenario for the Blue Jackets, who managed to win last night for just the fourth time this season. The team has already struggled to keep the puck out of their own net, allowing 57 goals through 13 games. By removing Werenski – and to a lesser extent Blankenburg – their defensive group now looks incredibly thin with basically no first-pairing talent. The 25-year-old also makes more than $9.5MM per season, a higher cap hit than anyone other than Johnny Gaudreau.
Without him, the team suddenly looks like a group that will be unable to turn around their tough start. The draft lottery in a year with several high-end prospects looks like a tempting reward for finishing near the bottom of the league.
The silver lining, perhaps, is that a young player like Jiricek could receive some interesting NHL opportunities. Werenski was the quarterback of the team's top powerplay unit, a role that will now need to be filled by someone. During Jiricek's short two-game taste earlier this year he did see a bit of time with the man advantage, though he wasn't able to record a point.
While they won't admit it, the Blue Jackets will likely have to transition this season into a development year and start looking toward the future. That will increase speculation about Gustav Nyquist, Vladislav Gavrikov, and Joonas Korpisalo, all scheduled to hit unrestricted free agency at the end of the year.
Photo courtesy of USA Today Sports Images