With the offseason frenzy nearly upon us, activity around the league is starting to pick up.  Here's a rundown of the biggest news from the past seven days.
DeBoer To Dallas: The Stars have found their new head coach as they hired Peter DeBoer, signing him to a four-year deal worth roughly $4.25MM per season.  It took a little while for him to enter the coaching market with Vegas taking their time to make a decision on his future before ultimately letting him go.  DeBoer has bounced around as this will be his fifth NHL team behind the bench but his best years came with the Golden Knights as he helped lead the team to a 98-50-12 record in 160 regular season games plus a 22-17 record in the playoffs.  He'll take over for Rick Bowness who agreed to step away after the Stars were eliminated in the opening round of the postseason.
Smith To Return: While the deal isn't expected to be announced for a little while due to salary cap and tagging reasons, the Golden Knights have reportedly agreed to a three-year deal with winger Reilly Smith to keep him around.  The agreement is believed to carry an AAV of around $5MM which also happens to be the AAV he has had for the last five years.  The 31-year-old has been a key piece for Vegas through their first five years of existence and actually sits third in scoring in their brief franchise history.  Smith is coming off a bit of a bounce-back season after a tough showing in 2020-21 as he collected 38 points in 56 games.  If he can stay healthy and put up close to 50 points (he played at a 56-point pace this year), he'll provide the Golden Knights with a decent return on this deal but GM Kelly McCrimmon still has a lot of work to do this summer to get this team cap-compliant.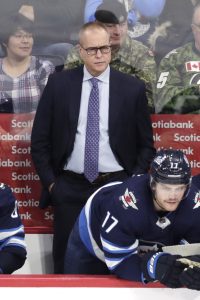 Maurice To Florida: Andrew Brunette did well taking over from Joel Quenneville early in the season, helping to lead the Panthers to a 51-18-6 record while Florida took home the Presidents' Trophy.  That helped earn him a Jack Adams Award nomination but it didn't help him keep his job as the team announced that they've hired Paul Maurice as their new head coach, signing him to a three-year deal worth just under $4MM per year.  Maurice stepped away from the Jets midseason but his time away from the game was rather short.  He has 24 years of NHL head coaching experience under his belt and will now be tasked with trying to get the team over the playoff hump after they were swept in the second round by Tampa Bay.  As for Brunette, it remains to be seen if he'll go back to being an assistant as he was at the beginning of the season or if he'll look to join another organization.
News From Winnipeg: Early on in their coaching search, it was clear that Winnipeg's preference for their next head coach was Barry Trotz, a Manitoba native.  Trotz gave the job offer serious consideration but decided to decline it and will not be behind the bench to start next season.  Meanwhile, there could be changes coming to their forward group as well.  The team is believed to be exploring the trade market for captain Blake Wheeler.  The 35-year-old overcame a slow start to pick up 60 points in 65 games but with two years left on his deal with a cap hit of $8.25MM.  Between that and a trade-to list of just five teams, however, the market for him might not be too strong.  Then there's center Pierre-Luc Dubois.  The pending restricted free agent has informed the team that his intention is to test unrestricted free agency when he's eligible in 2024.  Dubois, who was acquired for another player whose willingness to sign long-term was in question (Patrik Laine), had 60 points of his own this season with a new career-high in goals with 28.  His hesitancy to sign a long-term agreement could ultimately dictate their plans for Mark Schiefele as it's unlikely they'd part with both of their top centers in the same summer.
Richardson To Chicago: While an agreement hasn't been made official yet, the Blackhawks have found their next head coach as they will be hiring Luke Richardson away from Montreal, where he had served as an assistant coach for the last four years.  The 53-year-old played more than 1,400 games in the NHL as a defenseman and has been a coach basically ever since then; he kicked off his coaching NHL career in the same season that he played his final two games.  Chicago is about to embark on a sizable rebuild so it's not surprising they went with a first-time head coach with a reputation for being player-friendly.  The contract is expected to be finalized sometime this coming week.
Photo courtesy of USA Today Sports Images.