Topics in this edition of the PHR Mailbag include Boston's offseason, discussing which route is the best to take for Nashville, candidates for 'hockey' trades, and more.  If your question doesn't appear here, check back in either last weekend's mailbag or Saturday's Detroit-specific column.
Zakis: Who will be the Wild's primary goalie for the '22-'23 season?
I'm going to say Cam Talbot.  While their Plan A is to re-sign Marc-Andre Fleury, with everything else they have to navigate this summer, I'm leery that they'll be able to do so unless Fleury takes below his market value to stay there.  I expect Minnesota will have to be a bit more frugal while looking for their second netminder.  While they're probably not going to wind up with a low-end, cheap second-stringer, I have a hard time thinking that second goalie will play more than Talbot, barring injury.
Assuming that happens, Talbot should check in around 50-55 starts, a mark he'd have reached this season had it not been for Fleury's acquisition back at the trade deadline.  Getting that many starts will be important for him as well since the 34-year-old will be an unrestricted free agent in the 2023 offseason and playing a number one workload would certainly help his cause next summer on the open market.
Nha Trang: I'd ask "What the hell were the Bruins thinking?" except that everyone in hockey knows the answer.
MoneyBallJustWorks: Thoughts on Sweeney being canned and ending up in Vegas?
BOSsports21: Piggybacking off a couple B's questions already – the Bruins need a teardown and rebuild. It's not something B's fans want to hear, but they have only a couple of good prospects and no cap room. They weren't really a Cup contender this past year and now they want to bring in a younger coach. If you're the GM, do you sell off as much as you can to obtain assets? I feel Pastrnak and Marchand will not be the same without Bergeron if he retires. Even if he comes back, it'll probably only be for a year. Might as well get good value for Pastrnak and Marchand to re-stock the bare cupboard. Thoughts?
Let's put some Boston questions together.  GM Don Sweeney's decision to part ways with Bruce Cassidy certainly raised some eyebrows and the fact that several teams immediately pursued him indicates that his perception around the league is much more positive than it was in Boston's front office.  Obviously, they felt the playoff underperformance was cause for concern and there has been plenty of speculation about other factors but that's simply speculation.
There's a good chance that whoever Sweeney hires will be his last hire as Boston's head coach.  He's one of the longer-tenured general managers in the league but most are only able to make a couple of coaching changes before they're heading out the door.  As for joining Vegas when that happens, never say never, even with what I suspect was a sarcastic question.  Vegas isn't exactly known for patience in the early going and if they struggle over the next year or two, there could be front office changes following soon after.
Boston has operated as a team that isn't likely to rebuild, especially with the moves they've made in the last few years.  They don't give Taylor Hall a four-year deal and then acquire and extend Hampus Lindholm with an eye on rebuilding.  With the injuries they'll be dealing with to start next season, a short-term step back was at least justifiable.  But with Patrice Bergeron now expected to return, that idea goes out the window; he's not coming back to help ease the team through a short-term teardown.  That takes the idea of potentially trading Pastrnak and Marchand (the latter of which was probably unlikely to happen anyway) off the table.
W H Twittle: If so, could a trade be built on the basis of Pastrnak for NJ's 2022 #2 draft pick? Obviously, NJ would need to add a couple of A pieces… that may include their 2023 1st round pick and an A prospect?
Let's get another Boston one in here.  No, I don't believe David Pastrnak for that second selection is a viable option for either side.  But as I just noted, the Bruins aren't bringing Bergeron back to then turn around and start selling off key players.  If that was the route they were taking, Bergeron would be hanging up his skates.  If things don't go well during the season, that could very well change closer to the trade deadline but this type of trade certainly won't be on the table at that time.
Moving that second pick (and potentially other assets) for Pastrnak makes little sense for the Devils either.  If they're going to move a premium draft pick, it will be for someone in the prime of their career that has several years of team control left (either through being under contract or club control).  They're not moving that pick for a rental player that still probably doesn't get them into the playoffs next season.  And if I'm Pastrnak, with all due respect to New Jersey, I'm not passing up a chance at testing the market to sign a long-term contract with them.
I think people are getting a little too hyped up about the idea of New Jersey moving this draft pick.  They're not shopping the it, they're simply listening to offers and coming up with a list of players that could make sense to trade for that fit their parameters.  Those parameters would involve club control and long-term salary cap planning, among other elements.  I don't think there would be more than four or five players league-wide on that list.  Of those, how many will actually be available to move?  Maybe two?  If GM Tom Fitzgerald doesn't get the perfect (and I mean perfect, not a 'close enough' scenario) offer, they'll happily keep that pick.  There are more ways to get an impact player than by trading a high lottery selection.
Johnny Z: Some have the Flyers being interested in acquiring DeBrincat, what would that look like?
While I, like many, expect Philadelphia to shake things up in terms of their core forwards, I don't think it'd be for Alex DeBrincat.  He's under the old rule for qualifying offers so he'll be owed a minimum of $9MM for his qualifier in 2023 although if he has another year like this one, he'll be getting more than that.  That's going to be tough to fit into their salary structure.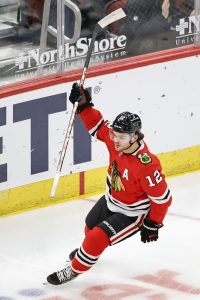 Then there's the acquisition cost.  Chicago would undoubtedly want the fifth-overall pick and with the situation the Flyers are in, moving that pick wouldn't be wise.  That's their chance to get an impact, cost-controllable player to work into the lineup a couple of years from now to help offset some of their more bloated veteran deals.  I know they're in win-now mode, but moving that pick isn't a good idea.
There needs to be a cap element to the deal to help offset DeBrincat's current $6.4MM AAV.  That could be James van Riemsdyk but if the Blackhawks don't want to take that contract back, Oskar Lindblom's $3MM deal could be an option.  Another first-round pick (their own in 2023) would need to be in there.  I could see Chicago asking about someone like Morgan Frost or Owen Tippett, former first-rounders that haven't lit it up just yet.  There would probably be another prospect in there as well.  That's a big package for a non-playoff team to pay, especially since DeBrincat alone probably doesn't get them back to the playoffs.
If I'm GM Chuck Fletcher, I'd rather pay a quality pick or prospect to offload van Riemsdyk's deal without taking money back and then take a serious run at Johnny Gaudreau in free agency.  If they did that and Gaudreau agreed to sign, they'd get a top-line winger without giving up a lot of their cost-controllable future.  But if I was Fletcher, I wouldn't have made the Rasmus Ristolainen trade last summer either so even if I don't think it's a good idea, he might be thinking differently.
GBear: It's July and Gbear has won the lottery and bought the Preds and fired David Poile. I'm bringing in Brian La Rose to interview for the vacant GM position. What moves would you make this offseason and who are you taking with the #17 pick of the draft? :)
Congrats on the big lottery win that allows you to swoop in and outbid Bill Haslam for the team.  Before I can answer though, my question to you is what's my mandate?  Do I have the ability to do what I think is best or do you want some playoff revenue?  The two options aren't the same.
Assuming you give me the ability to tear it down, that's what I'd be looking to do.  I don't think adding a piece or two to this core is going to vault them into contender status.  The Predators can keep treading water or they can take a step back and try to reload.  I'd look to leverage Matt Duchene's season as a way to get out of his contract and take a cheaper one back.  That scenario was far-fetched last summer but a 43-goal season changes things.  Someone's going to be desperate for a center later in the offseason and there's an opportunity to strike.  I don't see that being feasible for Ryan Johansen though.
I wouldn't re-sign Filip Forsberg in that scenario and instead would use the cap space to take on a player from somewhere else, adding picks or prospects for doing so as Arizona has done recently.  Ideally, said player then would be flipped with retention at the deadline for another pick or prospect.  I'd make Mattias Ekholm available and try to leverage the lack of impact left-shot defenders available in free agency into a significant futures-based return.  With teams looking for a starting goalie, Juuse Saros could be had for a significant return; I'd be comfortable with some veteran buffers for a couple of years until Yaroslav Askarov is NHL-ready.  I'd aim for a two-year or three-year retooling so Roman Josi would stick around.  I'd want to see more minutes for Tanner Jeannot, Philip Tomasino, Eeli Tolvanen, and Alexandre Carrier to see if they're part of the long-term plans so any cap dumps I'd pick up would be for lower roles on the roster.  Philippe Myers gets flipped for whatever the best offer is with the acquiring team getting a cap credit (a move that should be made in both win-now and sell-now scenarios).  Since this answer can't go on forever, that's a very quick overview of what my plan would be.
Now, if you're telling me you want early playoff revenues, then it's a much different approach.  Filip Forsberg gets his eight years around $8MM.  I'd target Vegas to try to add Nicolas Roy, giving the Preds a third center with some upside.  He's a strong offer sheet target with their cap situation so this could be a chance to add to the position without the return being super high.  Andre Burakovsky would be a target to add on the wing to provide a two-way element while still boosting the scoring potential of the second line, shifting some of those younger players onto the third line to really balance out the attack.
On defense, I'd like someone like Josh Manson to shore up the back end but so would a lot of other teams.  I'd go into the upper $4MM range for his services which might not be enough to get it done.  Ideally, a physical shutdown defender that can take some pressure off the younger players and deepen the back end is the target.
The only reason there's enough cap space to do all of this is the goaltending.  I'd use Connor Ingram as the backup for Saros over.  I think he has legitimate NHL upside and sneaking him through waivers isn't going to happen.  His $758K cap hit provides some extra cap flexibility to upgrade an extra spot on the roster and I'd rather put money towards an every-game player over someone who probably is only going to play 20-25 times since there isn't a big difference between Ingram and a $2MM to $3MM backup.  Those additions should be enough to keep the Preds in the playoff hunt for the next couple of years and perhaps even win a round and from there, you never know what can happen.
It's hard to forecast who's going to be available with the 17th pick but someone like Denton Mateychuk fits as someone in that range.  He's a bit undersized but is a good offensive defenseman and adding someone to take some pressure off Josi when he slows down would help.  A center would be preferable though given the state of their prospect pool so Marco Kasper would also be high on my list.  He hasn't looked out of place in the SHL and there's a good defensive floor to work with.  I think there's second-line upside with the offensive and a two-way top-six center would be a nice addition in the middle of the first round.
Detroit_SP: Which player with the highest AAV / GAR / WAR do you think gets traded this offseason in a NON-cap dump move? Or in another form, which player most towards the upper echelon of players gets moved in a "hockey trade"?
In an offseason that promises to be filled with trades made for cap-related reasons more than anything, this is an interesting question.  It's also a hard one to quantify.  For example, St. Louis could move Vladimir Tarasenko and his $7.5MM cap hit this summer.  He's talented enough that it's not a pure cap dump but I'd be lying if I said there wasn't a cap-related element to the deal as well as how they spend whatever cap savings they get will be a significant part of the move.  So would he qualify under that non-cap dump restriction?  Probably not.
One forward that does come to mind is Travis Konecny.  He has three years left at $5.5MM and Philadelphia seems likely to want to shake up their core.  I could see him being flipped for another top-six winger at a similar price tag with an eye on finding someone that might be a better fit for John Tortorella's system.  Talent for talent so that would qualify as a 'hockey trade'.
If you want a wild card, let's say Pierre-Luc Dubois whose AAV we don't know yet as he hasn't signed.  With him informing the Jets that his intention is to test the UFA market two years from now, their willingness to move him should go up.  It wouldn't be for cap reasons and they'd be targeting a similar center with the hopes of getting that player to stay long-term.  In other words, a deal similar to the one that brought Dubois to Winnipeg in the first place.  That would qualify as a hockey deal as well.
There will be more prominent and more expensive players on the move but those ones will have cap-related elements to those trades.  If you're looking for a true hockey trade with impact players, you'll probably have to set your sights a little lower with something in this tier.
met man: Now that the Rangers have been eliminated, what do you think is the first thing that they address?
I expect GM Chris Drury's priority will be to try to sort out their center situation.  Managing to re-sign one of Andrew Copp or Ryan Strome makes their summer activity so much easier.  If that happens, a one-two punch of Mika Zibanejad and whichever one signs would give them a lot more stability in terms of navigating the rest of the offseason.  The sooner they can do that, the better.  Ideally, it's done by the start of the draft and really allows them to plan out the rest of their summer.  If one of them wants to sign in the mid-$4MM to low-$5MM range, they'll probably jump on it.
Coyotes1: Hello, what players will the Coyotes try to acquire this offseason to reach the cap floor? I'm thinking JVR, Carl Hagelin, and Brett Connolly, is there other players they may be looking at? I know there are rumors that they talk to the Vancouver Canucks about helping them out. What surprise team do you think could be looking to acquire Jakob Chychrun? Do you think the price has increased to get him? What do they do with Shayne Gostisbehere; he had a rebound year, should they trade him or keep him? Thank you and have a good day!!!
Of the three players you listed, Hagelin may not be as much of a priority.  With Nicklas Backstrom likely done for the year, Washington isn't in a spot where they will want to get out of LTIR; they'll be in there all year so moving Hagelin (whose availability is also in question) isn't a big priority.  I could see Vancouver trying to get them to take Micheal Ferland's LTIR contract but his contract isn't believed to be insured which could be a deterrent for the Coyotes.  I wouldn't be surprised if Calgary tries to convince Milan Lucic to waive his trade protection to go there; after his signing bonus is paid next month, his base salary is just $1MM.  That's the type of contract they'd ideally like to add.
Other names I could see being offered up by teams would be Bruins winger Nick Foligno, Wild defenseman Dmitry Kulikov, Oilers winger Zack Kassian, Canadiens winger Jonathan Drouin, and Blues defenseman Marco Scandella.  There will be varying degrees in terms of how much incentive one of those teams might want to provide but all of those players qualify as short-term (two years or fewer) cap dumps to alleviate some pending cap concerns.
I don't think the price for Chychrun has gone up but I doubt it has gone down either.  It likely still includes the three first-round elements (or slightly more, depending on which report you believe).  Arizona still holds the hammer for a little while; there's no trade request or real pressure point as they can ask for that type of price through this coming season.  As for a surprise team, that probably rules out Los Angeles who seemed to be the speculative favorite going back to the trade deadline.  Would Anaheim count?  They're rebuilding but they stockpiled plenty of extra draft picks, have a good prospect base, and some young (cost-controlled) roster players that should be of interest.  Is Pat Verbeek interested in expediting the rebuild?  If so, that's an under-the-radar team I'd look for.
Gostisbehere certainly had a bounce-back season but he'll be 30 by the end of the season.  Is he a part of their long-term plans?  Probably not at that age.  Unless he's willing to take a team-friendly deal to stay in the desert, he's a strong trade candidate closer to the trade deadline with the Coyotes retaining money to get another good draft pick or prospect.  They don't have many notable expiring contracts to move at the deadline (for now, at least) so the blueliner would be at the top of my in-season trade list.
bigalval: What are the chances of the Kings landing Filip Forsberg? He might be the last missing piece and he and Arvidsson are close.
I don't try to read too much into public comments on negotiations but it was telling that Predators GM David Poile indicated back on Thursday that they've made Forsberg an eight-year offer.  That's a big commitment for someone that, up until this season, had never recorded more than 64 points in a single season.  I wasn't sure they'd go that far.  Obviously, the money still isn't right (otherwise the deal would be done) but that's a big hurdle cleared.  What's better for Forsberg – seven years at a slightly higher cap hit in free agency or eight years at a bit of a lower price tag in a place with no state income tax?
How you answer that question affects the chances of him leaving Nashville and potentially going to Los Angeles.  This is a question I've covered in the past with Forsberg and the Kings and it certainly makes sense on several levels.  While I don't think they're at a level where they should be trading for an impact player just yet, if they can get one in free agency, they should be all over it.  If Forsberg makes it to the open market, I'd put the Kings as a strong contender for his services but I do think there is still some wiggle room in talks with the Predators with Poile's comments being public posturing.  At this point, I still think he stays but the closer we get to July 13th, that could certainly change.
Photo courtesy of USA Today Sports Images.