Following a trip to the Stanley Cup Final, it would seem hard to believe at first that Montreal wouldn't consider protecting their captain from Seattle in the upcoming expansion draft.  However, it appears that this will be the case.  TVA Sports' Renaud Lavoie reports (Twitter link) that the Canadiens won't protect defenseman Shea Weber after recent medical evaluations revealed that he could miss all of next season and potentially longer due to injury.
Sportsnet's Elliotte Friedman relays that the issue is a left foot or ankle problem that has been lingering for several years.  He had surgery to repair a tendon in that area in 2018 and also missed time with that same issue two years later.  The injury isn't going away and the team, the league, and the NHLPA are now doing due diligence to determine next steps for the 35-year-old.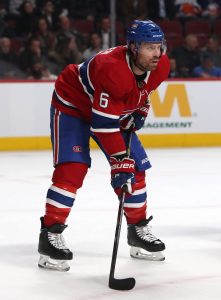 On the ice, Weber's absence would be a significant loss for the Canadiens.  While he had been slowing down in recent years, he still logged heavy minutes for Montreal and averaged 22:42 per game this season (second-most to Jeff Petry by two seconds) while recording 19 points in 48 games.  His ice time increased significantly in the playoffs despite playing through a thumb injury, logging more than 25 minutes a night while still chipping in with six points in 22 games.
On the expansion front, this situation creates some clarity as the team would simply protect Petry, Ben Chiarot, and Joel Edmundson with Brett Kulak serving as the notable rearguard left unprotected.
However, it creates a big hole on Montreal's back end as well with no real certainty on what they'll be able to do.  While he will be eligible to be placed on LTIR, the Canadiens may not be able to do much to replace him unless they can determine that he will miss all of next season.  In that situation, they'd be permitted to spend up to his $7.857MM over the Upper Limit of the salary cap but if they feel he could come back at some point, they'd be more restricted in what they could do and might only be able to fill his spot with a low-cost internal replacement.
Still on the contract front, Weber's deal still has five years remaining on it but only $12MM in cash payments due to the front-loaded nature of the contract, one that is now illegal and subject to recapture.  PuckPedia has a Twitter thread about the short-term salary cap recapture potential for both teams if Weber was to retire.  (Montreal's cap recapture potential ends after the 2022-23 season while Nashville's will last the duration of the contract.)  However, the likeliest scenario at this point is that Weber doesn't retire, collects his salary which sits at $6MM next season, and no recapture penalties would apply to either team.
The Canadiens were already eyeing down a busy offseason with several notable players in need of new contracts.  This development with their captain and one of their top blueliners could very well make it that much busier for GM Marc Bergevin.
Photo courtesy of USA Today Sports Images.