Over the last few weeks, we have been breaking down each team's situation as it pertains to the 2021 NHL Expansion Draft. Which players are eligible, who will likely warrant protection, and which ones may be on the block to avoid the risk of losing them for nothing? Each team is required to submit their protection lists by 4:00 PM CDT on July 17th. The full eligibility rules can be found here, while CapFriendly has an expansion tool to make your own lists.
The last time the Coyotes faced an expansion draft, they ended up losing a player that they had no intention of even signing. Teemu Pulkkinen was an unsigned restricted free agent that had played just four games for the Coyotes at the end of the 2016-17 season. He was grabbed by Vegas and signed to a one-year deal, but spent the entire season in the minor leagues before going to the KHL. In retrospect, Brad Richardson likely should have been the Golden Knights pick, but even that certainly wouldn't have pushed the needle very much for them. This time around they are in a similar situation, though there may be a couple of names more interesting to the Kraken than Pulkkinen ever was to Vegas.
Eligible Players (Non-UFA)
Forwards: 
Clayton Keller, Phil Kessel (NMC), Nick Schmaltz, Christian Dvorak, Tyler Pitlick, Lawson Crouse, Johan Larsson, Christian Fischer, Brayden Burke, Conor Garland, Tyler Steenbergen, John Hayden, Dryden Hunt, Blake Speers, Lane Pederson, Frederik Gauthier
Defense:
Oliver Ekman-Larsson, Jakob Chychrun, Ilya Lyubushkin, Kyle Capobianco, Cam Dineen, Dysin Mayo, Vili Saarijarvi
Goalies:
Darcy Kuemper, Adin Hill, Marek Langhamer
Notable Unrestricted Free Agents
F Derick Brassard, F Michael Bunting, D Alex Goligoski, D Niklas Hjalmarsson, D Jason Demers, D Jordan Oesterle, G Antti Raanta
Notable Exemptions
F Barrett Hayton, D Victor Soderstrom, G Ivan Prosvetov
Key Decisions
With so many unrestricted free agents coming off the books this summer, the Coyotes are actually in a position to add players over the next few days. The team could potentially nab an impact defenseman or an extra forward and protect them, something that not many teams can accommodate right now. If teams are out there in danger of losing a valuable asset for nothing, why not get at least a clearance price in the desert.
If that doesn't happen though, there is a decision to make upfront. The team has to protect Kessel unless he waives his no-movement clause, but he was their leading scorer last season anyway. Garland is still an RFA and there have been rumors of trade talks, but he's also one of the team's most important assets. Keller, Schmaltz and Dvorak are basically all underperforming in terms of how much they're being paid, but unless the team wants to attempt a drastic cap cut by letting them go to Seattle for free, they'll be protected. Crouse is coming off a brutal year where he scored just four goals in 51 games, but is still young enough (24) and cheap enough ($1.53MM) to be worth hoping on a bounce-back season in 2021-22.
That leaves just a single protection slot for a group of forwards that includes Pitlick, Larsson, Fischer, Hunt and Hayden. None of those names jump out as a "must-protect" player, meaning the Coyotes could be exposing a handful of fringe forwards and letting the expansion team have their pick, just like a few years ago. Pitlick perhaps leads that group in terms of likelihood, but it's not a slam dunk for any of them.
One interesting name to mention is Bunting, who is a Group VI unrestricted free agent but has gotten some offseason hype because of his late-season play and gold medal at the World Championship with Team Canada. The 25-year-old forward scored more goals (10) in 21 games for the Coyotes than Pitlick and Fischer combined, and could be an interesting target for the Kraken in their exclusive negotiating window. That is unless the Arizona front office signs him first, given they still have the capability to protect him.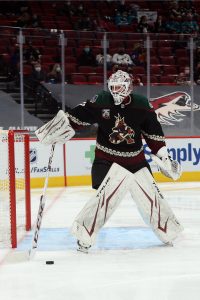 On defense, there's little worry about losing an impact player. The Coyotes will protect Ekman-Larsson because of his NMC and Chychrun because he's the team's best player. After that, there's nothing really left to use the third spot on. Lyubushkin would be a nice piece to protect, but he is currently the only player (other than Ekman-Larsson and Chychrun) who meets the exposure requirements. If the team signed another one of the defensemen that have passed the games played threshold–say, Goligoski–then he would become the third player protected on the back end over Lyubushkin anyway.
In net is the biggest decision of them all for Arizona. Kuemper or Hill? The former is a much more established name and is a legitimate starting option, but the latter is six years younger and could still have a bright future. The face that Hill is signed for just $800K next season is likely appealing to both the Coyotes and the Kraken, but it would be too risky to leave Kuemper exposed with such few other intriguing options on the roster. A trade here seems prudent, though any acquiring team would need room to protect either one, certainly not an easy thing to find right now.
Projected Protection List
F Clayton Keller
F Phil Kessel
F Nick Schmaltz
F Christian Dvorak
F Lawson Crouse
F Conor Garland
F Tyler Pitlick
D Oliver Ekman-Larsson
D Jakob Chychrun
D Kyle Capobianco
Skater Exposure Requirement Checklist
When Vegas had their expansion draft, a minimum of two forwards and one defenseman had to be exposed that were under contract and played either 40 games in the most recent season or 70 over the past two combined.  Due to the pandemic, those thresholds have been changed to 27 games played in 2020-21 or 54 in 2019/20 and 2020-21 combined.  In creating our expansion list for each team in this series, we will ensure that these criteria are met.
Forwards (2): Johan Larsson, Christian Fischer
Defensemen (1): Ilya Lyubushkin
Meeting these requirements isn't really an issue, unless the team desperately wants to protect Lyubushkin. That would require a new deal for someone else and then subsequently leaving them exposed, which doesn't seem likely at this point. That said, it does actually pose a complication if the team ever wanted to trade one of Kuemper or Hill, since they would then need a different netminder to meet the exposure requirements. In all, it looks like the Coyotes might just take their chances losing whoever Seattle has their eye on and move forward like they did a few years ago.
Photo courtesy of USA Today Sports Images.  Contract information courtesy of CapFriendly.