For the second straight week, a front office decision from the Rangers made headlines.  That wasn't the only news from New York that is part of the key stories of the week.
Eichel's Situation: This season was a tough one for Buffalo's Jack Eichel both on and off the ice.  On the ice, he underachieved, scoring just twice in 21 games although he did manage 16 assists.  Off the ice, injuries were an issue and he conveyed his frustration with how the Sabres won't let him undergo a new surgery that he wants to fix his neck injury, one that hasn't been done on an NHL player before.  At a time where GM Kevyn Adams acknowledged that some players acknowledged they're "open to anything" when it comes to where they play next season, many wonder if Eichel is among those on that list.  In our poll of where he'll play next season, only 16% of voters believe he'll be in Buffalo.
AHL Playoff Concerns: When it was announced that only one of the divisions in the AHL would be conducting some sort of playoffs, it was already a little intriguing.  Then came the recent news that more than 94% of the players in that division voted against playing as the Pacific Division title is a far cry from being crowned Calder Cup champions, nor does it provide them with an opportunity to make any sort of playoff bonus money.  Of the seven teams in that division, three of them (Henderson, Bakersfield, and Colorado) have their NHL affiliates in the playoffs so those teams won't be able to bring up their extra reserves until this tournament ends which could be as late as May 29.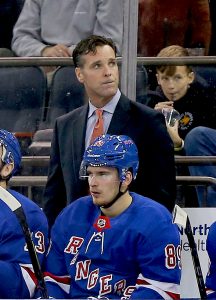 Quinn Fired: Another week, another notable change off the ice for the Rangers.  New GM Chris Drury didn't waste much time making a decision on his coaching staff as he fired head coach David Quinn as well as assistants David Oliver, Greg Brown, and Jacques Martin.  Quinn spent three years behind the bench in New York with the team posting a 96-87-25 record over that span.  However, their only playoff appearance in that span was a sweep at the hands of Carolina in the Qualifying Round last summer in the bubble and it appears there will now be a more pronounced push to try to win now.  Drury has already interviewed one candidate as Gerard Gallant met with him before heading off to Latvia where he will coach Canada at the upcoming World Championships.
Lindgren Extension: There was some notable on-ice news for the Rangers as well as they worked out a three-year, $9MM contract extension with defenseman Ryan Lindgren.  The deal pays $2MM next season, $3MM in 2022-23, and $4MM in 2023-24, meaning his required qualifying offer will be $3.6MM in the 2024 offseason (the lower of 120% of the qualifying offer or the final-season salary).  The 23-year-old has become a quality stay-at-home blueliner for New York while bringing some physicality to the table as well.  This season, he had a goal and 15 assists in 51 games along with 98 hits while averaging 20 minutes a night.  Getting a top-four defender signed for that price tag has the potential to be a bargain if Lindgren continues to improve.
Borgstrom Signs: Prior to the trade deadline, the Blackhawks and Panthers made a deal with Chicago taking on Brett Connolly's contract from Florida.  In the return was center Henrik Borgstrom, a 2016 first-round pick that hadn't panned out with the Panthers and opted to go overseas instead of re-signing with them last offseason.  He had a good season with HIFK in Finland with 21 points in 30 games which was enough to earn him a deal with his new team as Chicago signed him to a two-year, $2MM contract.  The Blackhawks have done well in recent years identifying international players who can contribute in North America – recent impactful adds include Dominik Kubalik, Pius Suter, and Philipp Kurashev and they clearly believe that Borgstrom will be able to follow suit.
Photo courtesy of USA Today Sports Images.