The offseason has arrived for most teams that aren't playoff-bound with a couple of others set to join them in the coming days as they play out their rescheduled games.  It's time to examine what they need to accomplish over the coming months.  Next up is a look at New Jersey.
The Devils weren't expected to be a contender this season but this was a rough year for them.  Corey Crawford's retirement before training camp threw a wrench into their plan between the pipes and then a harsh COVID-19 outbreak derailed some early momentum.  The end result was them selling once again at the trade deadline and remaining firmly entrenched in rebuilding mode.  At some point, GM Tom Fitzgerald will need to get things headed back in the direction of playoff contention which results in a rather large to-do list that reflects requiring improvements pretty much everywhere.
Fitzgerald Extension
Before he can really dig into any of that, however, Fitzgerald needs a contract extension.  While the interim GM tag was removed last offseason, it didn't come with an extension so his deal is up at the end of the league calendar (the final day before free agency).  On the surface, considering he had the green light to take them through the trade deadline, it stands to reason that Fitzgerald will be the GM moving forward and discussions on a new deal have already started.  At some point in the near future though, pen will need to put to paper and at that time, presumably with a bit of contractual certainty, he will be able to continue reshaping this roster.
Add Impact Veteran Offensive Winger
The mark of a good team is often a mixture of quality young players on below-market contracts with some impact veterans mixed in with some good ones lower in the lineup.  They have a promising young core up front headed by Jack Hughes and Nico Hischier while we can add Yegor Sharangovich, Pavel Zacha, and Jesper Bratt to the mix.  Zacha turned 24 last month and he's the elder statesman of the bunch.  Others like Michael McLeod, Nolan Foote, and Janne Kuokkanen have the potential to be more than just role players either and none of them are older than 23.  Not everyone will pan out but there's enough for a decent foundation of young forwards to work with.
It's fair to question if Hughes and Hischier will ultimately live up to their number one draft billing but in their defense, they've basically been thrown to the wolves without a lot of support.  Taylor Hall had one really good season but wasn't lighting the lamp a ton the rest of the time.  He's gone now.  Kyle Palmieri is a nice player and a viable top-six forward but he's not a top piece that's going to bring out the best in two young centermen.  He's also gone now.  If you look at the rest of their veterans, it's mostly a group of role players with someone like Miles Wood being a middle-six guy.  That's not much help at all and it's help that those two need if they're going to be able to elevate their performance and reach their potential.
New Jersey hasn't had much luck at all in free agency in recent years and with the year they had, it's fair to wonder if that trend will continue.  However, at a time when a lot of teams don't have much cap space, they have plenty of it – more than $37MM per CapFriendly – which gives them an ability to be more aggressive when hunting for additions, especially since there aren't any overly pricey restricted free agents to deal with.  At a minimum, they need one impact winger and in a perfect world, more than that.  And if they strike out on the top free agents, they should be able to leverage that cap space on the trade front as long as they don't accept role players as they did last fall.
Who will New Jersey's leading scorer be next season?  The ideal answer to that question is someone that's not currently in the organization.  It's a lofty goal but it's one that needs to be met.
Add A Better Backup Goalie
To Fitzgerald's credit, he read the goaltending situation correctly last offseason.  Seeing that Mackenzie Blackwood had potential but not a lot of experience, bringing in a run of the mill backup wouldn't have been a wise move.  Bringing Crawford in on a two-year deal to work with and push Blackwood was a wise move.  Unfortunately, his change of heart left them in a no-win situation and they were forced to rely on Scott Wedgewood and two waiver claims in Eric Comrie (later waived and reclaimed by Winnipeg) and Aaron Dell.  Those players are best utilized as third-stringers and the ensuing results weren't pretty.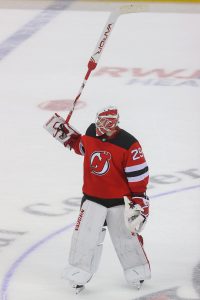 As a result, Blackwood received the lion's share of the workload and the results were mixed.  There were times where he was stealing multiple games and others where he struggled mightily while enduring two losing streaks of at least six games.  That can't all be laid at his feet, however, given that there were many nights when the Devils didn't have their best lineup available due to injuries and players being in COVID-19 protocol.  There is still a reason to be optimistic that he can be their starter of the future.
However, he still could benefit from a veteran mentor that can still contribute, something that Crawford was expected to provide before he retired.  That same thought process needs to be applied here in free agency.  The good news is that veteran free agent goalies are typically available every year with varying levels of ability – starters, platoon options, clear-cut backups, and role players.  Adding someone in the platoon category would be a good target, one that can take some pressure off Blackwood.  Depending on what happens on the goalie front with Seattle, they could look to the trade market as well.  It's not as critical of an addition as adding forwards but this is something that Fitzgerald will need to accomplish.
Bring In Multiple Defensive Upgrades
There is a reasonable foundation in place for next season on the back end.  P.K. Subban will be entering the final year of his contract, Damon Severson is a capable veteran, and Ty Smith's first NHL season was certainly encouraging.  The depth gets pretty thin after that, however.
Will Butcher has the offensive ability to be an impact player but has struggled the last couple of years while it remains to be seen how good Jonas Siegenthaler can be.  They'll be in the mix next season but can't be counted on to play a significant role.  Kevin Bahl has some potential but needs more time in the minors.
Ryan Murray, Connor Carrick, and Matt Tennyson are set to become unrestricted free agents this summer, creating an opening in the top four as well as on the depth front.  At the very least, a top-four defender to replace Murray is needed but in a perfect world, another addition that can play in the fourth or fifth spot to give them some extra insurance would also be brought in.  Unlike most teams, they can afford to shop for multiple impact pieces even after adding up front.
There are a lot of vacancies to try to fill but that's what happens when a team misses the playoffs for three straight years and eight of the last nine.  Fitzgerald may not be able to fill all of them but if New Jersey is going to get out of their current spin, they need to make several additions of note in the coming months.
Photo courtesy of USA Today Sports Images.