After just a few days on the job, New York Rangers GM Chris Drury has completed his first big move. The team has signed Ryan Lindgren to a three-year contract extension. Lindgren was set to become a restricted free agent this summer. Chris Johnston of Sportsnet tweets the full breakdown:
2021-22: $2MM salary
2022-23: $3MM salary
2023-24: $4MM salary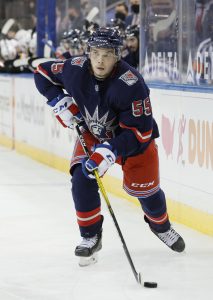 Earlier today, the Rangers named Lindgren this year's winner of their Players' Player Award, which is awarded "to the Ranger who, as selected by his teammates, best exemplifies what it means to be a team player."
Originally selected by the Boston Bruins in 2016, Lindgren was one of the pieces the Rangers received in the 2018 Rick Nash deal. He played in 51 games this season, often pairing with Norris Trophy candidate Adam Fox, and recorded 16 points. While Lindgren didn't receive any powerplay time, he did trail only Fox in shorthanded ice time this season, averaging 2:30 on the penalty kill every night.
That kind of defensive presence is valuable and obviously worth it to the Rangers as they move forward with new management. The 23-year-old Lindgren would not have been eligible for salary arbitration, but won't even need to enter into any free agent negotiations.
Importantly, he will still be an RFA at the deal's expiry, leaving the Rangers with a bit of team control down the road. If his development continues, by the time he's 26 he'll be looking for a much more expensive long-term deal. For now, he comes in as the team's third-highest-paid defender for next season, though Anthony DeAngelo's final year is expected to be bought out this offseason. The team has one more year of Fox on his entry-level deal, one of the most valuable contracts in the league right now.
Photo courtesy of USA Today Sports Images