The Buffalo Sabres didn't have a great Monday. After Rasmus Ristolainen and Sam Reinhart both sparked some hot stove speculation with their media availability comments, a perturbed Jack Eichel lit the building on fire. Not only did Eichel express frustration at how his medical situation has been handled by the team, but he left the door wide open for trade speculation, saying his focus was on getting healthy and playing hockey "wherever that might be."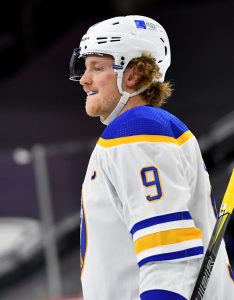 That became the biggest story of the week, even as teams prepare for the upcoming Stanley Cup Playoffs that will begin on Saturday. Eichel's future has been discussed every offseason since he landed with a franchise in Buffalo that has underperformed for years. Now it seems more likely than ever that the team will trade him by next season, with Elliotte Friedman of Sportsnet reporting that there was a "contentious exit interview" between the injured star and the organization.
So where will Eichel go?
The most common teams listed as potential suitors are the Los Angeles Kings and New York Rangers but there will be many more teams interested even with the injury concerns. Friedman suggests that the Boston Bruins will likely try, while also listing Philadelphia Flyers, Anaheim Ducks, Ottawa Senators, and Montreal Canadiens as teams that have enough young pieces to get a deal done. Pierre LeBrun said today on TSN's Insider Trading that the Minnesota Wild are another potential fit. That will not be an exhaustive list of potential buyers if the Sabres truly make Eichel available this offseason.
Of course, there is that injury to worry about. Eichel's camp seems set on surgical repair for his neck injury, which could scare off some teams, at least from paying the full price. Is trading him under that cloud of uncertainty really in the Sabres' best interest? Or could Eichel start the year in Buffalo to prove his health and worth?
It's certainly not clear at this point where he will end up, so give us your thoughts on the situation. Cast a vote below on which team will have Eichel to start the 2021-22 season and make sure to explain yourself in the comment section below.
[Mobile users click here to vote!]
Photo courtesy of USA Today Sports Images