The final week of January featured quite a few surprises which are highlighted in our key stories.
Blues Discussing Dunn Trade: It wasn't that long ago that Vince Dunn was viewed as a key part of the long-term core for the Blues.  He had a 12-goal, 35-point season in 2018-19 but saw his production dip last year.  Things haven't gone great this season either and he has already been scratched.  As that benching was happening, it was revealed that St. Louis has been discussing the defenseman in trades with other teams, seeking a first-round pick in return.  The 24-year-old is on a one-year, $1.875MM contract and with the Blues needing to be cap compliant for when Vladimir Tarasenko returns midseason, they're not in a position where they can take on a more expensive player in a return.
Rutherford Resigns: The Penguins are suddenly on the lookout for a new general manager after Jim Rutherford abruptly resigned his title, citing personal reasons.  The 71-year-old joined Pittsburgh in 2014 after spending two decades at the helm in Carolina and Hartford and helped build a Stanley Cup-winning roster in 2016 and 2017.  Patrik Allvin has been elevated to the interim GM role while the team is hoping to have a full-time replacement named over the next few weeks.  That will take someone like former Arizona executive John Chayka out of any possible consideration as he was suspended for all of 2021 for conduct detrimental to the league when he tried to resign from Arizona to go elsewhere; his contract was eventually terminated.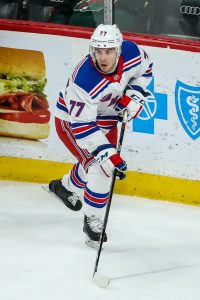 DeAngelo On Waivers: Last season, Rangers defenseman Anthony DeAngelo led the team in points by a defenseman and was tied for fourth league-wide in that regard.  That helped land him a two-year, $9.6MM contract this offseason.  However, things haven't gotten off to a good start this season with him being benched for two games while there have been some other incidents, including a reported fight with a teammate following Saturday's game.  As a result, New York has placed DeAngelo on waivers.  His cap hit is high enough that only a few teams can afford to place a claim and with these off-ice concerns coming to light, there's a good chance he'll go unclaimed.  At that time, it will be worth monitoring to see what the Rangers plan to do with the 25-year-old.
Trade Requests: A pair of clients of Darren Ferris (Quartexx) are seeking a change of scenery.  First Flames center Sam Bennett is hoping for a trade after a tough start to his season.  While the fourth-overall pick in 2014 has had some success offensively in the playoffs, it hasn't translated to much in the way of regular season success.  He had just a dozen points in 52 games in 2019-20 and has only one assist in seven contests this season.  Bennett has a $2.55MM AAV and is eligible for arbitration this summer.  Meanwhile, Montreal blueliner Victor Mete would also like to be moved with a lack of playing time being the issue there.  It wasn't that long ago that he was on their top pairing with Shea Weber but his playing time and role have dipped considerably since then to the point where he had limited minutes in the bubble and has been a healthy scratch in all eight games this season.  After accepting his qualifying offer, Mete has a $735K price tag and will be arbitration-eligible in July.
Howard Retires: Veteran goaltender Jimmy Howard has decided to call it a career, hanging up his skates at the age of 36 after a 14-year NHL career, the entirety of which was spent with Detroit.  Howard played in 543 games for the Red Wings, good for third in franchise history.  Ken Holland, who was Howard's GM back in Detroit for many of those seasons, tried to bring the netminder to Edmonton when Mike Smith was injured but instead, Howard decided to retire having played only for the team that drafted him back in the second round in 2003.
Photo courtesy of USA Today Sports Images.