The Ottawa Senators have acquired goaltender Matt Murray from the Pittsburgh Penguins. The Penguins will receive the 52nd overall selection in today's draft and prospect John Gruden in exchange. Murray, who is a pending restricted free agent, was already issued a qualifying offer from the Penguins this week, an offer that will travel with him to Ottawa.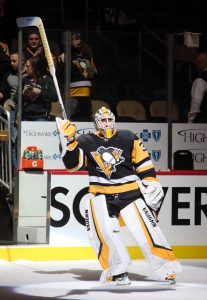 Though the contract is not in place yet, the Senators are expected to sign Murray to an extension, giving them a new starting goaltender for the 2020-21 season and beyond. Still just 26, Murray has a championship pedigree from his time with the Penguins and will stabilize the net of a team that is quickly building an incredible prospect base.
If you think a second-round selection is a pretty good return for the Penguins, it is. In a year where goaltenders are available by the dozen, the Penguins will land another strong prospect on day two of the draft by nabbing a pick that originally belonged to the Columbus Blue Jackets. The Senators meanwhile have draft capital to burn and will still select three more times in the second round.
Gruden is certainly an interesting addition as well. The fourth-round pick went to Miami University (Ohio) in 2018-19 and struggled, deciding to make the jump to the OHL this past year. With the London Knights, one of the strongest junior programs in Canada, Gruden found a lot more success, scoring 30 goals and 66 points in just 59 games. Now 20 he is eligible to turn pro and play in the AHL, he is still likely a few years away from making an impact for the Penguins.
Murray was always going to be traded this offseason, given the $3.75MM qualifying offer he required. The Penguins have decided to hand the net to Tristan Jarry and didn't have enough cap space to keep both goaltenders in the fold. They also were facing a very similar situation with regards to expansion and would have had to expose one of Murray or Jarry to the Seattle Kraken if they kept them both.
In Ottawa, Murray will have to try and rebound from the .899 save percentage he registered this season. The two-time Stanley Cup winner did rebound and look better in the postseason, but still wasn't the dominant presence he represented when first entering the league.
Photo courtesy of USA Today Sports Images