The Calgary Flames are off to a shaky start this season with just two wins in their first five games and now may have a brewing controversy as well. According to Elliotte Friedman of Sportsnet, Sam Bennett's agent Darren Ferris would like Calgary to consider a change of scenery for his client, though the term "trade request" was not actually used. Friedman notes that the team is in no rush to move the young forward.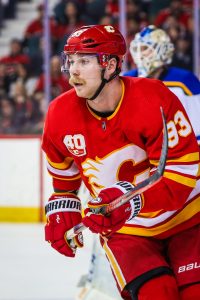 Bennett, 24, was selected with the fourth overall pick in 2014 but never really became the top-six center the Flames hoped for, instead settling into a third (or even sometimes fourth) line role. Last season he scored just eight goals and 12 points in 52 games and this year he still hasn't found the back of the net. He's been overtaken by other young forwards in the Flames lineup, likely meaning he won't ever get much more responsibility than he has right now.
On the second season of a two-year, $5.1MM contract ($2.55MM cap hit), Bennett is scheduled to become a restricted free agent after this season. His poor offensive performance will limit what he can demand in arbitration, but there is one thing that would be in his favor in negotiations.
While Bennett's regular seasons have been underwhelming or downright dreadful, he always seems to be one of the team's best players in the playoffs. Last summer, Bennett had five goals and eight points in ten postseason matches, leading the Flames in both categories. That performance plus the willingness to engage physically and ability to play center will certainly draw interest, though it does seem like it would be difficult for the Flames to really get a lot of value for the soon-to-be RFA.
Photo courtesy of USA Today Sports Images