With the trade deadline now less than a month away, we will be taking a closer look at the situation for each team over the coming weeks.  Where do they stand, what do they need to do, and what assets do they have to fill those needs?  Next up is a look at the Edmonton Oilers.
After two disastrous seasons, there was little hope that the Oilers might be able to compete for a playoff spot, especially considering the fact that new general manager Ken Holland didn't make major changes to the team. They added James Neal and brought in a few overseas players in hopes of filling in the holes in their middle six, but instead, the Oilers have risen to the challenge under new head coach Dave Tippetts, holding the top spot in the division at several points in the season and still remain near the top of a competitive Pacific Division.
Record
26-18-5, tied (with three other teams) for second in the Pacific Division
Deadline Status
Buyer
Deadline Cap Space
$5.851MM in a full-season cap hit (using LTIR), 1/3 used salary cap retention slots, 48/50 contracts per CapFriendly
Upcoming Draft Picks
2020: EDM 1st, EDM 2nd, EDM 3rd*, EDM 4th, EDM 5th, EDM 6th, EDM 7th
2021: EDM 1st, EDM 2nd, EDM 3rd, EDM 4th, EDM 5th, EDM 6th, PIT 6th, EDM 7th
*- Calgary will receive Edmonton's third-round pick as part of the Neal/Lucic swap if Neal scores 21 or more goals and Lucic has at least ten goals less than him at the end of the season.  Neal is currently at 19 so he will likely get to 21 while Lucic is at four goals.
Trade Chips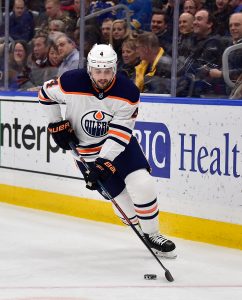 With a number of young defensemen already in Edmonton and several others not far off, the Oilers would love to unload a defenseman, preferably someone who has a big contract such as Adam Larsson or Kris Russell. Whether they can convince anyone to take either of those is a whole different question. The team does have a few other third-pairing options it could move, including William Lagesson and Keegan Lowe, but the team has made it clear that top prospects Evan Bouchard and Philip Broberg are off the table in trade talks. Perhaps a team could pry away Dmitri Samorukov.
While the team many NHL options, Holland still has a full complement of draft picks, minus the team's third-rounder, which is likely to change hands to Calgary. The team's first-round pick could easily be in play for the right piece.
Five Players To Watch For: F Sam Gagner, D William Lagesson, D Adam Larsson, D Kris Russell, D William Lagesson, D Dmitri Samorukov
Team Needs
1) Scoring Help: The team still has holes in its top-nine. While the Oilers seem to have recently found some success on their second line with Leon Draisaitl, Ryan Nugent-Hopkins and Kailer Yamamoto, Edmonton still has holes on its first line and third line and could, without a doubt, use one more significant scoring piece at the trade deadline. While there was plenty of talk about acquiring Taylor Hall back in December, that was quite unrealistic considering their cap situation. However, there are a number of options that could interest them, including a third-line center on the market — Ottawa's Jean-Gabriel Pageau. He would fill a significant need on the third line or, if needed, could step into a top-six role on the wing. Another option would be adding Los Angeles' Tyler Toffoli, whose name has been thrown around trade rumors quite a bit the last month or two. Toffoli might be a cheaper option, who could fill a top-nine role for the team and prove to be a better player than Alex Chiasson or Joakim Nygard.
2) Goaltending Depth: Yes, the team has Mikko Koskinen and Mike Smith, but the 37-year-old Smith hasn't been that consistent this season and often sees his second-half numbers decline. The team has already used Smith quite a bit this year (26 appearances) and could use a more impactful player that can be used in tandem with Koskinen. Smith currently has a 2.96 GAA and a .901 save percentage, numbers that could be replaced if they wanted to go out and acquire an Alexandar Georgiev or swap Smith for a more consistent option.
Photo courtesy of USA Today Sports Images.